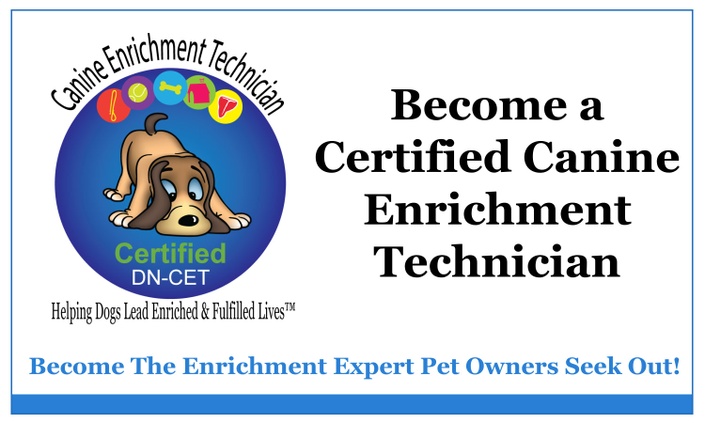 Canine Enrichment Technician Certification
Helping Dogs Lead Fulfilled and Enriched Lives
Is this the breakthrough in caring for our Dogs that we've all been waiting for?
Announcing DogNostics' New Canine Enrichment Technician Program
More Than 10 Hours of Educational Webinars, Videos & Quizzes
Continuing Education Units - PPAB 20, CCPDT 25, IAABC 17
Become a Canine Enrichment Technician and provide your community with this game-changing service for your clients.

What is Our Canine Enrichment Program and Why Should I Teach It?
Behavioral enrichment is an animal husbandry principle that seeks to enhance the quality of captive animal care by identifying and providing the environmental stimuli necessary for optimal psychological and physiological well-being - Wikipedia.
Our Canine enrichment program is a system developed for you to effectively help you assess, implement and guide your clients on how to provide a stimulating life environment for their dog that offers ample opportunities for their pet to engage in natural behaviors.
Environmental enrichment helps satisfy both the physical and psychological needs of your client's pets and allowing the pets to make choices. Thus, animal enrichment creates a win-win-win situation for your clients and their pets.
Pets that have good mental health will engage with their environment more, be less aggressive, less fearful and are more peaceful, exploratory and at ease with their surroundings. Happy dog - happy, loyal client!
As a Canine Enrichment Technician, you are on the front-line of supporting this positive mental welfare by showing your clients how to encourage these natural behaviors in their pets. An enriched canine is a happy, healthy and easy-to-live-with canine.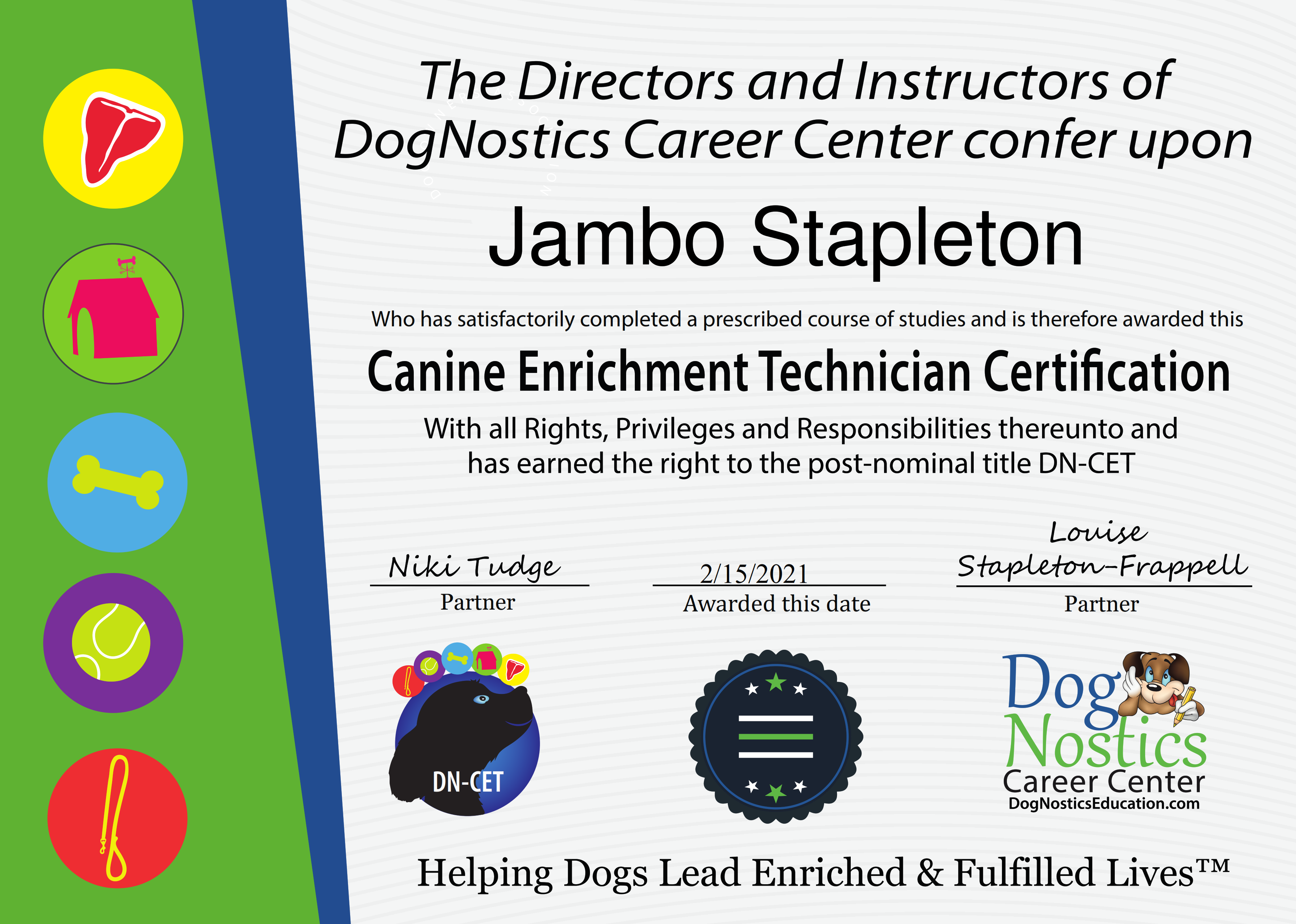 Help The Dogs in Your Community Lead Enriched and Fulfilled Lives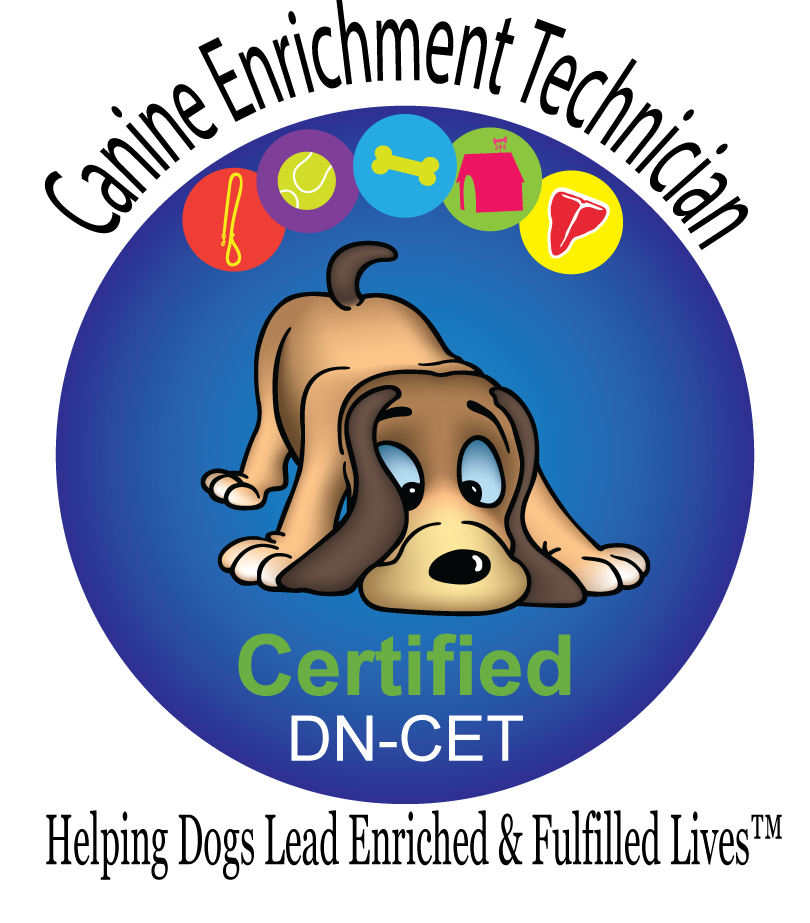 As a DogNostics "Canine Enrichment Technician" you will have the skills and knowledge to work with your clients to recommend, implement and manage their pet's enrichment activities both at home and around town.
You will develop enrichment activities that empower and encourage dogs to engage in a range of problem-solving activities, to learn new skills and develop more confidence. Most importantly, not only do dogs love these activities, but they also provide the essential environmental stimulation and daily enhancement needed for dogs to lead more fulfilled lives. You will be your client's hero.
What The First Certified Canine Enrichment Technician Says About The Program
I have been interested in Enrichment since the first day I volunteered at a local shelter. I started working with the staff Animal Enrichment Specialist then devoted all my visits to the shelter doing enrichment activities with the dogs on campus. I noticed how important enrichment was to their overall emotional and mental wellbeing and I was hooked! I learned as much as I could, reading and taking classes, started an enrichment supply area in my home which now spans 3 rooms, and I began pursuing my dream of working with dogs. When I saw Dognostics Canine Enrichment Technician Program I knew it was for me! I have always implemented enrichment into the dogs session whom I visited but now with this new education and experience I can customize programs and help pet parents implement them too. The Canine Enrichment Program does not disappoint. It is well organized, teaches more than you can imagine, and explains the concepts in an approachable way. When I had questions arise I would email my instructors and heard back quickly with helpful responses. They are there to help you. I am so proud to have completed this program and to be the first Dognostics Canine Enrichment Technician and I'm already looking at more courses to enroll in! Thank you for this program! - Lisa Bartel

Your Clients Are Busy, Right?
As you know, your client's are busy and need help to meet the physical and mental needs of their pet on a daily basis. Yet for many, the only option for employing outside help is a Dog Walker or Pet Care Provider. As Pet Professionals we know that mental enrichment is just as important as a good physical romp. As a DogNostics Certified Enrichment Technician providing enrichment services to your clients is a much needed and valuable resource.
Canine Enrichment Services Are Not Just for Busy People
Canine Enrichment services are not just for pets whose owners are struggling with time but also for pets (or owners) that have physical disabilities, pets recuperating from surgery, or any pet in need of creative outlets. Behavioral enrichment can also support training and behavior plans.
Now is your chance! This is the in-home pet care service of the future and we have the complete program ready for you to implement into your business now. Become a DogNostics Certified Canine Enrichment Technician.
Your short, comprehensive program provides you with the requisite skills and knowledge you need to launch this service:
Module #1 - What a Game Changer for Pet Dogs
Module #2 - Skill Up - Your Professional Skills & Knowledge
Module #3 - About Town - Your Leash Skills
Module #4 - Nose Down - Your Scenting Skills
Module #5 - Your CET Level 1 Enrichment Activities
Module #6- The Home, Guardian and Pet Assessment for Building Appropriate CE Programs
As a DogNostics Canine Enrichment Technician, you will be able to provide enrichment in its many forms across both active and passive categories.
See the full program curriculum below and the certification requirments. Checkout the Free preview video and PDF
Course Curriculum
Module One - What a Game Changer for Pet Dogs
Available in days
days after you enroll
Module Three - About Town - Your Leash Skills
Available in days
days after you enroll
Your Instructor

Niki Tudge - M.B.A, PCBC-A, CABC, CDBC SSA-CFT, Six Sigma Black Belt, HCITB TS1, TS2 & TS3 Certified People Trainer, Certified Facilitator and Business Project Manager.
As the founder and President of The Pet Professional Guild, DogNostics Career Center and The DogSmith, Niki has substantial leadership experience in the pet industry. Niki has published numerous articles on dog training and dog behavior and her pet dog training businesses have been featured in many publications including The New York Times. Niki's professional credentials include; AABP-Professional Dog Trainer, AABP-Professional Dog Behavior Consultant, PCBC-A and PCT-A through the Pet Professional Accrediting Board and she has earned diplomas in Animal Behavior Technology and Canine Behavior Science & Technology through the Companion Animal Science Institute. Along with Niki's business degree and MBA from Oxford Brookes University she is also a certified Six Sigma Black Belt, a HCITB TS1, TS2 & TS3 certified people trainer and a certified Facilitator and Project Manager.
---
Louise Stapleton-Frappell - B.A. Hons, PCT- A, PCBC-A, CAP3, CTDI, DN-FSG, DN-CPCT, CWRI
Louise is a Partner and Faculty Member of DogNostics Career Center and Board Member of The Pet Professional Guild. Louise has constantly built on her knowledge and furthered her education in the field of force-free, rewards based, science-based pet training. The creator of the DogNostics' Dog Trainer Certification Program, Louise has presented at conferences internationally and has gained a reputation for expertly teaching and training humans and canines at her own establishment, The DogSmith of Estepona, in Southern Spain, where she offers a wide range of both group and private classes and pet dog services.
Frequently Asked Questions
When does the course start and finish?
The course starts now and never ends! It is a completely self-paced online course - you decide when you start and when you finish.
How long do I have access to the course?
How does lifetime access sound? After enrolling, you have unlimited access to this course for as long as you like - across any and all devices you own.
Who is the program aimed at?
This first level, the Technician level is aimed at Dog Trainers, Dog Walkers and all Pet Professionals. The program creates the foundation for Level 2 and Level 3
How can this program help me deliver a Canine Enrichment Service
In the last module of the program where we discus the CET system, the approach with clients and we address how the materials, the skill and knowledge can be used to deliver new services and which services we recommend.
How should i price these new services when i implement them?
In the last module of the program there is a section called "Your Target Market" and "Penny for Your Thoughts", these areas touch on how to price the services and who the end user is.
Does the program cover how to perform Enrichment Exercises
Yes, it covers a total of 35 Canine Enrichment exercises across seven categories, incorporating both passive and active enrichment types
What is required for Certification?
You can preview the certification requirements above. In short. Complete all the modules, submit your skill videos, take your final test, and be in good standing with the Student Code of Conduct