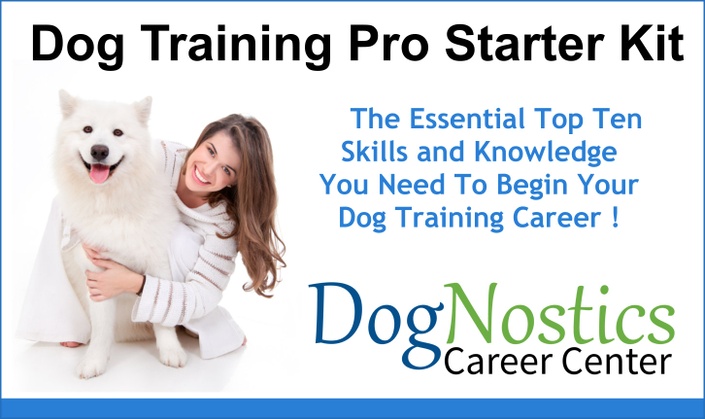 Dog Training Pro Starter Kit
The Essential Top Ten Skills and Knowledge You Need to Begin Your Dog Training Career!
The Dog Trainer Pro Starter Kit is essential for anyone considering a career in dog training.
The program is also relevant to all of you who are about to begin your DogNostics Dog Trainer Certificate Program
It is even relevant to professionals who feel they may have missed out on some of the essential foundation skills and knowledge or would simply like to do a quick recap!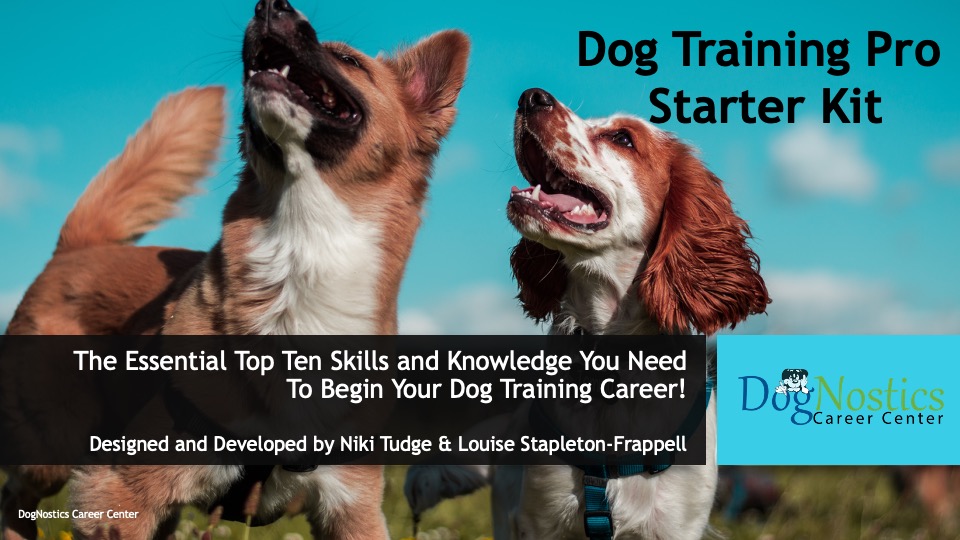 We know that you are excited to begin your journey to becoming a professional dog trainer. We also realize that you undoubtedly have passion for your new chosen career (or hobby); but before you start, we believe it is crucial to have the pre-requisite mechanical skills underpinned with some important and specific knowledge!
Key mechanical skills and an understanding of the process and methodology are needed before you start any pet dog training program and they are also an essential foundation to any pet professional's career.
This short and fun training resource with video demonstrations will help get you off to a flying start, but is also a fantastic resource for professionals who wish to recap the foundational skills and knowledge that will help improve their training and their business revenue!
This curriculum will teach you the top five essential pieces of knowledge and top five skills that are needed to successfully move through a dog trainer certification program - or to begin training any dog! Afterall, dog training is a mechanical skill and effective dog training is reliant on understanding how to apply these mechanical components to real life scenarios. As with any skill, the underlying knowledge needs to be in place, so that you understand the systems, methods and protocols that we use which will be crucial to you and to your future clients' (both human and canine) success.
The focus of this program is on the procedural skills required and the critical knowledge. The following top ten essentials skills and knowledge are presented, along with recommended homework for you to do!
#1 Your Best Decision
#2 +R Rock
#3 "No!" isn't a Behavior
#4 Management for Success
#5 You've Got It
#6 Your Training Gear
#7 The Training Steps
#8 What Will You Name It?
#9 Train-Test-Train
#10 Practice Makes Perfect!
The program content:
A recorded introduction to your 'Getting Started' program.
An overview of the training equipment that you will need.
Individual overviews of the key knowledge and skills. A total of 52 minutes listening, divided between ten bite-sized lessons to listen to at your convenience.
Suggested 'homework' exercises to help you cement your learning.
4 e-learning videos that focus on clicker mechanics; the correct order of events; intelligent luring, and safe treat delivery!
27 additional e-learning videos, providing 52 minutes extra of essential viewing to help you further your understanding of the key knowledge and practice the essential skills that you will need!
Numerous extra 'tips for success' - There really are too many to list!
Your Top Ten eBook
Written and contributed to by qualified canine training and behavior specialists.
Course Curriculum
An Introduction to Your Program
Available in days
days after you enroll
Getting Started
Available in days
days after you enroll
What are the Five Key Points of Knowledge?
Available in days
days after you enroll
Your Instructor

Niki Tudge - M.B.A, PCBC-A, CABC, CDBC SSA-CFT, Six Sigma Black Belt, HCITB TS1, TS2 & TS3 Certified People Trainer, Certified Facilitator and Business Project Manager.
As the founder and President of The Pet Professional Guild, DogNostics Career Center and The DogSmith, Niki has substantial leadership experience in the pet industry. Niki has published numerous articles on dog training and dog behavior and her pet dog training businesses have been featured in many publications including The New York Times. Niki's professional credentials include; AABP-Professional Dog Trainer, AABP-Professional Dog Behavior Consultant, PCBC-A and PCT-A through the Pet Professional Accrediting Board and she has earned diplomas in Animal Behavior Technology and Canine Behavior Science & Technology through the Companion Animal Science Institute. Along with Niki's business degree and MBA from Oxford Brookes University she is also a certified Six Sigma Black Belt, a HCITB TS1, TS2 & TS3 certified people trainer and a certified Facilitator and Project Manager.
---
Louise Stapleton-Frappell - B.A. Hons, PCT- A, PCBC-A, CAP3, CTDI, DN-FSG, DN-CPCT, CWRI
Louise is a Partner and Faculty Member of DogNostics Career Center and Board Member of The Pet Professional Guild. Louise has constantly built on her knowledge and furthered her education in the field of force-free, rewards based, science-based pet training. The creator of the DogNostics' Dog Trainer Certification Program, Louise has presented at conferences internationally and has gained a reputation for expertly teaching and training humans and canines at her own establishment, The DogSmith of Estepona, in Southern Spain, where she offers a wide range of both group and private classes and pet dog services.
Frequently Asked Questions
Can i access the program immediately?
Yes as soon as you purchase the program you can download all the files
How long do I have access to the program?
How does lifetime access sound?