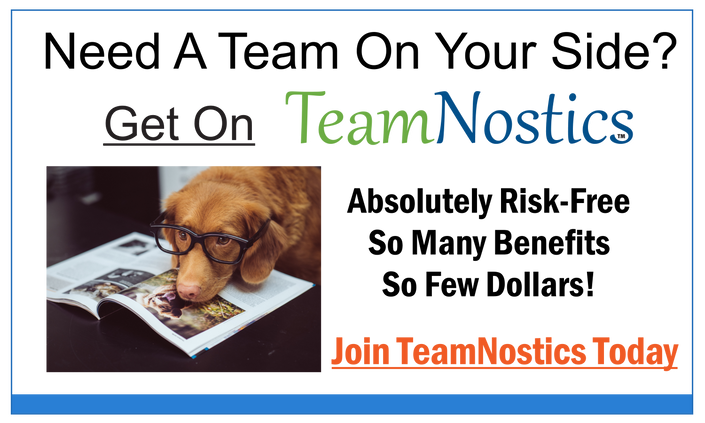 TeamNostics - Your Monthly Membership - So Many Resources & Such Great Value!
Your Pet Industry Partner in Creating Professional, Fun, Affordable, Effective Programs and Products for You, Your Business, and Your Employees.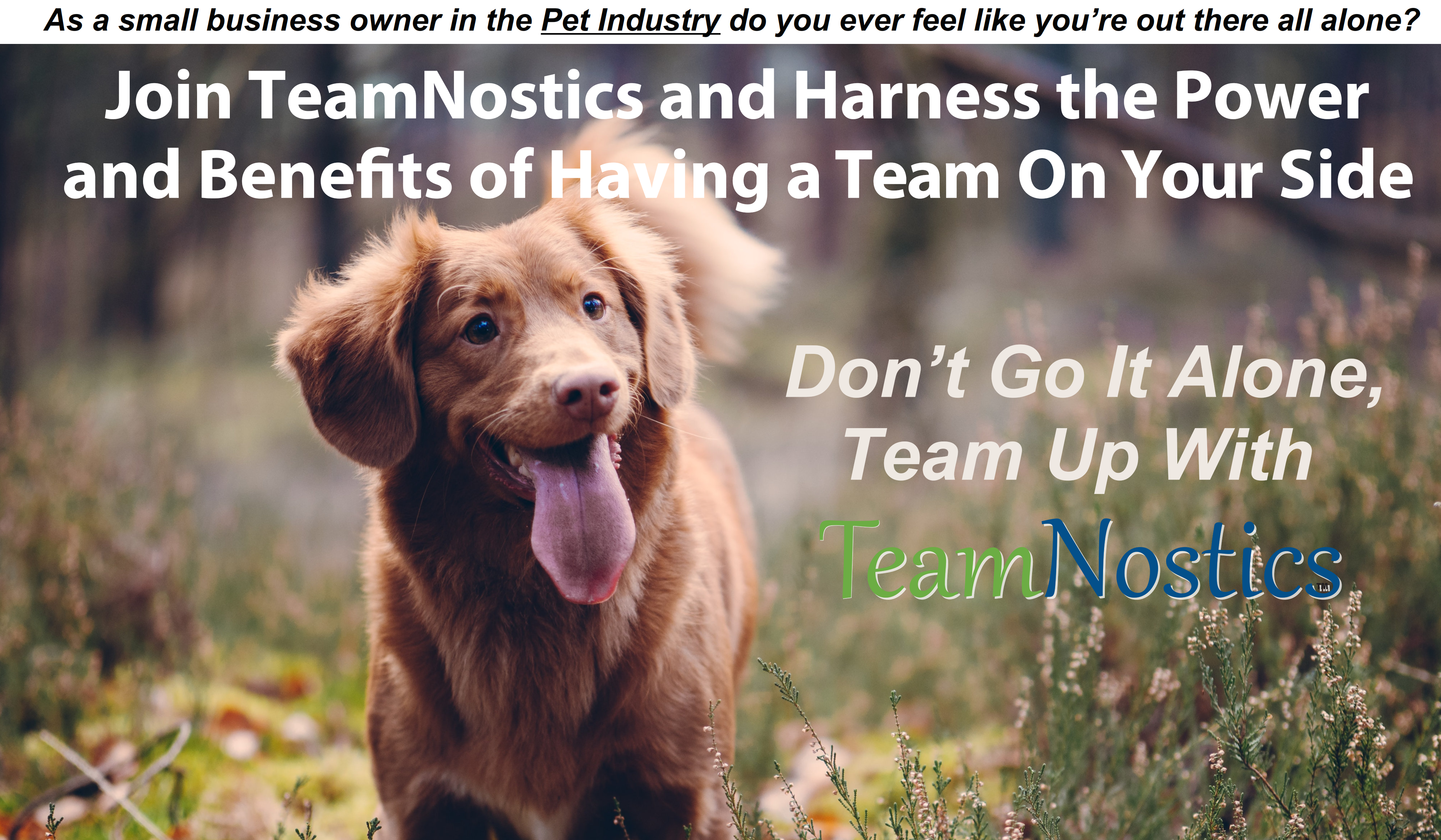 "I am fairly new to dog training and am really enjoying this course. I love being able to take the course online as I don't live close to any known science based, rewards based, force-free trainers. Having a month to review the material and perform the required activities is just enough time to be very doable with a busy schedule. This class has definitely improved my training skills and deepened my relationship with all my dogs. I would highly recommend this course to anyone interested in improving their training knowledge and skills, all while having more fun with their dog!" - Patti Howerton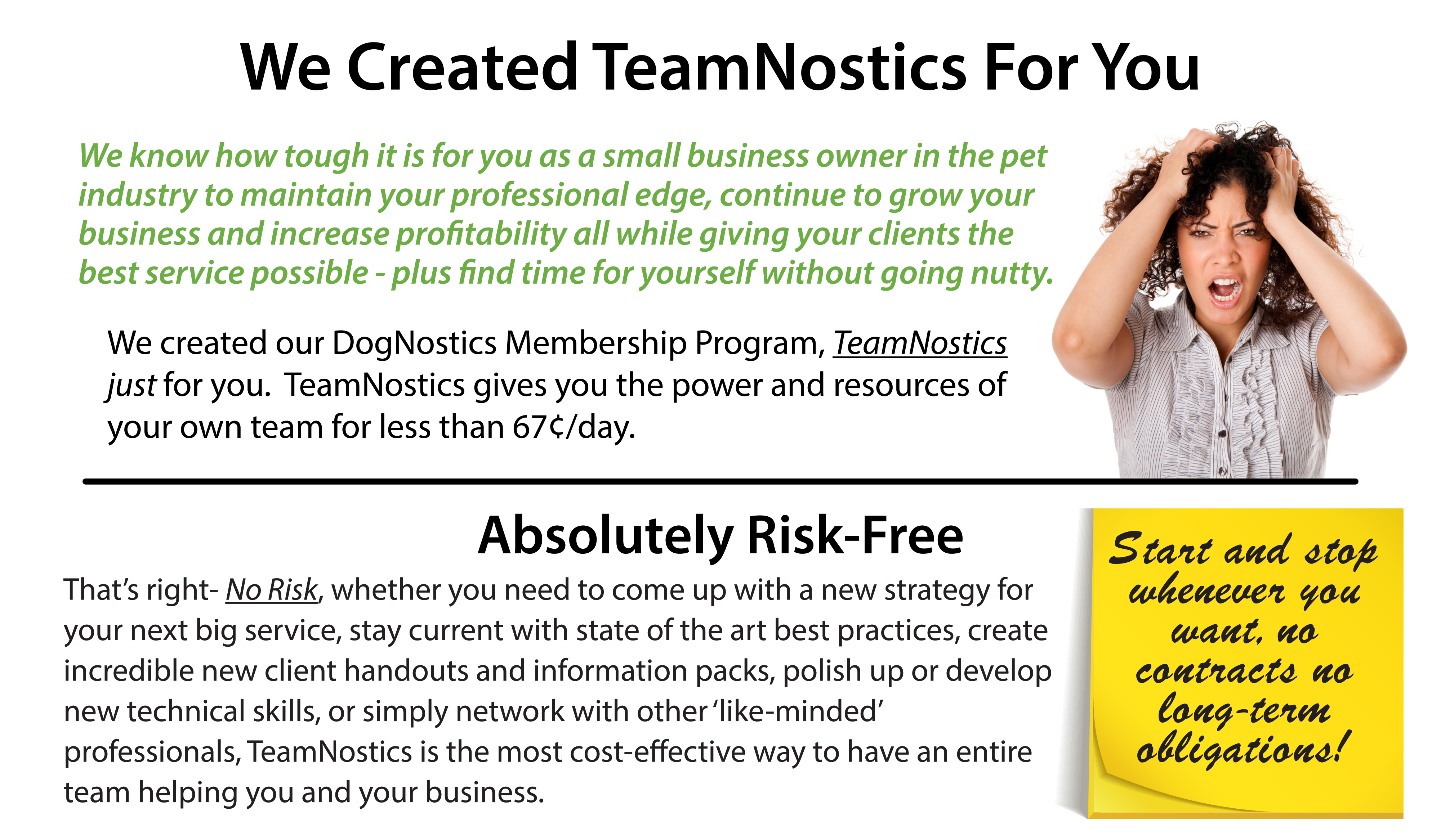 Niki is not just an ethical and outstanding dog behavior consultant she is a genius at business, a combination we have not seen in the pet care industry. Many coaches can identify business problem-- you need more clients, more revenue, more marketing--- but only Niki actually helped me address and fix my business problems, in a way that enables me to actually have a life and avoid burnout. Whatever your dream, Niki's coaching and hard work can take you there, even if you thought it wasn't possible. If you want to take your part-time dog training business full time, walk don't run to hire Niki as your coach. Niki's coaching not only helps you operate your business more efficiently she helps you to establish an exit strategy so you have something to retire. Angelica Steinker - Owner Courteous Canine Inc M.Ed., CAP2, CDBC, PDBC, NADOI -certified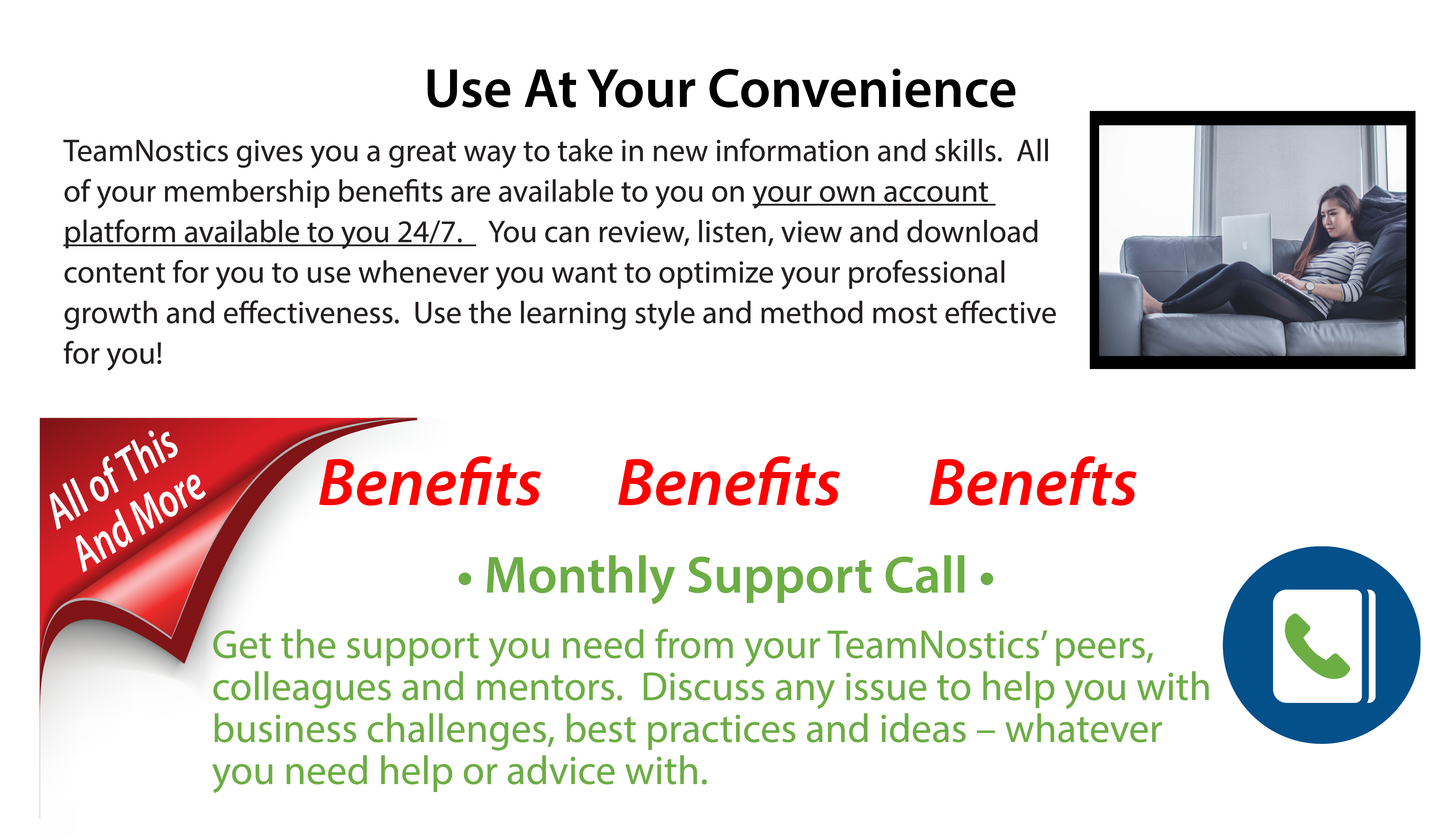 "Niki is the driving force behind the Pet Professional Guild. Her vision is helping to promote force free training among professionals in all aspects of pet care, as well as among pet owners, who can join as supporting members. She is a business savvy, dedicated and competent professional who is working every day toward a world in which no one has to use fear or pain to train a canine companion. I am incredibly proud to be her colleague and to have been asked to contribute to this effort. I highly recommend her, both as a professional dog trainer and behavior consultant, and as an advocate for the welfare of dogs." Anne Springer, B.A., Dip., CTDI, CAPCT, VA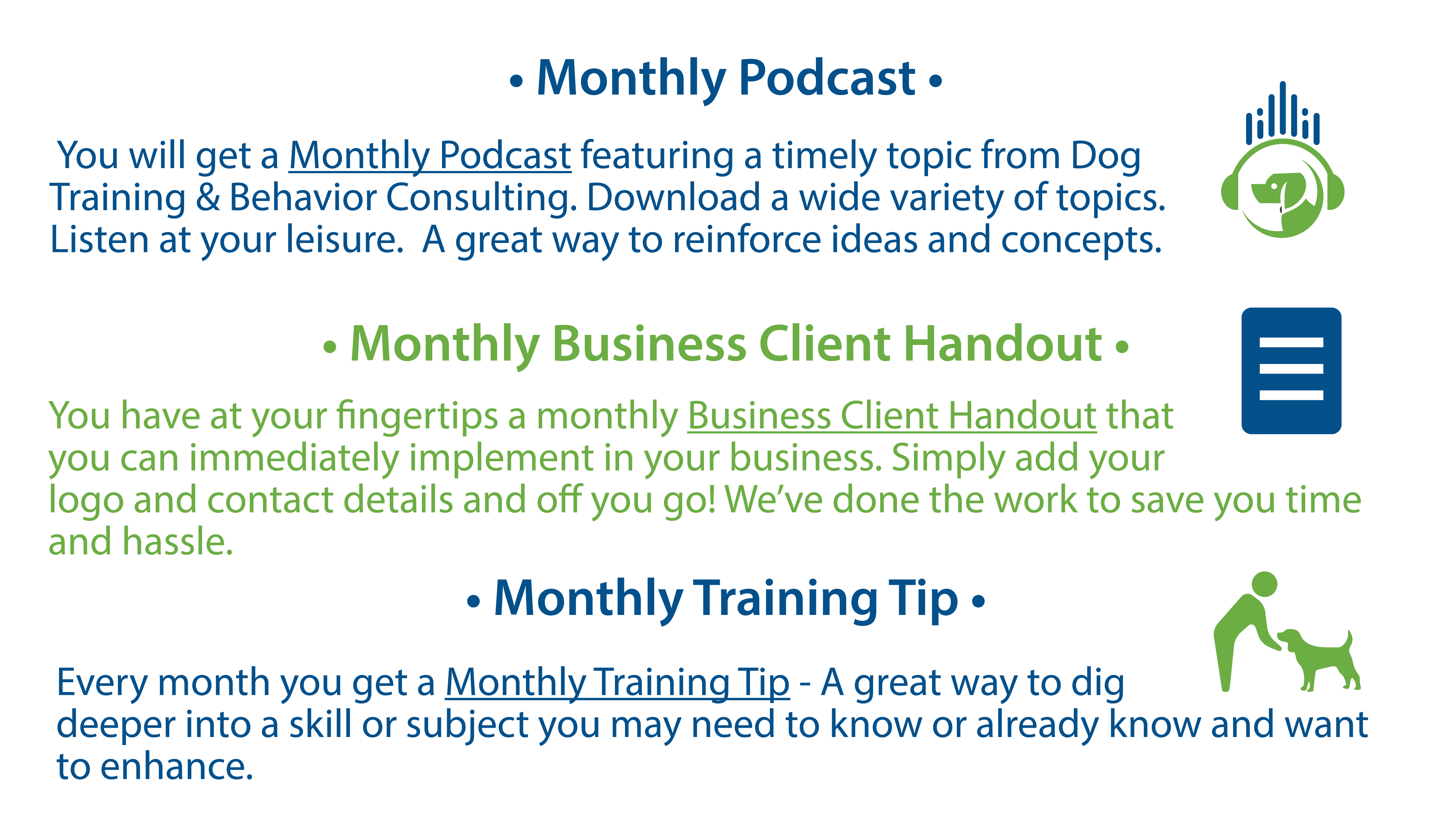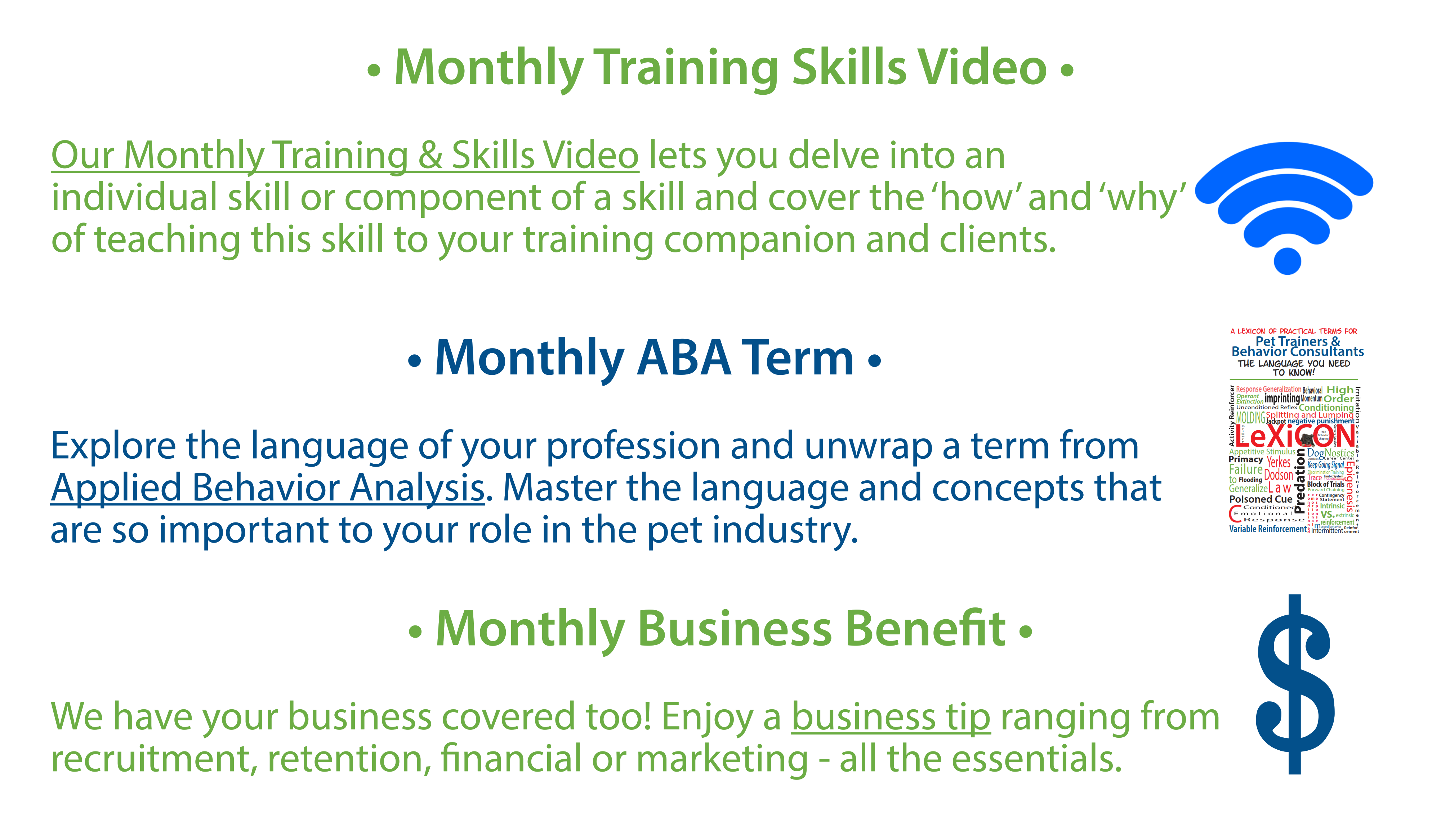 "... The instructor, Louise Stapleton-Frappell is always willing to help, or address questions. Through her Supplemental Learning assignments, I have learned so much more about the science and mechanics of training. They have totally inspired me to delve deeper into subjects I thought I knew..."- Sandra Lacroix, U.S.A.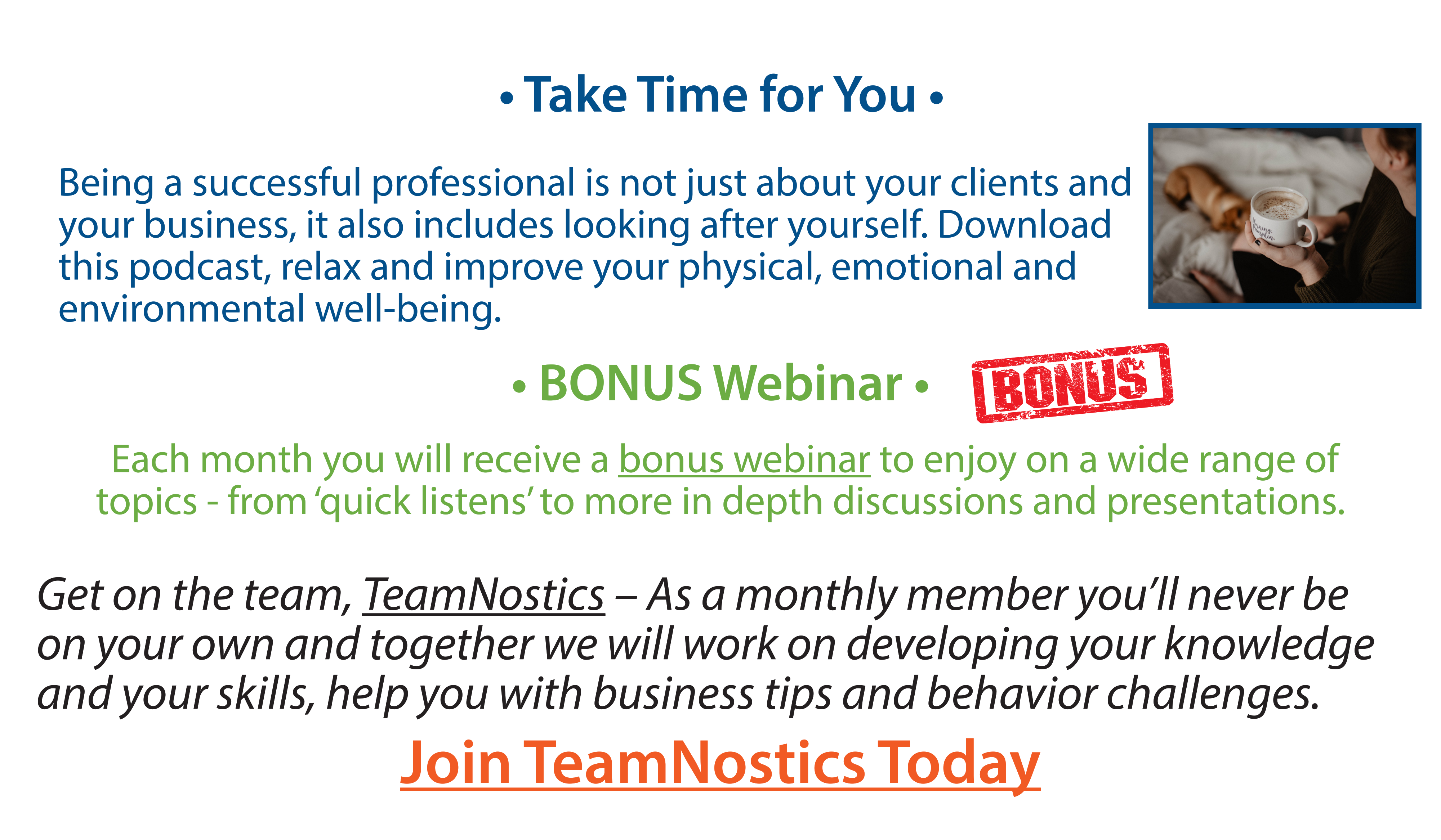 "...Having a month to review the material and perform the required activities is just enough time to be very doable with a busy schedule...The webinars are very informative. Louise is very nice and helpful, and the extra material given to read has been very informative and interesting. Meeting other people and their dogs from around the world has been fascinating... I would highly recommend this course to anyone interested in improving their training knowledge and skills, all while having more fun with their dog!" - Patti H.
Your Instructor

Niki Tudge - M.B.A, PCBC-A, CABC, CDBC SSA-CFT, Six Sigma Black Belt, HCITB TS1, TS2 & TS3 Certified People Trainer, Certified Facilitator and Business Project Manager.
As the founder and President of The Pet Professional Guild, DogNostics Career Center and The DogSmith, Niki has substantial leadership experience in the pet industry. Niki has published numerous articles on dog training and dog behavior and her pet dog training businesses have been featured in many publications including The New York Times. Niki's professional credentials include; AABP-Professional Dog Trainer, AABP-Professional Dog Behavior Consultant, PCBC-A and PCT-A through the Pet Professional Accrediting Board and she has earned diplomas in Animal Behavior Technology and Canine Behavior Science & Technology through the Companion Animal Science Institute. Along with Niki's business degree and MBA from Oxford Brookes University she is also a certified Six Sigma Black Belt, a HCITB TS1, TS2 & TS3 certified people trainer and a certified Facilitator and Project Manager.
---
Louise Stapleton-Frappell - B.A. Hons, PCT- A, PCBC-A, CAP3, CTDI, DN-FSG, DN-CPCT, CWRI
Louise is a Partner and Faculty Member of DogNostics Career Center and Board Member of The Pet Professional Guild. Louise has constantly built on her knowledge and furthered her education in the field of force-free, rewards based, science-based pet training. The creator of the DogNostics' Dog Trainer Certification Program, Louise has presented at conferences internationally and has gained a reputation for expertly teaching and training humans and canines at her own establishment, The DogSmith of Estepona, in Southern Spain, where she offers a wide range of both group and private classes and pet dog services.
Frequently Asked Questions
When does the membership start?
The membership starts now and then each month your membership benefits will drop down for you to access. You will also receive a notification email
How long do I have access to the membership benefits?
After enrolling, you have unlimited access to the membership benefits until you decide to leave the membership program. You have access across all your devices to all the material. If you cancel the membership, then access to the program ends.
What if I am unhappy with the conent?
You can stop your membership program whenever you choose
Can I use the business handouts in my own business?
Yes, the business handouts are designed for you to use in your business. You can add your logo to the top of them and your contact details
How Does The 25% Discount Work On Your Programs
It's simple. As long as you are a DogNostics Monthly Member, then you will be entitled to an ongoing 25% discount on any and all of our programs.