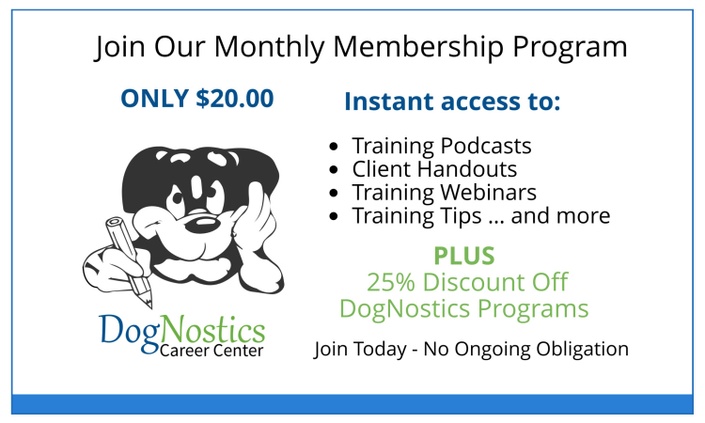 Monthly Membership
Your Pet Industry Partner in Creating Professional, Fun, Affordable, Effective Programs and Products for You, Your Business & Your Employees.
CEUs PPAB 2 Units each month on completion of the modules
Here at DogNostics we have rolled out our Monthly Membership Program. Not only is it affordable but we guarantee you will find it useful, not only for you but for your clients and for your business.

We are sure you want to strengthen your training and behavior knowledge and improve your mechanical skills while enjoying the process in a no pressure and affordable way. Maybe as a side benefit you also want to benefit from some useful business tools, gain access to some client training handouts or just learn some new business processes?
What also bet that you want to do this in a fun and affordable way!
Join DogNostics as a monthly member and together we will work on the development of your knowledge and your skills; we will help you with business tips and behavior challenges.

For only $20.00 each month you will receive at a minimum:
Monthly Podcast. Each month you will receive a podcast featuring an important topic from Dog Training & Behavior Consulting. Download it and listen at your leisure.
Monthly Business Client Handout. Read, download and implement these great client handouts into your own business. Simply add your logo and contact details and off you go!
Monthly Training Tip - Learn, improve or dig deeper into a skill or piece of knowledge you may need to know, already know or want to enhance
Monthly Knowledge & Skills Webinar – Join us as we delve into an individual skill or component of a skill and cover the how and why of thoughtfully teaching this skill to your training companion or clients
Monthly ABA Term: Each month we unwrap a term from Applied Behavior Analysis. Explore the professional language and concepts that are so important to our roles in the pet industry.
Business Benefit – We have your business covered too! Enjoy a business tip that may range from recruitment, retention, financial or marketing. A monthly snippet you will find useful in your business!
Take Time for You: Being a successful professional is not just about your clients and your business, it also includes looking after yourself. Download this podcast and learn how to improve your physical, emotional and environmental well-being.
BONUS Webinar – Each month you will receive a bonus webinar to enjoy.
Facebook Group Support – Join our Facebook group and network with other DogNostics students
PLUS 25% Discount of other DogNostics Programs while you are enrolled as a member
We are not going to embark on any plans or programs that you will find aversive or uncomfortable, this is your business and it's your passion. We are going to help you leverage your passion so you can work on doing what you love most!
Your Instructor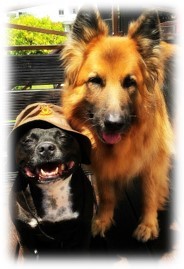 Niki Tudge - M.B.A, PCBC-A, CABC, CDBC
Niki is the Founder of The Pet Professional Guild, DogNostics Career Center, The DogSmith and the President of Doggone safe. Niki has combined her "people" teaching and pet training skills with her commitment to pet rescue and substantial business knowledge to create a proprietary system of education known as ARRF® supported by an operational implementation process called MTR®. Niki is equipped with a unique combination of business experience, pet training and pet behavior expertise, a background in exceptional customer service, certification as a trainer of trainers and many years consulting to pet rescue groups.
---
Louise Stapleton-Frappell - B.A. Hons, PCT- A, PCBC-A, CAP3, CTDI, DN-FSG, DN-CPCT, CWRI
Louise is a Partner and Faculty Member of DogNostics Career Center and Board Member of The Pet Professional Guild. Louise has constantly built on her knowledge and furthered her education in the field of force-free, rewards based, science-based pet training. The creator of the DogNostics' Dog Trainer Certification Program, Louise has presented at conferences internationally and has gained a reputation for expertly teaching and training humans and canines at her own establishment, The DogSmith of Estepona, in Southern Spain, where she offers a wide range of both group and private classes and pet dog services.
Frequently Asked Questions
When does the membership start?
The membership starts now and then each month your membership benefits will drop down for you to access.
How long do I have access to the membership benefits?
After enrolling, you have unlimited access to the membership benefits until you deceide to leave the membership program. You have access across all your devices to all the material.
What if I am unhappy with the conent?
You can stop your membership program whenever you choose
Can i use the business handouts in my own business?
Yes, the busines handouts are designed for you to use in your business. You can add your logo to the top of them and your contact details
How Does The 25% Discount Work On Your Programs
It's simple. As long as you are a DogNostics Monthly Member then you will be entitled to an ongoing 25% discount of any and all of our programs.