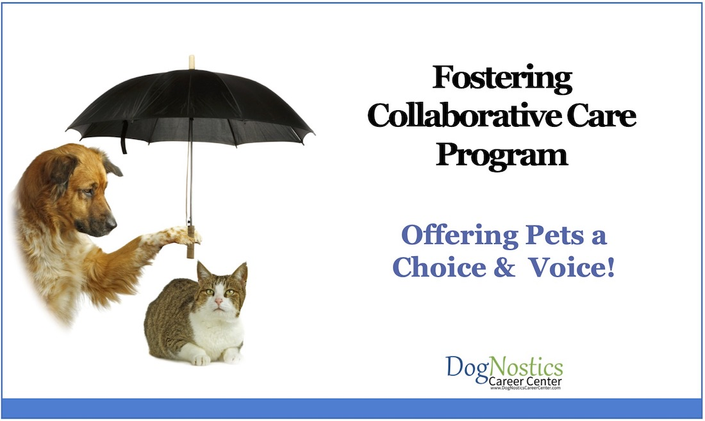 Fostering Collaborative Care Instructor Program
Add This Program to Your Business Services &/Or Choose The Option To Gain a New Credential!
The DogNostics Fostering Collaborative Care Program has been awarded

CEUs: PPAB 3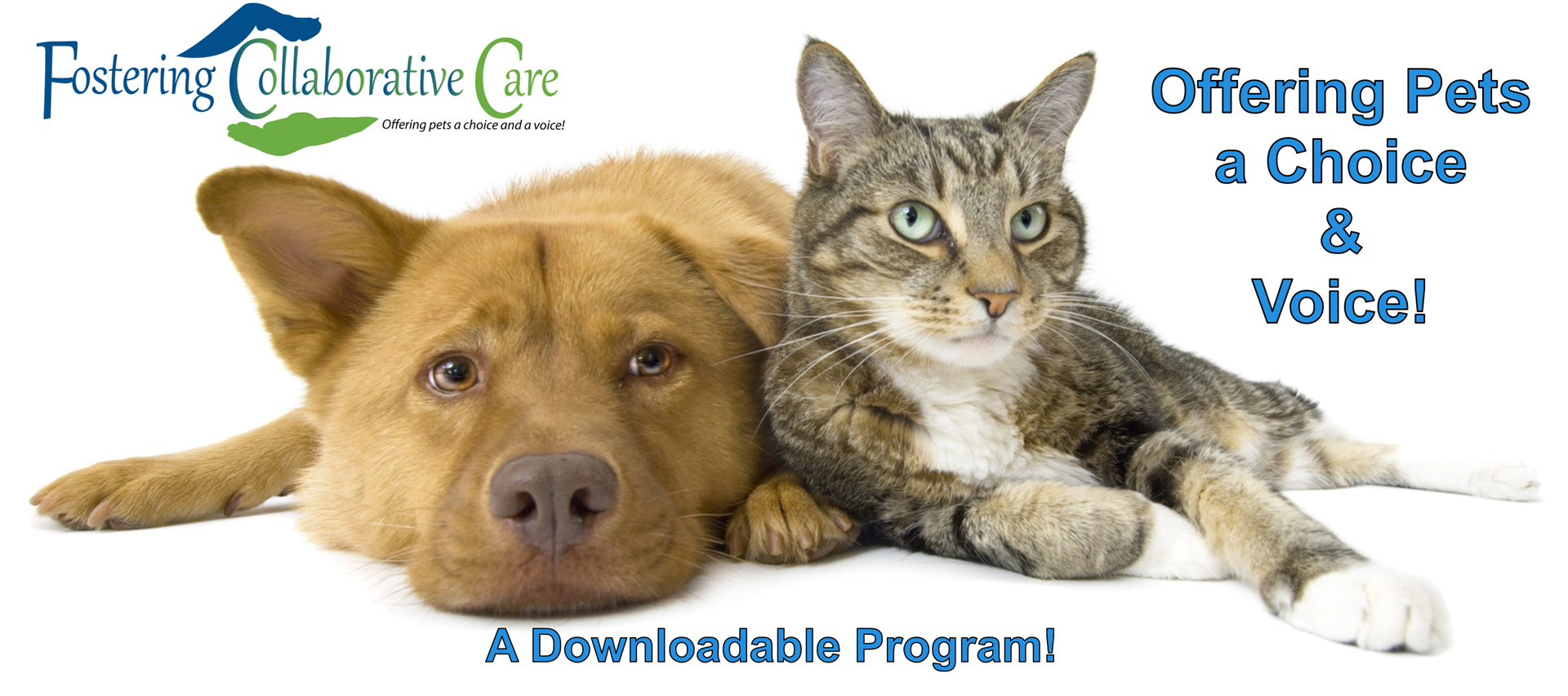 The Fostering Collaborative Care Program is available as an educational event and a certification. Your choice!
Join the program and become the go-to expert in your area and have your clients enjoying Collaborative Care procedures whether they are at home, with their groomer, or their veterinarian.


This short course is ideal for trainers, veterinary technicians, shelter workers, groomers, kennel staff, doggy day-care workers, pet sitters, dog walkers, and other pet care providers.

How often do you think...?
"I would love to run a workshop or class on (fill in the gap)" and then the reality of the work required sets in! Tasks such as the development of the curriculum, the timeline, the skills and so much more ... Well, here at DogNostics we have done all the work for you!


The Program includes:
7 Collaborative Care Skills
4 Key Concepts... and much more! Check out the program content below!
Why Join the Program?
Understanding the many uses for and learning how to teach essential collaborative care behaviors will help pets happily cooperate in their own care. Collaborative care skills lead to a reduction in stress and anxiety for you, your clients, and their pets. These important skills help everyone to remain calm in what could otherwise be fear-provoking situations.
Whether it be your pet or a client's pet; a dog, a cat, or a bunny; in your home, during transport, at the veterinary clinic, or in your pet care business – It is essential we learn the importance of collaborative care and gain knowledge as to how we can empower pets, offering them a choice and a voice, while improving manageability through happy compliance during husbandry and veterinary care procedures.
The Fostering Collaborate Care recorded presentation delivered in two parts, will provide you with the skillset and knowledge needed to help pet owners look after their pets' emotional, as well as physical, well-being.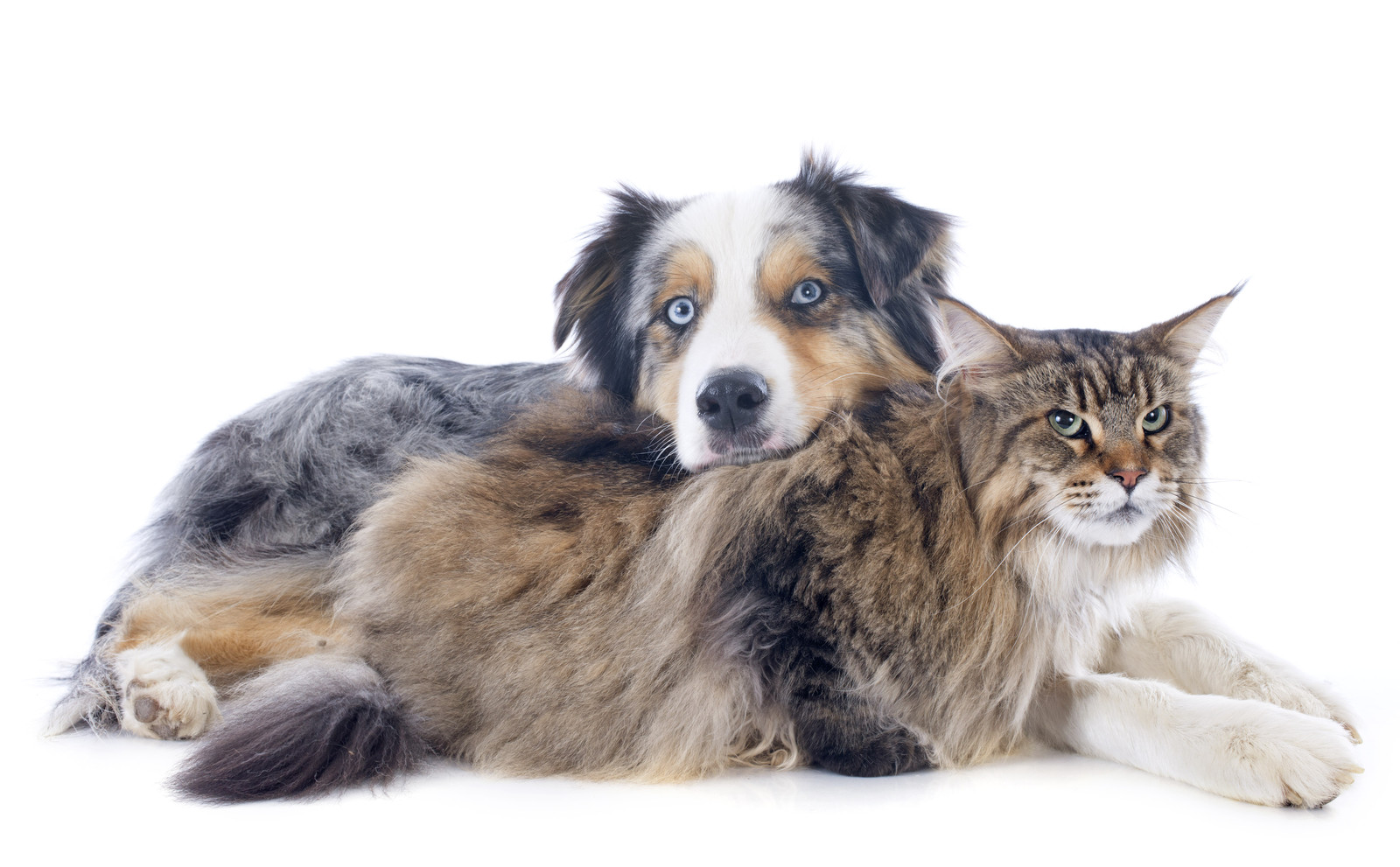 Shake Hands – A cute trick for saying hi that is also incompatible with jumping up – Indispensable for paw exams and nail trims. A default behavior - For meet & greets and whenever the pet is unsure of what to do
Hand Target – A nose to hand touch for use in husbandry procedures, to build confidence, & to effortlessly move and position pets.
Sustained Chin (to hand or object) Target and Sustained (nose to) Hand Target for use in pet care procedures & to effortlessly move and position pets, keeping them in position for the required duration. These sustained behaviors also act as a clear signal of consent, allowing the pet to Say Yes or No!
A Default sit, down, or stand – For use in training; during husbandry procedures; to maintain a high rate of reinforcement and a means of the pet clearly letting us know that they are ready to participate in their care and to continue the collaboration.
Paws Up – Two front paws up on object – Fantastic behavior for grooming and examinations; getting in and out of vehicles…
In Your Crate – A crate should be a pet's safe-place to be; a place they willingly go to and happily relax in – Essential for transport; stays away from home; vet visits; when unable to actively supervise the pet
On Your Mat – Imagine a dog who immediately runs to their mat when the doorbell rings; a cat who comfortably settles on a mat while at the vet's...
Giving Pets a Choice – Teach behaviors that empower pets to become true collaborative partners, actively choosing to participate in their care procedures
Enabling Pets to Have a Voice – Help pets build the skills to clearly consent to procedures – to say "Yes" or to say "No"
The Reduction of Anxiety, Stress, and Fear - Supporting pets and their owners by creating, through education, more relaxed and enjoyable care procedures
Improved Emotional, Environmental & Physical Well-Being – The building of positive behaviors and emotions towards a pet's management, training, and care procedure
Your Program Learning Objectives
Improve a pet's manageability through happy collaboration during husbandry procedures
Learn how to teach cooperative behaviors that will help pets experience less stress during pet care procedures whether in the home, during transport, or at the vet's, groomer's, pet sitter's, or elsewhere.
Support the increase of the human-animal bond and levels of trust shared
Build a positive emotional response to collaborative care
This Fostering Collaborate Care recorded presentation delivered in two parts, broken down into bite-sized lessons, will provide you with the skillset and knowledge needed to help pet owners look after their pets' emotional, as well as physical, well-being.
Collaborative Care Partner Program - The Program Contents

2.5 hours of recorded presentations. Part 1 and Part 2 - Delivered to you in bite-sized lessons for you to work through at your leisure
6 Supplementary Collaborative Care Videos
6 Considerate Handling Videos
Step-by-Step Demonstration of How to Teach a Dog to Enjoy Being Picked Up
2 x PDFs of the PowerPoint presentations (and individual pdfs of each lesson)
1 x Editable PDF Flyer to promote the program
A Free PDF copy of Get Coaching Now - The How, What, and Why of Effective Pet Industry Client Consultations and Skill Training Sessions by Niki Tudge
Your 11-page Instructor Manual, which includes:
Your program overview and class size
Recommended pricing
7 Key Skills
4 Key Concepts
Your six-week class curriculum
Your class introduction verbiage
Your recommended class format, equipment, and supplies
How to host a graduation ceremony
Suggested marketing and class descriptions
Your Instructor Certification
Enrolment in the Collaborative Care Partner Certification is included for those of you who wish to qualify as a Licenced Collaborative Care Instructor and earn the right to the post-nominal title DogNostics Collaborative Care Partner, DN-CCP
Buy now, be training tomorrow!
The skills and knowledge are a fabulous addition to a professional trainer's toolkit. But anyone who cares for a dog or cat will benefit from this program including pet owners!
After You Gain Your New Knowledge & Skills You Can Also Choose to
BECOME A DOGNOSTICS' COLLABORATIVE CARE PARTNER!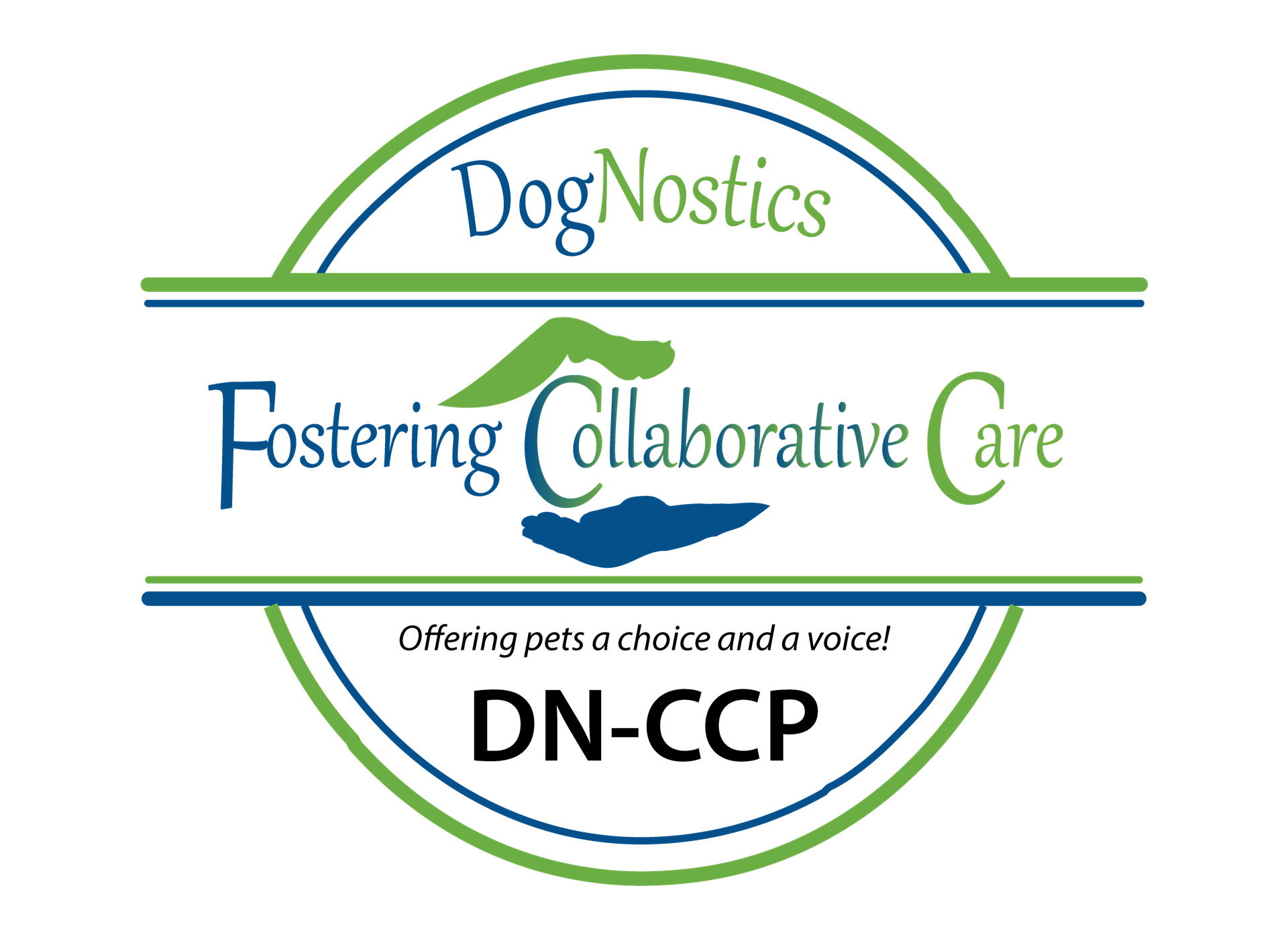 Learning these collaborative care procedures and concepts will benefit your clients, their pets and you!


Pet Owners - Simply Enjoy the Program - No Need to Certify
Do you and your pet dread having to go to the vet's?
Do you have a dog that is fearful of getting in cars?
Does caring for your pet sometimes feel like a battle of wills?
This short course will help you learn how to teach your pet to happily collaborate in your home, during transport, veterinary visits, and other care procedures.
Help your pet become a happier pet while you become a happier guardian!
Your Instructor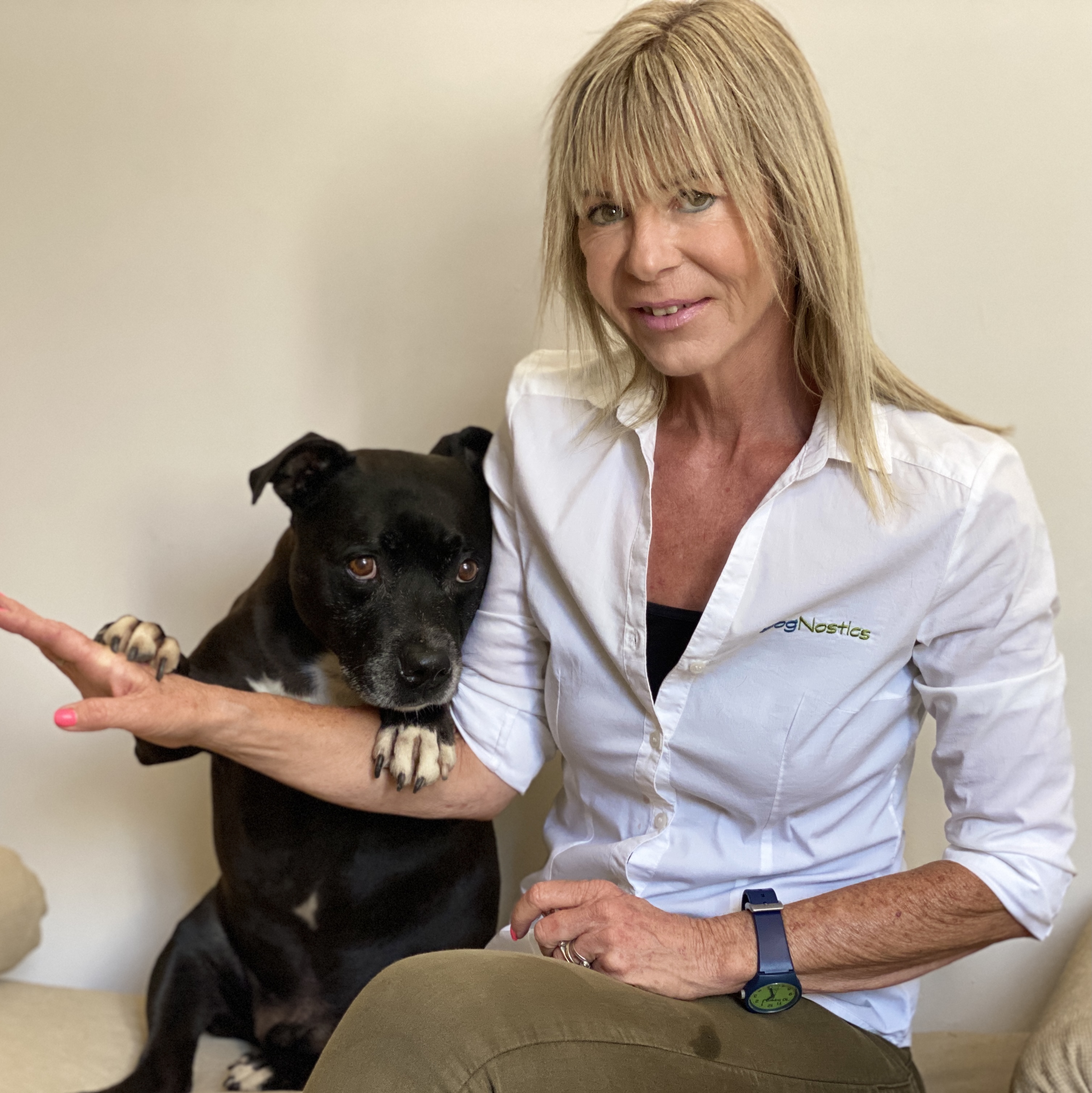 Louise Stapleton-Frappell - B.A. Hons. PCBC-A. PCT-A. CAP3. CTDI. CWRI. DN-FSG2. DN-CPCT2. FFCP.
Professional Canine Behavior Consultant and Trainer – Accredited by the Pet Professional Accreditation Board
Co-Partner and Faculty Member of DogNostics Career Center and Board Member of The Pet Professional Guild.
Louise's experience, her background as a teacher and her impressive pet industry credentials means she is uniquely qualified to share her skills and knowledge with both the public and pet industry professionals. The creator of the DogNostics' Dog Trainer Certification Program, Louise has presented at conferences internationally and has gained a reputation for expertly teaching and training humans and canines at her own establishment, The DogSmith of Estepona, in Southern Spain. Louise has published numerous articles on dog training and dog behavior and is also the published co-author of the following titles, A Lexicon of Practical Terms for Pet Trainers and Behavior Consultants and Pet Training and Behavior Consulting: A Model for Raising the Bar to Protect Professionals, Pets and Their People.
Frequently Asked Questions
When does the course start and finish?
The course starts as soon as you register. It is a completely self-paced online course - you decide when you start each lesson and when you finish it. However you will be required to take the lessons in a particular order
How long do I have access to the course?
How does lifetime access sound? After enrolling, you have unlimited access to this course for as long as you like - across any and all devices you own.
How do I become a Certified DogNostics Collaborative Care Partner?
Register for this Fostering Collaborative Care program. In your own time, on your own schedule, listen to two and a half hours of Collaborative Care Presentations. You will then need to register for the Collaborative Care Partner Certification. Take an online multiple-choice test comprised of twenty questions. Submit four thirty second videos for review.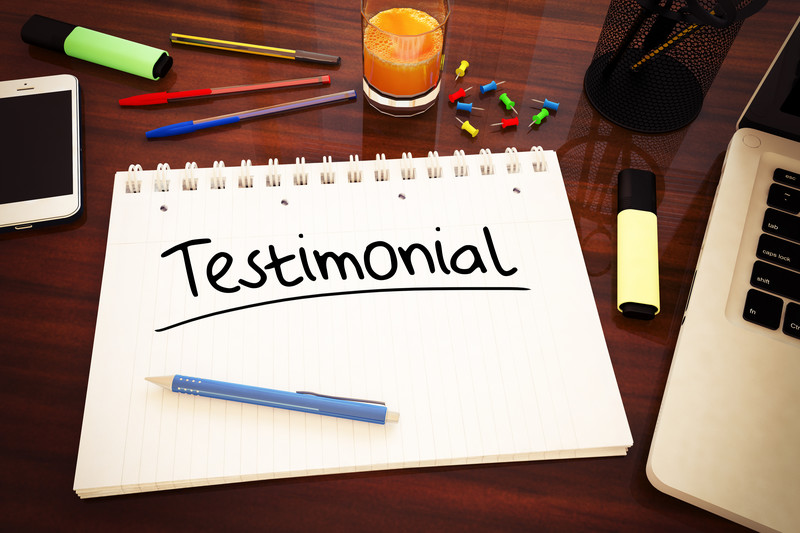 It's a one of a kind class for any community.

"This program was suggested to me in addition to the Apprentice Training course when I was looking for specific direction with my career. I was somewhat skeptical of it because I hadn't established a rapport with Dognostics Career Center yet. My biggest concern was 'How" in fact you could train a dog that was fearful of vets or groomers or the car to comply, as I had understood that you couldn't train fear or anxiety out of a dog. It didn't take long for me to find that exact written statement very early, which peaked my interest even more. Conditioning.....of course. Brilliant! Now I see it and believe me you can believe as well!. I have my first small group of skeptics attending a workshop soon and cannot wait to work the magic of the Fostering Collaborative Care Training!
It's a one of a kind class for any community. So happy to be the first in my area!"
- Cheryl King