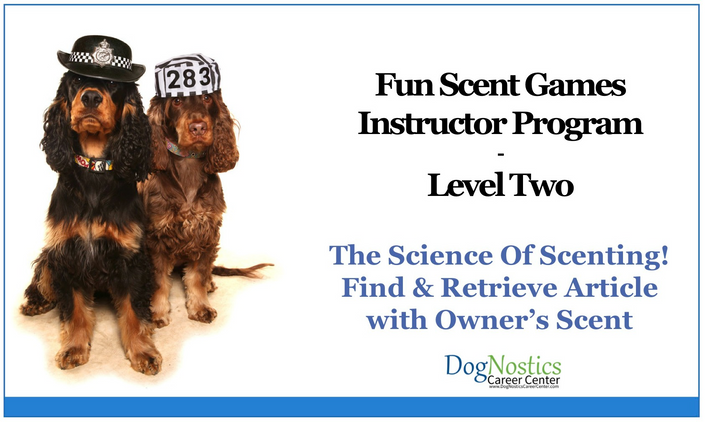 Fun Scent Games Instructor Certification Program - Level Two
Learn all about the science of scenting & scent article training
Become a Certified "Fun Scent Games" Instructor! DN-FSG2

The DogNostics Fun Scent Games - Level Two Instructor Program has been awarded CEU's: PPAB 5, IAABC 5, CCPDT 5
Welcome to the Fun Scent Games Level 2 Instructor course which makes use of the amazing natural scenting ability of dogs. This is a fabulous Certification Program that provides you with the tools, skills and knowledge to diversify your Fun Scent Games Class offerings. The program focuses on teaching dogs to find what smells like their owner.
Offering Fun Scent Games Level 2 group classes, private classes or workshops will broaden your service offerings, help build client loyalty and support the needs of your pet owning community.

This is Certification Level 2. Upon completion of this program you will be certified to teach "Fun Scent Games Level 2"
Level Two Fun Scent Games Instructor Program Learning Objectives:
Canine olfaction history and scientific facts
The training environment, philosophy and methodology
Effects of air currents
Avoiding cross contamination
Detection thresholds
Scent discrimination
A fantastic retrieve - how to teach 'fetch' to dogs and clients
How to teach optional 'fronts' and 'finishes' to give your client's behavior chain some extra flash!
How to teach dogs to find the target odor out of 12 items
Problem solving for various challenges that can be encountered
How to play, building criteria and areas of reinforcement
How to set scent discrimination training up for success
How to create a confident learner
Recommended course curriculum and course description
Upon Successful Completion, You Will Receive:
A DogNostics Instructor Certificate DN-FSG2
A Certification Badge to display on your website
A listing on the DogNostics Fun Scent Game Instructor Registry
A PDF copy of the Course Curriculum
A student Certificate for you to co-brand to provide to your "Fun Scent Games" students
Advertising copy describing the program for your website
Artwork for a promotional 8.5 x 11 flyer
Access to the DogNostics Certified Instructor Member website mentoring area.
Mentoring Support through the DogNostics Faculty Members
Access to the DogNostics Student Common Room - A Closed Facebook Group where DogNostics students can network with each other, exchange ideas and ask questions
Mentoring Support through the DogNostics Faculty Members
The Total Program cost is only $130.00. You will see a full return on your investment after one group class!
Please Note:

Level 1 is a prerequisite for Level 2

You must have certified as a Level One Fun Scent Games Instructor before undertaking Level 2 Certification

Each applicant has 12 months to complete each program.
Study at home in your own time!
Course Curriculum
Welcome to Your Course
Available in days
days after you enroll
Part One. The Science of Scenting
Available in days
days after you enroll
Your Instructor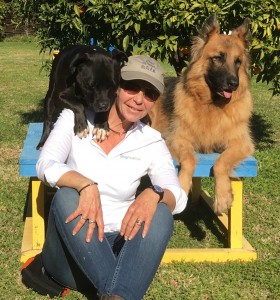 Louise Stapleton-Frappell - B.A. Hons, PCT- A, PCBC-A, CAP3, CTDI, DN-FSG, DN-CPCT2, CWRI is a partner and faculty member of DogNostics Career Center and board member of The Pet Professional Guild. A professional canine trainer and behavior consultant – accredited via the Pet Professional Accreditation Board, Louise is the regional coordinator of Doggone Safe in Spain, the membership manager of The Pet Professional Guild British Isles and the owner and head trainer of The DogSmith of Estepona.
Louise Stapleton-Frappell's experience, her background as a teacher and her impressive pet industry credentials means she is uniquely qualified to share her skills and knowledge with both the public and pet industry professionals. Louise gained her CAP3 with distinction and holds verified certification in Animal Behaviour and Welfare (Edinburgh University) and Dog Emotion and Cognition (Duke University). Louise's professional credentials also include: Certified Trick Dog Instructor, Certified Whistle Recall Instructor, Level Two Certified Pet Care Technician, and Certified Fun Scent Games Instructor. Louise is proud to be a Pet Dog Ambassador Instructor and Assessor, a programme that acknowledges the hard work and commitment that guardians and their dogs undertake to make their shared lives enjoyable.
At the age of just 16 months, Louise's dog Jambo became the first Staffordshire Bull Terrier to become a Trick Dog Champion. Jambo has since been aired on Talent Hounds TV in Canada and was featured as a Victoria Stilwell Positively Story.
Louise is the creator and instructor of the DogNostics Dog Trainer Certificate Course; Dog Trick Instructor Program; Fostering Collaborative Care Program; Walk This Way Instructor Program, co-author of The Top Ten Dog Training Knowledge Concepts and the instructor and assessor of the DogNostics Fun Scent Games Instructor certification courses - Level 1 and Level 2
Louise has published numerous articles on dog training and dog behavior and is also the published co-author of the following titles, A Lexicon of Practical Terms for Pet Trainers and Behavior Consultants and Pet Training and Behavior Consulting: A Model for Raising the Bar to Protect Professionals, Pets and Their People.
Frequently Asked Questions
When does the course start and finish?
Your course begins as soon as you enroll! Each applicant has 12 months to complete their program.
How long do I have access to the course?
After enrolling, you have unlimited access to this course for twelve months - across any and all devices you own.