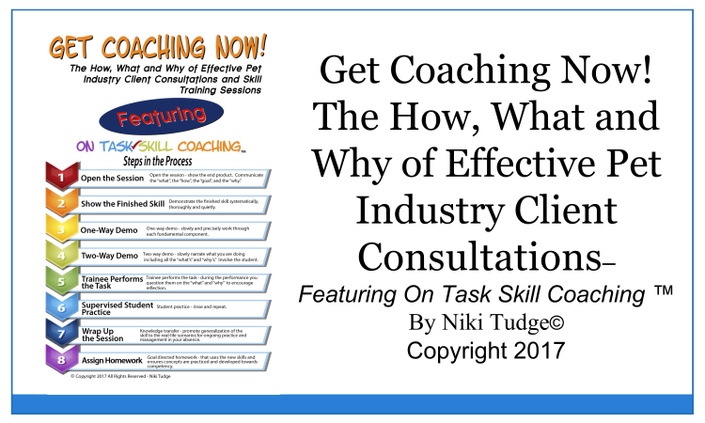 Read Get Coaching Now
The How, What and Why of Effective Pet Industry Client Consultations and Skill Training Sessions
Grab your own copy of Get Coaching Now!
I have been involved in small business consulting across the pet industry for many years. I have also owned and operated several pet businesses, with gross operating incomes ranging from US$100,000 to $500,000 per year. I have made a common observation in each of these businesses, whether it was an animal hospital, a boarding facility, or an in-home dog training and pet care service company: The professionals who own and work within small pet-related businesses often seem to display a distinct lack of formalized people training skills.
It is thus my belief that there is a lack of competent people training skills across the pet industry, and that this deficit is largely responsible for many of the issues that commonly plague professional individuals and their businesses. I outline some of them on the following page. All things being equal, if one has all the necessary attending expertise and behavioral analytical skills within the scope of pet dog training yet is still experiencing issues within one's business, I hypothesize it is related directly to one's ability to train, coach and mentor people. These are skills that do not always come naturally and, consequently, require some additional education and adult learning. Some people are lucky to have natural leadership skills, but refined communication skills and management skills are usually learned in a formal setting.
As professionals, we need to ask ourselves if we can relate to one or more of the following problems within our businesses:
• Difficulty in converting prospects to customers.
• Private training clients who start out "gung ho" and then fall off the program prior to achieving their goals.
• Pet care clients who disregard our advice.
• Substantial group class attrition.
• Time expended trying to convince clients, rather than teach them.
• Frustrated clients who appear to just "not get it."
• Lack of client knowledge retention across our training services.
• An apparent lack of client commitment to our methods and suggested ideas.
• Incomplete homework assignments and insufficient practice of skills.
• Difficulty and frustration engaging clients and changing their attitudes so we can build consensus and support their needs.
In our roles as training and behavior experts, we are both teachers and trainers. We have a unique role to play when clients seek our help and expertise. Irrespective of how competent we are at our craft or how much knowledge we have, if we cannot adequately impart this onto our clients, then we are doing them a disservice.
Your Instructor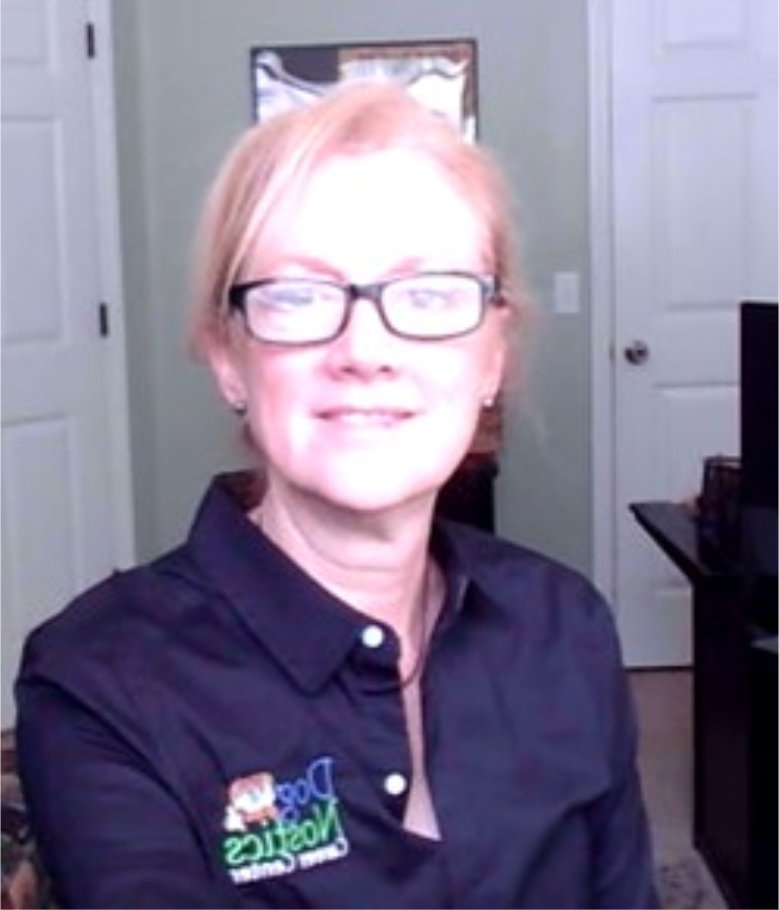 Before following her passion into her own pet business in 2002, Niki Tudge enjoyed a distinguished career in the hospitality industry holding executive positions all over the world. This extensive experience managing luxury hotels serviced by hundreds of employees and management personnel provided her with incredibly broad knowledge in every facet of business. Niki's formal education and over 20 years of practical management, leadership and employee development experience allows her a uniquely effective perspective on the right way to manage a successful business.
Niki's professional credentials include; AABP-Professional Dog Trainer, AABP-Professional Dog Behavior Consultant, PCBC-A and PCT-A through the Pet Professional Accrediting Board and she has earned diplomas in Animal Behavior Technology and Canine Behavior Science & Technology through the Companion Animal Science Institute. Along with Niki's business degree and MBA from Oxford Brookes University she is also a certified Six Sigma Black Belt, a HCITB TS1, TS2 & TS3 certified people trainer and a certified Facilitator and Project Manager.

As the founder and President of The Pet Professional Guild, DogNostics Career Center and The DogSmith, Niki has substantial leadership experience in the pet industry. She is also the President of Doggone Safe, a non-profit educational organization that focuses on education initiatives for the purpose of dog bite prevention and increased safety around dogs. Niki has published numerous articles on dog training and dog behavior and her pet dog training businesses have been featured in many publications including The New York Times.
Niki is a published author and has released the following titles People Training Skills for Pet Professionals, Get Coaching Now! Big Training in a Small Business, A Kids' Comprehensive Guide to Speaking Dog! , A Lexicon of Practical Terms for Pet Trainers and Behavior Consultants and most recently Pet Training and Behavior Consulting: A Model for Raising the Bar to Protect Professionals, Pets and Their People.
Click here to review these publications
Course Curriculum
Your Get Coaching Now Files
Available in days
days after you enroll
Frequently Asked Questions
Can i read this book immediately?
Yes as soon as you purchase the book you can download it and begin to read it
How long do I have access to the book?
How does lifetime access sound?