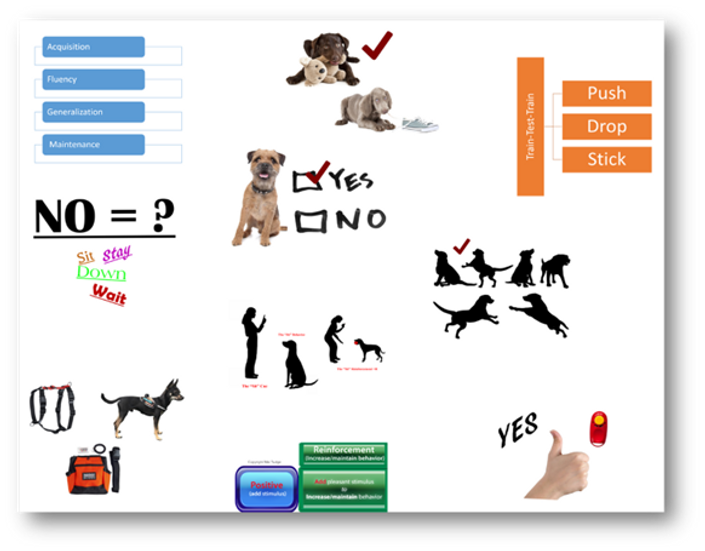 eBook - The Top Ten Most Important Dog Training Knowledge Concepts for Pet Owners to Understand
Helping Get It Right!
Grab your own PDF copy of this eBook
As professional dog trainers and behavior consultants, we know that training your dog requires a combination of knowledge and mechanical skills; after all, dog training is a hands-on project. We also recognize that there are several ways to train a dog, lots of different methods, and many conflicting and varied philosophies about how training should be approached. So, choosing your professional dog trainer is an important decision for you to make. We recommend you choose a force-free trainer, as they will not only guide you in decisions on the equipment you will need and the best way to train your four-legged family member, they will also ensure that a key factor of the training program is supporting the development of a loving and trusting relationship.
Choose a training professional who can guide you on:
Age appropriate behaviors for your dog, based on its individual living scenarios and your life together.
Choosing skills for you to train, that are applicable for you and your dog to meet your personal goals.
Suitable training methods using positive reinforcement, to build appropriate behaviors and/or modify or reduce inappropriate behaviors.
Safe and feasible management strategies, to prevent unwanted behaviors at home while new and appropriate behaviors are being developed.
Finding suitable food, toy or play scenarios, that are highly motivating for your dog and can be used to reward new behaviors.
How dogs communicate and what each of these key communication signals looks and sounds like.
How dogs are sentient emotional beings and our obligation is to their physical and emotional wellbeing.
Choosing the correct management, training and care equipment for your pet - Equipment that fits appropriately and is not designed to function through pain, force or fear.
How to safely and appropriately play with and exercise your pet, ensuring their physical needs are met.
The different toys and equipment that can provide your pet with mental enrichment, particularly through meals and play sessions.
With any training program there are key concepts, knowledge pieces, that are required to help support your skill training. Here we have listed what we consider are the top ten.
Enjoy
Niki & Louise
Your Instructor

Niki Tudge - M.B.A, PCBC-A, CABC, CDBC SSA-CFT, Six Sigma Black Belt, HCITB TS1, TS2 & TS3 Certified People Trainer, Certified Facilitator and Business Project Manager.
As the founder and President of The Pet Professional Guild, DogNostics Career Center and The DogSmith, Niki has substantial leadership experience in the pet industry. Niki has published numerous articles on dog training and dog behavior and her pet dog training businesses have been featured in many publications including The New York Times. Niki's professional credentials include; AABP-Professional Dog Trainer, AABP-Professional Dog Behavior Consultant, PCBC-A and PCT-A through the Pet Professional Accrediting Board and she has earned diplomas in Animal Behavior Technology and Canine Behavior Science & Technology through the Companion Animal Science Institute. Along with Niki's business degree and MBA from Oxford Brookes University she is also a certified Six Sigma Black Belt, a HCITB TS1, TS2 & TS3 certified people trainer and a certified Facilitator and Project Manager.
---
Louise Stapleton-Frappell - B.A. Hons, PCT- A, PCBC-A, CAP3, CTDI, DN-FSG, DN-CPCT, CWRI
Louise is a Partner and Faculty Member of DogNostics Career Center and Board Member of The Pet Professional Guild. Louise has constantly built on her knowledge and furthered her education in the field of force-free, rewards based, science-based pet training. The creator of the DogNostics' Dog Trainer Certification Program, Louise has presented at conferences internationally and has gained a reputation for expertly teaching and training humans and canines at her own establishment, The DogSmith of Estepona, in Southern Spain, where she offers a wide range of both group and private classes and pet dog services.
Course Curriculum
Your eBook
Available in days
days after you enroll
Frequently Asked Questions
Can i read this book immediately?
Yes as soon as you purchase the book you can download it and begin to read it
How long do I have access to the book?
How does lifetime access sound?