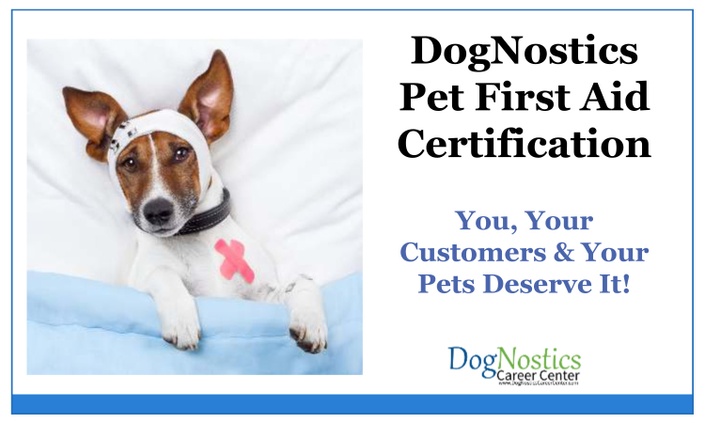 Pet First Aid Certification
You, Your Pets and Your Clients Deserve For You to Have This Knowledge and Master These Skills!
You Owe it to Yourself - You Owe it to Your Customers - You Owe it to Your Pets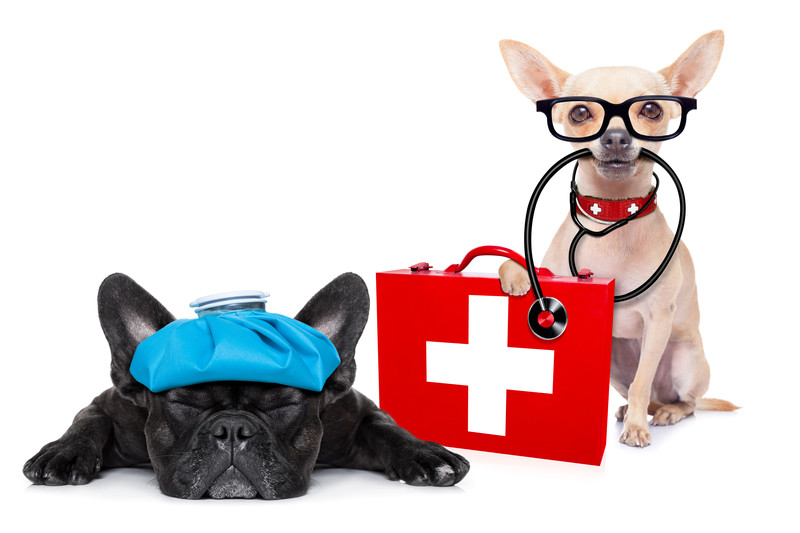 Whether you are a pet owner or a pet professional you owe it to yourself and the pets you care for to be prepared for any emergency. And being prepared is as simple and easy as turning on your computer and attending the DogNostics Pet First Aid Program.
Join our extensive Pet First Aid Certification program delivered through multiple individual bite size lessons via your computer, or any electronic device, in the comfort of your own home.
Certification requires the completion of an open-book test and the submission of four short videos. Both technical skills and knowledge are assessed to ensure a specific level of competency.
The origional contents of this program were developed in conjunction with a Licensed Veterinarian and a Licensed Veterinary Technician in Florida, USA.
The Pet First Aid Certificate Program has been awarded the following CEUs: PPAB 3.
What The Program Covers
This program does not just cover the typical pet emergencies, it also covers the following common problems that you may encounter when caring for a pet.
Choking

Gastrointestinal

Toxicities

Insect Bites & Stings

Dehydration

Vomiting & Diarrhea

Seizures

CPR & Triage

Dog Breed Medication Sensitivity

The Pet First Aid Kit

Heat Stroke

Lacerations

Wound Care

Hot Spots

Broken Toenails

Bandaging

Burns

Corneal Abrasions

Prolapsed Eyes

Fractures

Luxations (Dislocations)

Hypoglycemia

Diabetes
1. Keep growing in your profession – As Pet Owners and Pet Professionals, we all know how important it is to keep up on the cutting edge of new information, methods and techniques. Science continues to provide us with better and easier ways to perform our job. Studies of best practices often reveal improved techniques that can help us be more effective and even save lives. The DogNostics Pet First Aid Program provides you with the necessary skills to manage a pet emergency covering topics from heat stroke to snake bites, CPR, wound management and how to safely transport a pet to the care of a veterinarian professional.
2. Your Pets Deserve the Best – Whether they are clients or family members, our pets deserve the best. But to provide the best you have to be prepared to take care of those pets you are responsible for and be able to handle all emergencies. Most importantly you need the training and experience to make sound decisions in stressful situations. DogNostics Pet First Aid makes a valuable addition to your pet care toolkit so you can be prepared for any emergency.
3. Raise Yourself Above Your Competition – What sets you apart? You're a pro. You have the confidence, skills and experience to deal with any situation you may face. You are more dedicated to your profession, your career, your business than the 'here-today-gone-tomorrow' types you see come and go. You take your responsibilities seriously and make the effort to get the training you need to stay at the top.
Make the best investment in pet care you can, by getting your First Aid certificate. Let's get you started today!
You Also Receive With This Program -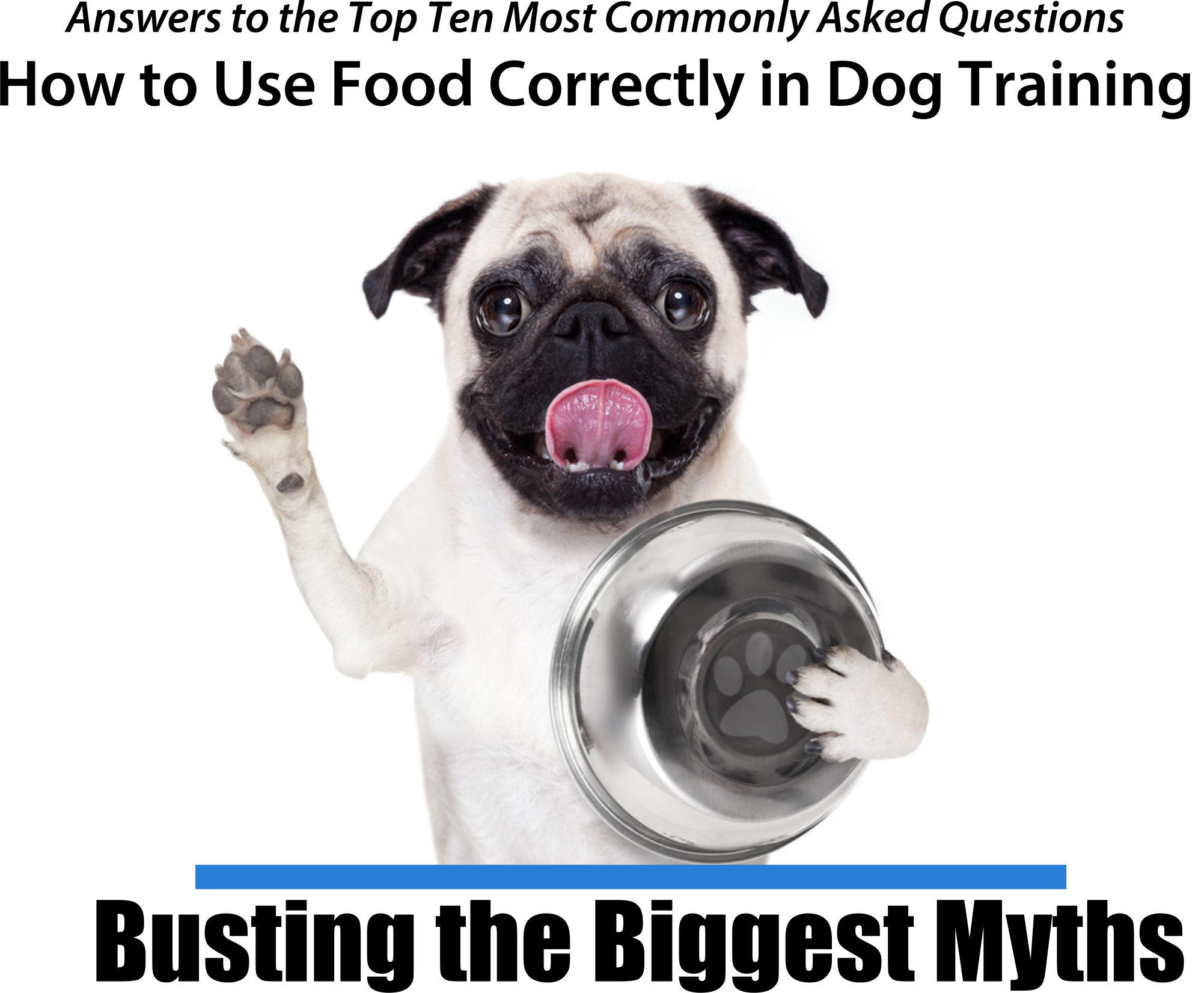 Our Top Ten Concepts about the correct use of food provide invaluable information for all pet dog guardians and caregivers!
* Help your clients make the best decision in choosing a dog trainer. We know that training a dog requires a combination of knowledge and mechanical skills; after all, dog training is a hands-on project.
* Support your training programs with the necessary knowledge to help your clients train their dogs
* Communicate to clients why we use food in dog training, all the benefits it brings to training sessions, helping both the client and their dog!
* Learn how to make it easy for your clients to choose you as a professional dog trainer, these 10 recordings can be used on your website, social media or in emails to promote the Top-Ten Most Commonly Asked Questions Regarding the Correct Use of Food in Dog Training!
* Help bust the myths surrounding the use of food!
* The Top-Ten Questions can also be used to support lesson plans, homework emails and the transfer of important knowledge.
* The supportive eBook can be used to promote your services and your philosophy to potential clients and those who have signed up for class
In this program you will receive:
* 1 x 15-page eBook detailing each concept. This can be used on your website or forwarded to your clients
* 1 x PDF of the full colour PowerPoint slides
* Bonus video file - An Introduction for the Pet Dog Guardian
* Your ten individual short video files to use however you need in support of your training and business growth
#1 What does food have to do with training?
#2 Does +R training just incorporate food?
#3 How does food work in dog training?
#4 Why should I need to use food to train?
#5 Is using food not bribery?
#6 What if my dog does not like food?
#7 Will I always need to use food in training?
#8 Why does my dog only listen to me when I have a food?
#9 Will training with food not make my dog fat?
#10 How should food be used in training? Our tips for success!
Each short video file, and the e-book, directly addresses the pet dog guardian. We encourage you to share these fantastic resources with all new and potential clients!
Don't under-estimate what a fantastic resource you will have at your fingertips!
* The short videos are absolutely invaluable for pre and post class emails!
* Why not send Video One - What does food have to do with training? - when a new client signs up for a class?
* You can then send Video Two - Does +R training just incorporate food? - in the class reminder email.
* Send the remaining videos throughout your group class course, as well as to your private training clients!
* Use the videos to directly answer your clients' concerns!
Not only will you be sending your clients invaluable information that will help them train their dogs more successfully; you will also be adding value to your business. Your clients will recognize and appreciate the extra effort that you go to by providing additional resources to support them!
Your Instructor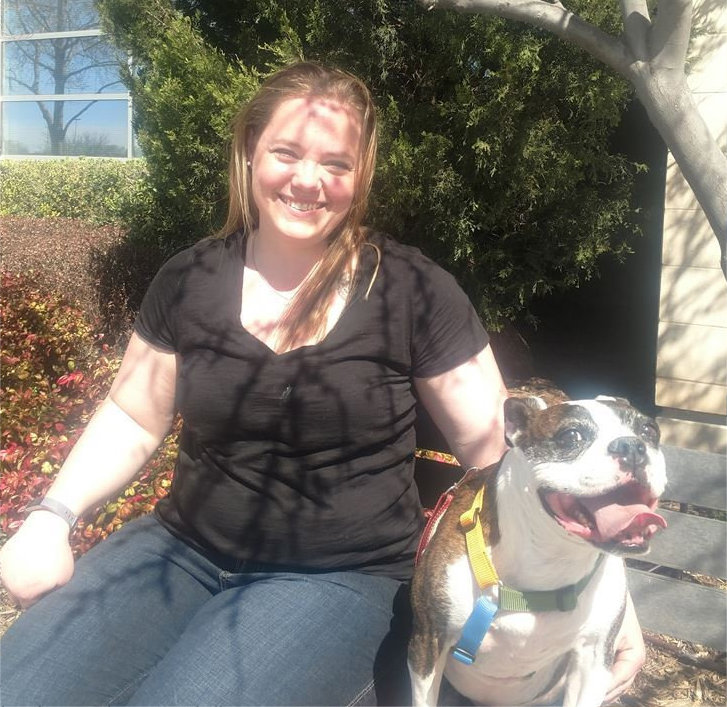 Rebekah's lifelong love of animals began when she spent her childhood summers at her family's ranch. Even at the young age of five, Rebekah had a good idea of her career aspirations when she told her Grandmother that she wanted to be a vet so she could take care of "baby animals." Rebekah's aspirations eventually led to earning a degree in Animal Science while working full-time for a vet. While working at the vet's office Rebekah continued her education, graduating with a Master of Business Administration. She then rounded out her experience by teaching school for a year gaining another invaluable skill. Most recently Rebekah was the Manager for a high end Pet Resort & Spa in Oxford MS and continues to operate her own Dog Training and Pet Care business in Texas.
Rebekah has a Bachelor of Science and a Master's degree from West Texas A&M University Canyon, Texas. Rebekah's current business roles are as the Vice -President for Doggone Safe, the Membership Manager at The Pet Professional Guild and the Student Coordinator and a faculty member here at DogNostics Career Center. Over the last few years Rebekah has earned the following credentials.
• Pet Professional Accreditation Board PCT-A
• DogSmith - Certified Dog Trainer
• American Kennel Club "Canine Good citizen Evaluator"
• The Pet Professional Guild "Pet First Aid Certified"
Course Curriculum
Introduction
Available in days
days after you enroll
Part One Introduction, Handling and Assesments
Available in days
days after you enroll
Part Two Common Emergencies
Available in days
days after you enroll
Courses Included with Purchase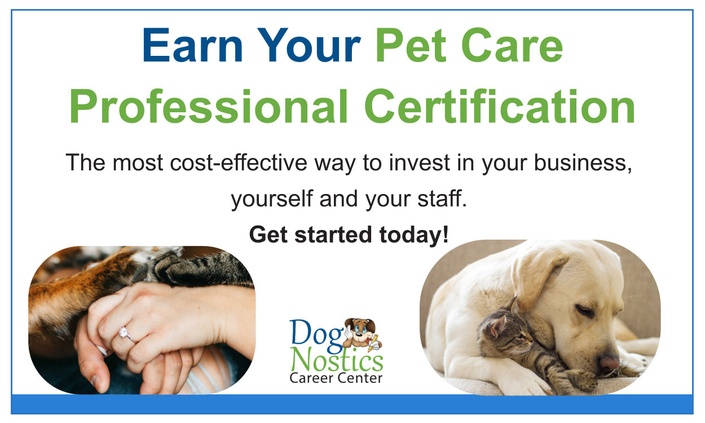 Professional Pet Care Certification Program
The What, Why, When and How of Delivering Professional Pet Care Services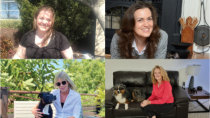 $250
Original Price: $250
Frequently Asked Questions
When does the course start and finish?
The course starts now and never ends! It is a completely self-paced online course - you decide when you start and when you finish.
How long do I have access to the course?
How does lifetime access sound? After enrolling, you have unlimited access to this course for as long as you like - across any and all devices you own.
What if I am unhappy with the course?
We would never want you to be unhappy! If you are unsatisfied with your purchase, contact us in the first 30 days and we will give you a full refund.