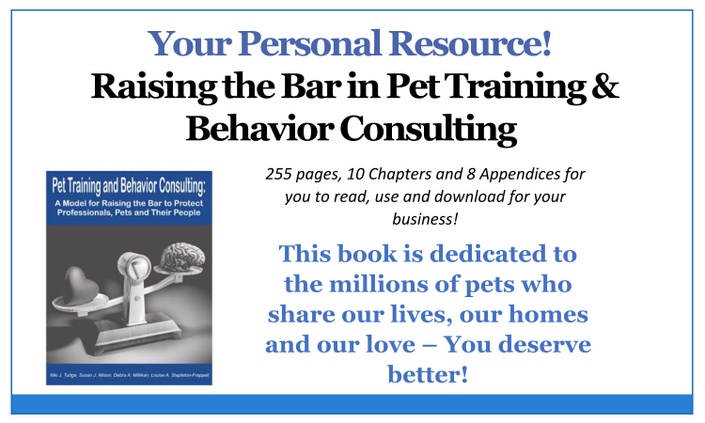 Pet Training and Behavior Consulting: A Model for Raising the Bar to Protect Professionals, Pets and Their People
A Model You Can Implement Into Your Pet Business
About This Book
In this book, we present our views on the need for a level and model of oversight in the fields of pet training and behavior consulting and for those choosing to practice within them. We discuss the prevalence of individuals who hold no credentials, formal education, knowledge or skills, yet who are today working across the nation with full responsibility for the well-being and welfare of their unknowing clients' treasured pets.
We believe that the pet industry worldwide needs increased regulation, oversight, and adherence to policies and procedures, and best practices as applied to:

1. The concept of professional competency, skills, and knowledge of practitioners.
2. The delivery of and adherence to professional ethics of a similar and high standard, such as those applied in the behavioral sciences and the medical profession.
3. Transparent and honest operational policies that protect the end-user and the consumer from fraudulent and deceptive operational and marketing practices.
You can also access this book in print. Order from Amazon here.

The book also highlights the lack of consumer protection and transparency across the marketing and operations platforms of many pet-related businesses, as well as the inherent weakness in how pets are legally classified, and how the current lack of reported and enforced animal cruelty laws means there is insufficient protection when it comes to holding pet professionals accountable for their methods, approach and philosophies toward their craft and the pets they serve. Want access now?
This book is dedicated to the millions of pets who share our lives, our homes and our love – You deserve better!
One: What Is Occupational Licensing?

Two: Living Property - The Need for a New Legal Definition

Three: Professionals Should Exemplify and Promote Anti-Cruelty Statutes

Four: How Pets Learn and the Consequences of Methodology, Equipment and Philosophical Choice

Five: A Call for an Industry Wide, Professionally Acknowledged Best Practice

Six: Canine Communication and Social Behavior

Canine Communication and Social Behavior

Seven: Competency Is Mission Critical

Eight: Ethics in Pet Training and Behavior Consulting

Nine: Consumer Protection and Transparency
FREE Individual Downloads come with this book
Appendix A: The Recommended Best Practice Model for Pet Training and Behavior Consulting Professionals

Appendix B: The Recommended Model for the Assessment of a Professional's Knowledge and Skill

Appendix C: The Recommended Career Stage Mentoring Model

Appendix D: The Recommended Consumer Acknowledgement Form for Transparency in Dog Training/Behavior Consulting Services

Appendix E: The Recommended Case Study Template for Behavior Consultants

Appendix F: The Recommended Corporation Professional Code of Conduct and Ethics Pledge

Appendix G: The Recommended Policy for Registration Renewal via Continuing Education
This book is written by Niki Tudge MBA PCBC-A CDBC CDT , Susan Nilson BA (Hons) DipCABT PCBC-A, Debra Millikan PCBC-A AABP-CABT CAP2 and Louise Stapleton-Frappell BA (Hons) PCT- A PCBC-A CAP3 CTDI DN-FSG DN-CPCT CWRI

Your Instructor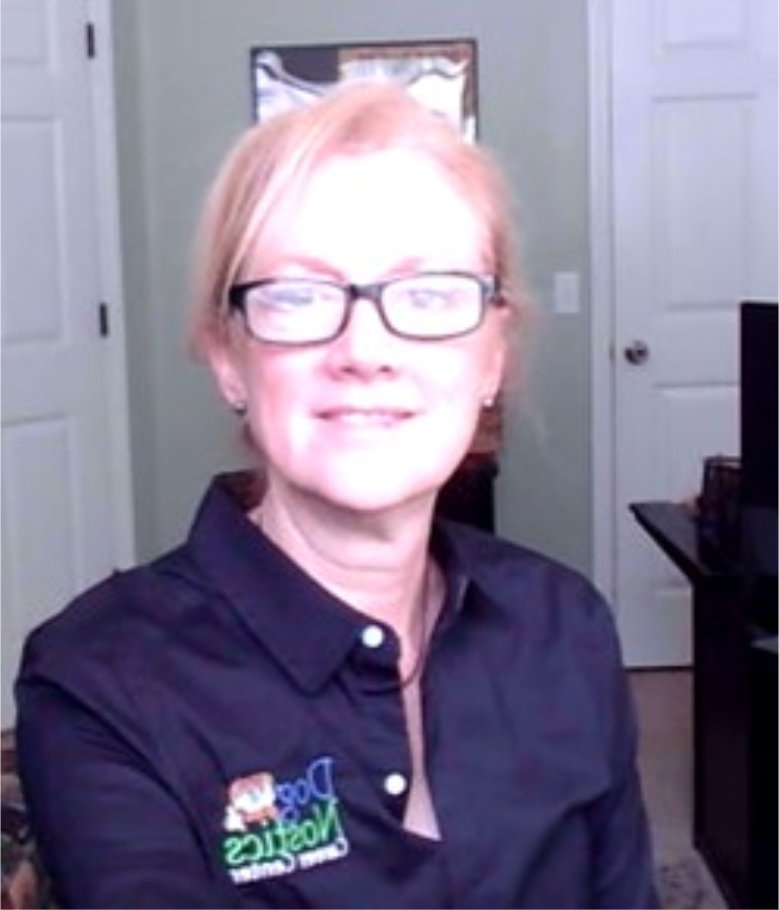 Before following her passion into her own pet business in 2002, Niki Tudge enjoyed a distinguished career in the hospitality industry holding executive positions all over the world. This extensive experience managing luxury hotels serviced by hundreds of employees and management personnel provided her with incredibly broad knowledge in every facet of business. Niki's formal education and over 20 years of practical management, leadership and employee development experience allows her a uniquely effective perspective on the right way to manage a successful business.
Niki's professional credentials include; AABP-Professional Dog Trainer, AABP-Professional Dog Behavior Consultant, PCBC-A and PCT-A through the Pet Professional Accrediting Board and she has earned diplomas in Animal Behavior Technology and Canine Behavior Science & Technology through the Companion Animal Science Institute. Along with Niki's business degree and MBA from Oxford Brookes University she is also a certified Six Sigma Black Belt, a HCITB TS1, TS2 & TS3 certified people trainer and a certified Facilitator and Project Manager.

As the founder and President of The Pet Professional Guild, DogNostics Career Center and The DogSmith, Niki has substantial leadership experience in the pet industry. She is also the President of Doggone Safe, a non-profit educational organization that focuses on education initiatives for the purpose of dog bite prevention and increased safety around dogs. Niki has published numerous articles on dog training and dog behavior and her pet dog training businesses have been featured in many publications including The New York Times.
Niki is a published author and has released the following titles People Training Skills for Pet Professionals, Get Coaching Now! Big Training in a Small Business, A Kids' Comprehensive Guide to Speaking Dog! , A Lexicon of Practical Terms for Pet Trainers and Behavior Consultants and most recently Pet Training and Behavior Consulting: A Model for Raising the Bar to Protect Professionals, Pets and Their People.
Click here to review these publications
Course Curriculum
Why Grab This Book
Available in days
days after you enroll
Your Book Files
Available in days
days after you enroll
Frequently Asked Questions
Can i read this book immediately?
Yes as soon as you purchase the book you can download it and begin to read it
How long do I have access to the book?
How does lifetime access sound?