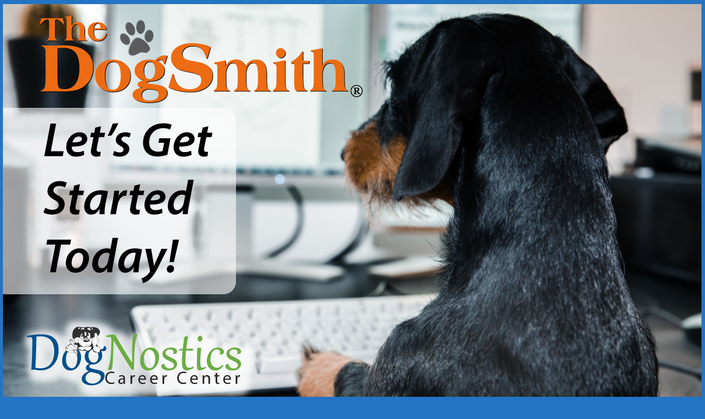 Become a DogSmith - Join Our Exclusive Membership Program
Your Marketing Operational and Mentoring Tools Are Just One Click Away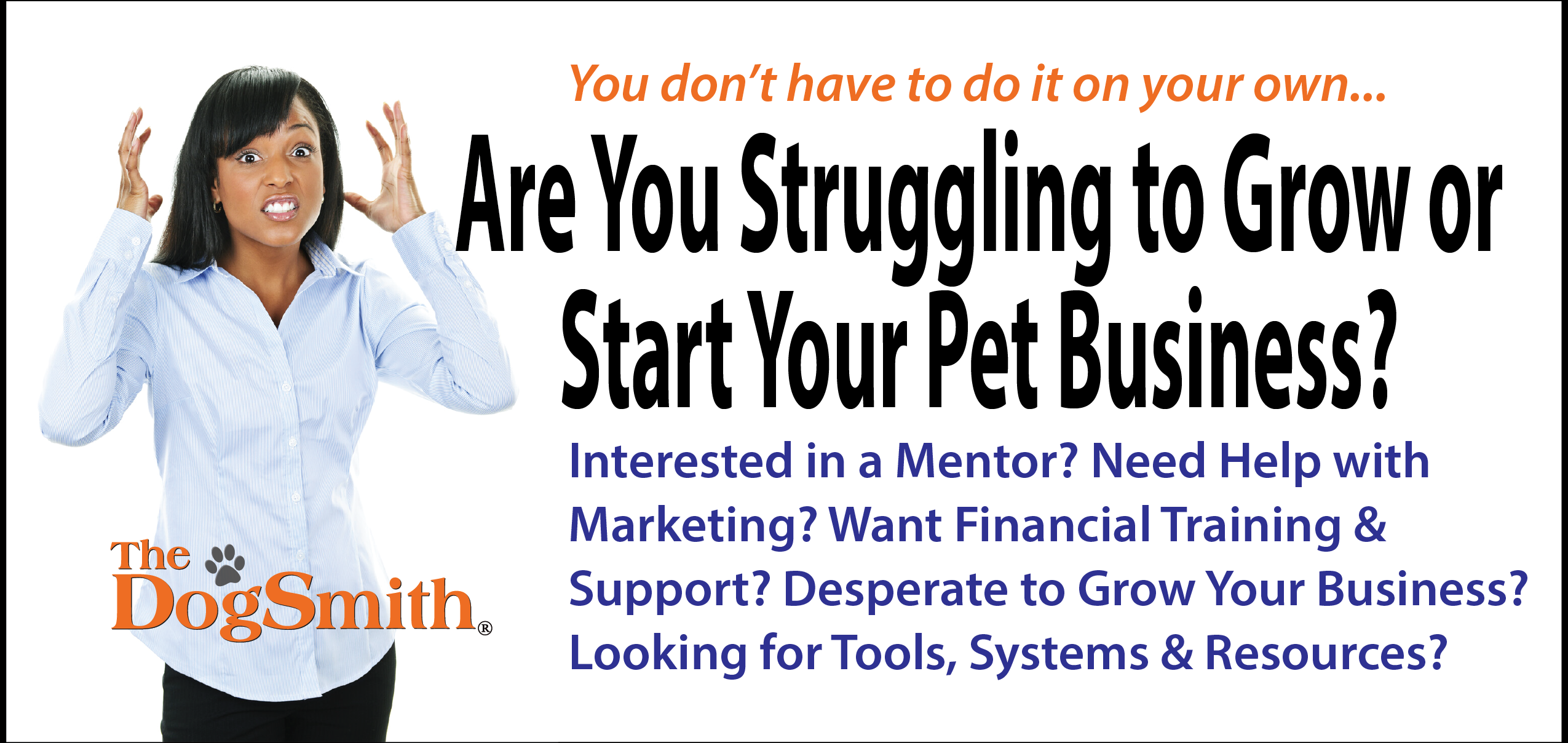 By this time next month you could have your own DogSmith business living your passion with the Help & Support The DogSmith Can Provide!
Your Very Own Business and Training Mentor, Plus So Much More .....
For a surprising low start-up and monthly fee a DogSmith license gives you access to all The DogSmith trademarks, programs, support services and resources. These are products and services that we have developed over the last decade and represent the most science-based humane methods, services and products available in the industry. In addition, for those just starting out basic to advanced training is available in all aspects of dog training and pet care. All provided at a hugely discounted price exclusively to DogSmiths.

Going It Alone Is Too Expensive
For most small business owners it can be financially challenging to develop a top class website, create professional branded marketing materials, client handouts, business apps and client interface systems. It can also be time prohibitive to develop all the tools and resources you need to support your brand and market your product. On top of that you have to run your business, be able to manage your business finances, develop and execute your marketing plan, hire and train your staff, and all the other demands of running your effective and profitable business.
Schedule a meeting with Niki Tudge to discuss the DogSmith and Your Personal Goals
Professional or Newbie - Behavior Geek or Pet Care Expert! We Have you Covered
Being a DogSmith makes your journey to success faster, more cost-effective, less stressful and more fun than going it alone:
If you are looking to take your existing dog training and pet care business to the next level or if you are starting from scratch, The DogSmith can help you get up and running faster and professionally.
If you are just now joining the Pet Industry and looking for some help with your professional training and ethical business support services then we can help with your educationMaybe you are an experienced training and pet care professional looking to expand your offerings and build the infrastructure of your business without going through the time consuming task to develop new programs and systems. Then the DogSmith has done the work for you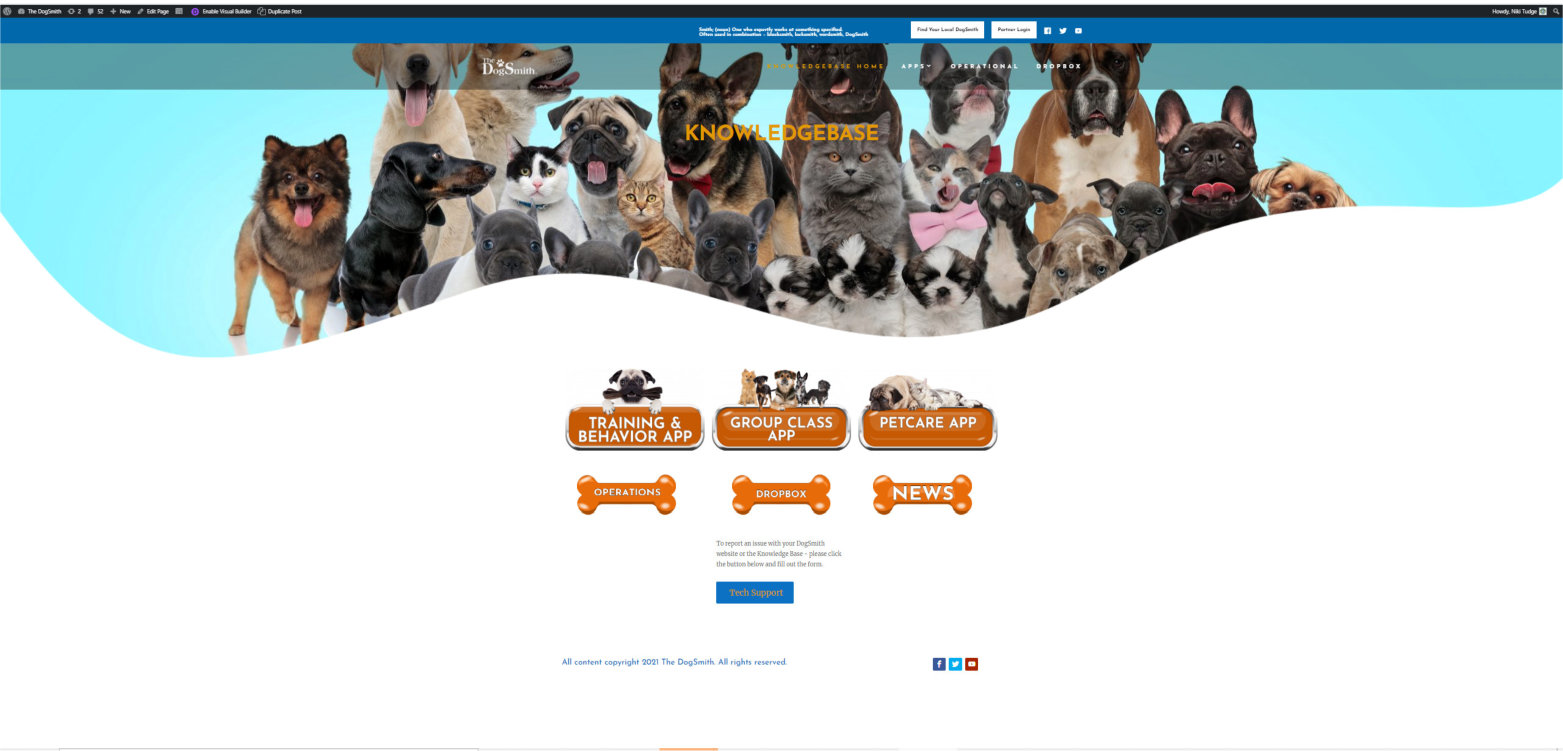 The Best Way To Get Out Of The Rat Race and Into What You Love!
What You Get For Your Monthly DogSmith Fee
The DogSmith trademarks and reputable trustworthy brand recognition.
A Team of DogSmiths to network with - help is always at hand
Startup support, monthly calls and business advice
Training and Behavior mentoring supprt from Niki Tudge
Customer service call center for call routing and client support
More than 15 group class service options and flexibility to add your own
Multiple pet care, dog walking and slumber party service options.
Private training, Latch-Key Training, Training Retreat, and behavior consultation service options.
Financial forms to help you manage your bookkeeping and financial forecasting.
Business tools for your daily operations.
Multiple human resource forms, applications, counseling, coaching and staff handbook.
Training and development manuals and knowledge base library.
Group class curriculum.
Over 40 client training handouts.
Educational articles and videos.
Skill videos for more than 20 training skills.
More than 20 'real-world' proven pieces of marketing collateral and assistance creating yours.
Support and ongoing educational access to our sister company DogNostics Education
Marketing plans, manuals and best practices.
Licensed service products that are tested, reliable and effective.
Mentoring and peer supervision.
A toll-free vanity number (USA only).
A protected DogSmith territory
High quality website with your personalized website pages.
DogSmith email address for the business owner and support setting up secondary emails
Zip code driven search locator to help clients find you.
Online booking forms for Training Retreat, private training, group training and behavior consultations.

Group class application for scheduling and listing classes and receiving client payments.

DogSmith private training application for on-the-job appointment management and client communication.
Online behavior consulting program application and forms to support quality customer service.
Industry best practice implementation.
Joining the DogSmith is affordable & Easy.
So how does this work, i can hear you thinking?
Pay your first $250.00 now to get started and secure your spot

Login and view your welcome to the DogSmith post.

Schedule your first business call to begin your set up process

Pay the remainder of your Enrolment fee balance $250.00 within the first 30 days

Enjoy the monthly support, mentoring and benefits for your monthly fee of $250.00
Want to chat now? Schedule a meeting with Niki Tudge here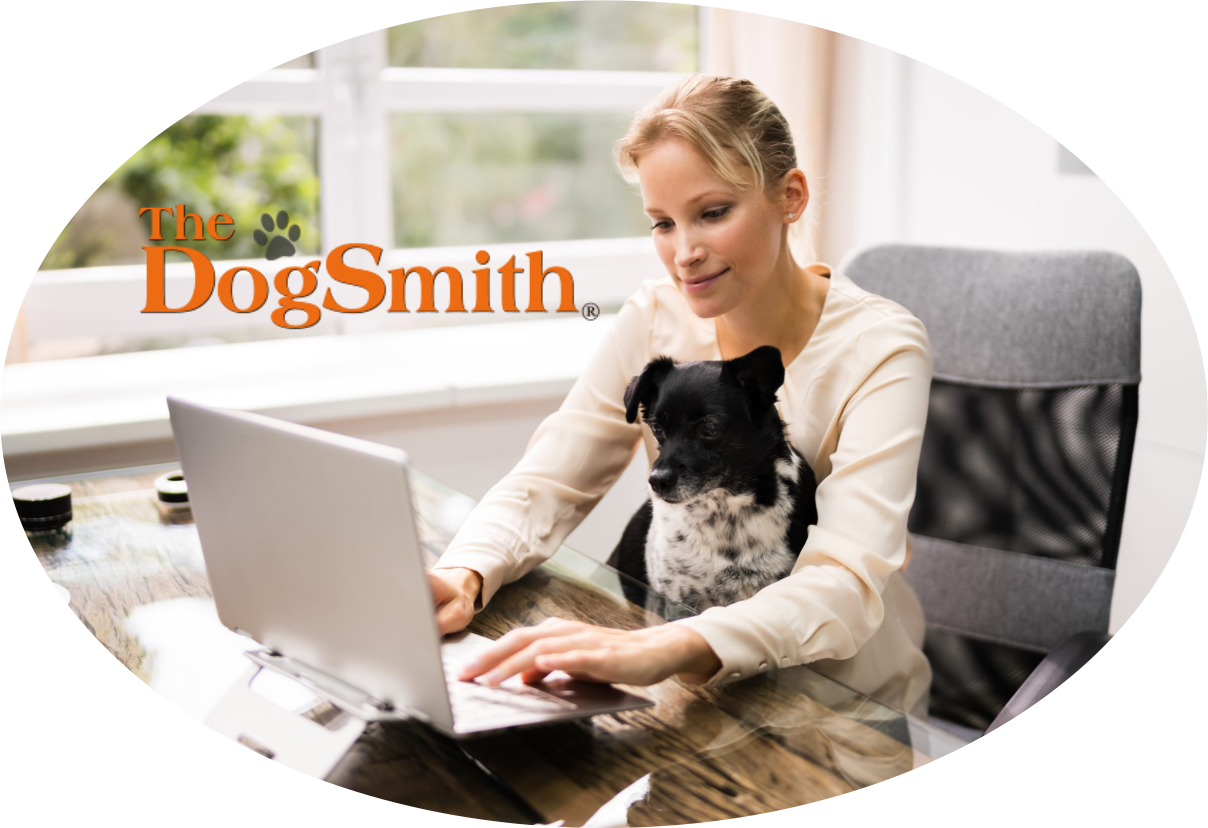 More Information
A local DogSmith Website - The DogSmith of Estepona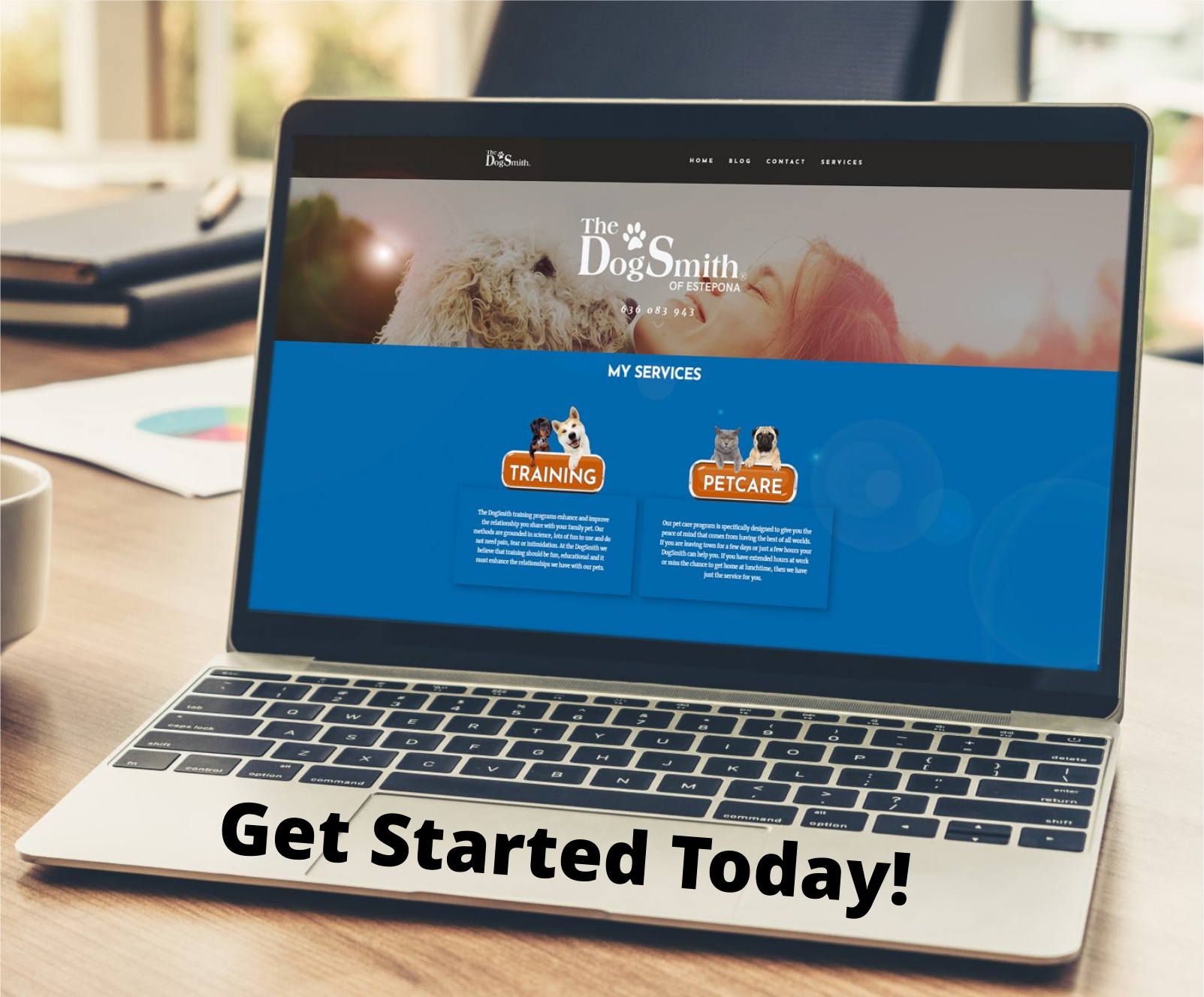 Being part of the DogSmith and a larger family does have its obligations. Actually, it has just two.
You support and advocate for The DogSmith and your DogSmith peers. As a network of professionals, we are only as strong as each of our efforts in protecting the brand and all the hard work each DogSmith does to build their own business and its reputation in the community!
We have a legal obligation to protect the DogSmith Trademarks.
Below you will find a simple two-page document that has on one side the DogSmith confidentiality clause and on the second page you will see the legalize we need to provide to you regarding our Trademarks and how we all protect them. Having chosen to join the DogSmith we understand that both of us, we, DogSmith Services Inc. and you, with your DogSmith business agree to these terms and conditions. If you need to discuss these or ask questions for clarity, please do so now.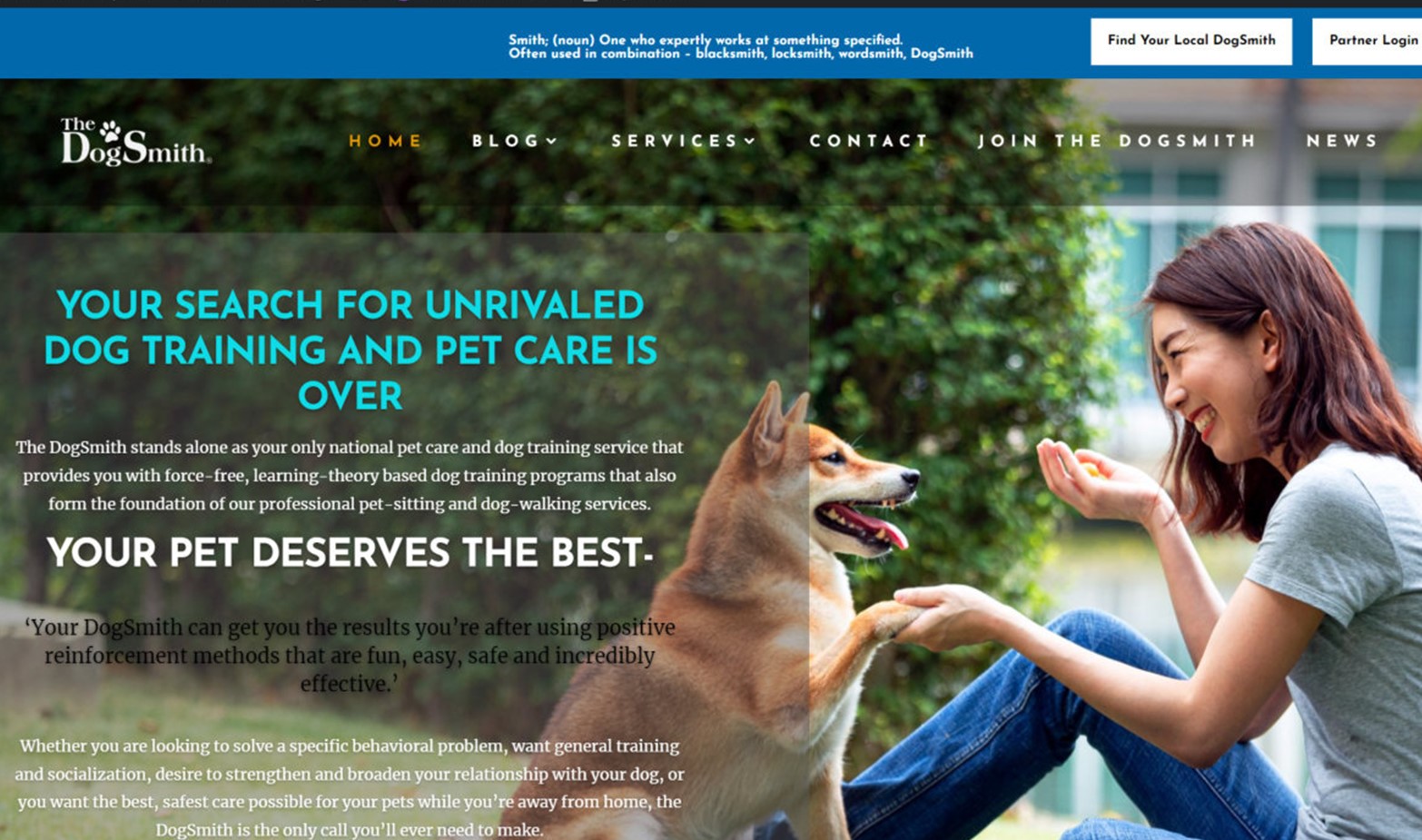 Click here to read our very simple two page Terms and Conditions
Your Instructor

Niki Tudge - M.B.A, PCBC-A, CABC, CDBC SSA-CFT, Six Sigma Black Belt, HCITB TS1, TS2 & TS3 Certified People Trainer, Certified Facilitator and Business Project Manager.
As the founder and President of The Pet Professional Guild, DogNostics Career Center and The DogSmith, Niki has substantial leadership experience in the pet industry. Niki has published numerous articles on dog training and dog behavior and her pet dog training businesses have been featured in many publications including The New York Times. Niki's professional credentials include; AABP-Professional Dog Trainer, AABP-Professional Dog Behavior Consultant, PCBC-A and PCT-A through the Pet Professional Accrediting Board and she has earned diplomas in Animal Behavior Technology and Canine Behavior Science & Technology through the Companion Animal Science Institute. Along with Niki's business degree and MBA from Oxford Brookes University she is also a certified Six Sigma Black Belt, a HCITB TS1, TS2 & TS3 certified people trainer and a certified Facilitator and Project Manager.
---
Louise Stapleton-Frappell - B.A. Hons, PCT- A, PCBC-A, CAP3, CTDI, DN-FSG, DN-CPCT, CWRI
Louise is a Partner and Faculty Member of DogNostics Career Center and Board Member of The Pet Professional Guild. Louise has constantly built on her knowledge and furthered her education in the field of force-free, rewards based, science-based pet training. The creator of the DogNostics' Dog Trainer Certification Program, Louise has presented at conferences internationally and has gained a reputation for expertly teaching and training humans and canines at her own establishment, The DogSmith of Estepona, in Southern Spain, where she offers a wide range of both group and private classes and pet dog services.
Course Curriculum
Welcome To The DogSmith
Available in days
days after you enroll
Scanning Your Business Environment
Available in days
days after you enroll
Your DogSmith Website - Building Your BIO
Available in days
days after you enroll
Frequently Asked Questions
How quickly can i be up and running?
On average we have a new DogSmith who is already a professional up and running in a couple of weeks. If we are also providing the education then it takes longer.
How long do I have access ?
As long as you are active and in good standing with the DogSmith you will have access to all the benefits provided.
What is the cost to join The DogSmith?
The DogSmith enrollment fee is $500.00 for a protected territory. To access all the Trademarks, website, call center, products, apps etc; it is s $250.00 per month.
Do we have to be named the DogSmith
No, you can keep your existing name and then become The DogSmith of a particular area. The DogSmith name is great because it can be used as a noun and a name
Can i talk to somebody before i make a decision
Yes of course, if you visit this page on our site you can read more and set up a no obligation chat https://dogsmith.com/join-the-dogsmith/
How long has the DogSmith been in business
We opened our first DogSmith in 2008. The business had been around since 2004 but we rebranded to a more sophisticated name
When did the first DogSmith join?
The first DogSmith came on board in 2009 and are still in business today in Florida
Does the DogSmith work overseas?
Yes, we have DogSmith partners in Europe, the UK and in the USA