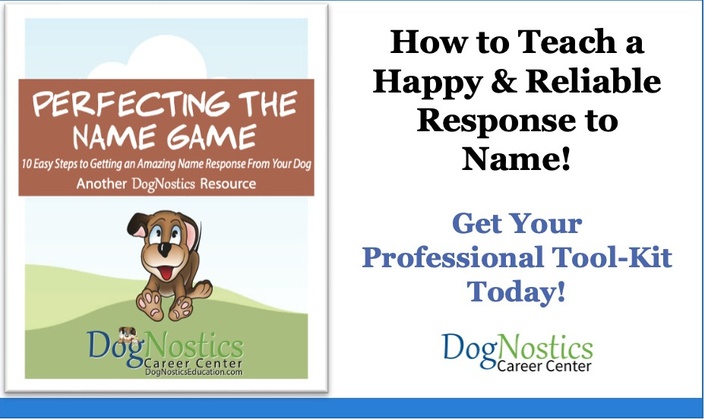 10 Steps to An Amazing Response to Name - Your Professional Tool-Kit
Includes a Full 6-Class Curriculum and a 21-Page Client E-WorkBook!
An Invaluable Resource for ALL Trainers & Pet Care Providers!
As pet professionals, we all know how important it is that a dog reliably responds to his name. And if you ask pet dog guardians, they will tell you that they want their dog to come when called... Yet most dogs are simply given a name and expected to respond to it.
Name response is such an important skill and can be so much fun to train! At DogNostics' we wish to provide you with the tools that will not only make a difference to your life as a pet professional - both improving your skills and increasing your income - but will also positively impact on the pets you work with and their guardians. Real changes for a real-world!
We are sure that you will find DogNostics' 1O-Steps to an Amazing Response to Name one of the best small investments you ever make!
We hope that you love the program as much as we do!
CEUs - PPAB 3, CPDT 3, IAABC 2, KPA 3
Perfecting the Name Game!

A DOGNOSTICS' PET DOG SOLUTIONS RESOURCE FOR PET PROFESSIONALS!

In this indispensable skills-based program, we provide a DogNostics' Pet Dog Solution that combines the art, craft, and science, of training an enthusiastic response to name.

Explore the meaning of name response.
Learn how to condition a positive emotional response to a dog's name so it becomes 'music to his ears'!
Master the ten steps to optimal name response via step-by-step instructional videos.
Learn games and activities that can be used to proof and generalize an incredible response to name!
Watch a total of over 2 hours of video files!
Access numerous client handouts, a full 6-class curriculum, and a 21-page client e-book!
Discover how you can incorporate your newfound knowledge, and the material presented, into your business and even increase your business revenue!
Your Program Content Includes:
How to Use the Train-Test-Train Method (Pdf Handout)
Two Prerequisite Training Games (E-learning Videos)
GAME #1 - The Thousand Dollar Name Game.
GAME #2 - Let's Go Operant Name Game.
Your 10-Step Training Plan Video Files
STEP 1 – The Games Begin!
STEP 2 – Building Focus on You!
STEP 3 – Introduce Your Dog's Name!
STEP 4 – Promoting a Turn Towards You!
STEP 5 – Introducing Distance!
STEP 6 – Increase the Distance of the Treat Toss!
STEP 7 – Call the Dog Before He/she Looks!
STEP 8 – Delay the Click!
STEP 9 – Treat & Run!
STEP 10 – Treat Scatter Game!
Individual Written Instructions for Each Game (12 x Pdf Files)
How to Train a Positive Interrupter (Supplementary Lesson – E-Learning Video File).
DogNostics' Do's & Don'ts of Name Response (5-Page Pdf Client Handout)
6 Additional Games! (6 x Video Demonstrations & 6 x Pdf Client Handouts with step-by-step instructions).
DogNostics' 10 Steps to an Amazing Response to Name 21-Page Pet Dog Guardian E-Book with Step-by-Step Instructions for Each Game!
Full Six-Class Curriculum!

Trainer's 6-Class Quick Reference Plan
Class Graduation Certification (1 x Editable Pdf Client Certificate)


We have also included some wonderful marketing resources for you!
2 Social Media Graphics
1 x Editable Class Flyer - You can insert the date, time, & location of your class, and where to register e.g., your website, email address, or phone number.
Program Benefits
This program won't just benefit pet dog guardians as their pets begin to happily respond to their names, it will also benefit your business if you are a pet professional.
Use the program for group or private classes!
Incorporate the games into your regular pet dog manners' classes!
Offer a specialty Name Response Class –The material is the perfect length for a six-week prepaid package!
Simply incorporate into your pet care business!
How you deliver the service will depend on you and your business model but DogNostics' 10 Steps to An Amazing Response to Name should help generate additional business income and lead to very satisfied clients, both human and canine!
Please see the full course curriculum below for more information!
Course Curriculum
Welcome to DogNostics
Available in days
days after you enroll
Let's Begin!
Available in days
days after you enroll
Prerequisite Training Game One - The $1000 Name Game
Available in days
days after you enroll
Your Instructor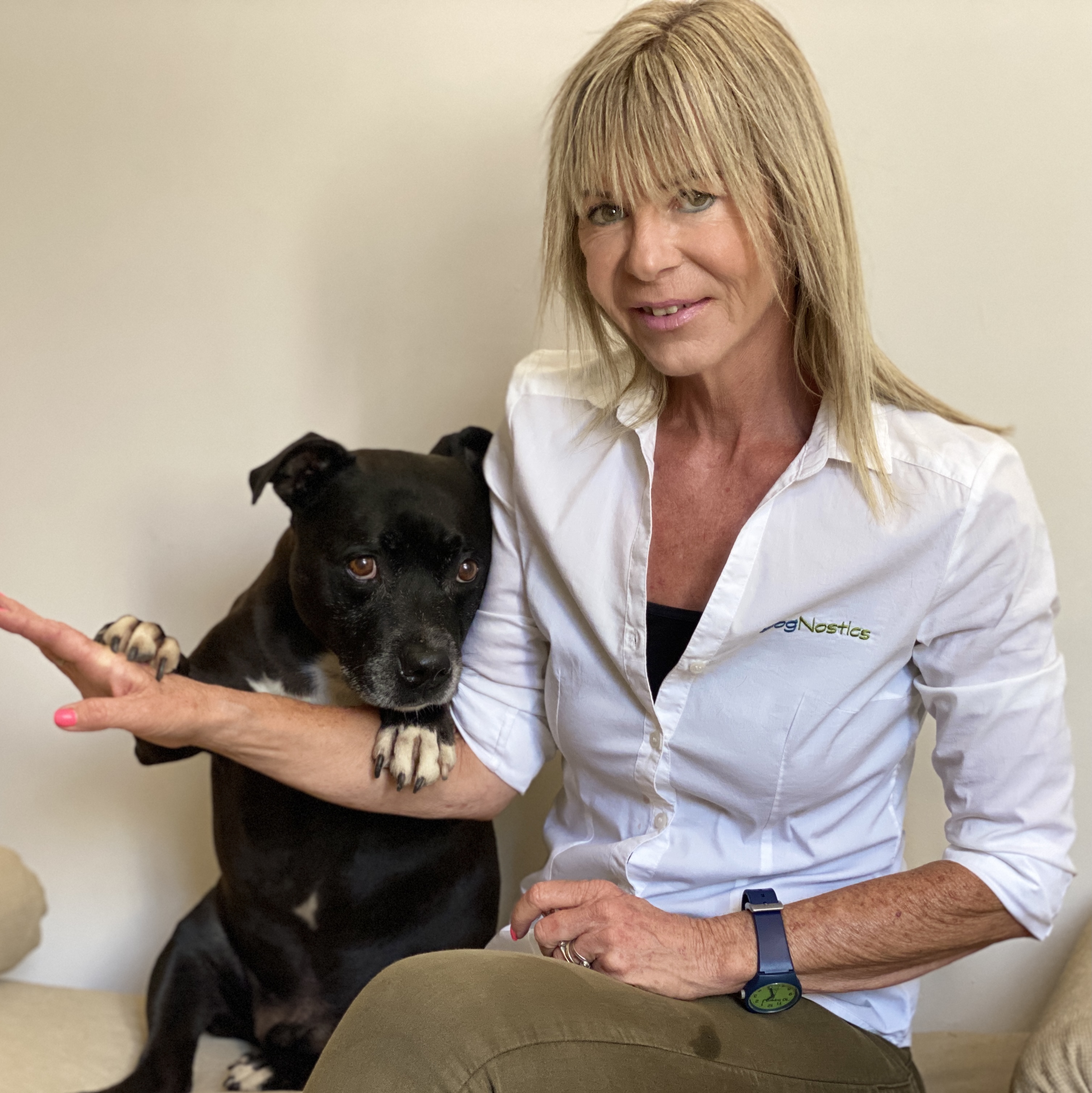 Louise Stapleton-Frappell - B.A. Hons. PCBC-A. PCT-A. CAP3. CTDI. CWRI. DN-FSG2. DN-CPCT2. FFCP.
Professional Canine Behavior Consultant and Trainer – Accredited by the Pet Professional Accreditation Board
Co-Partner and Faculty Member of DogNostics Career Center and Board Member of The Pet Professional Guild.
Louise's experience, her background as a teacher and her impressive pet industry credentials means she is uniquely qualified to share her skills and knowledge with both the public and pet industry professionals. The creator of the DogNostics' Dog Trainer Certification Program, Louise has presented at conferences internationally and has gained a reputation for expertly teaching and training humans and canines at her own establishment, The DogSmith of Estepona, in Southern Spain. Louise has published numerous articles on dog training and dog behavior and is also the published co-author of the following titles, A Lexicon of Practical Terms for Pet Trainers and Behavior Consultants and Pet Training and Behavior Consulting: A Model for Raising the Bar to Protect Professionals, Pets and Their People.