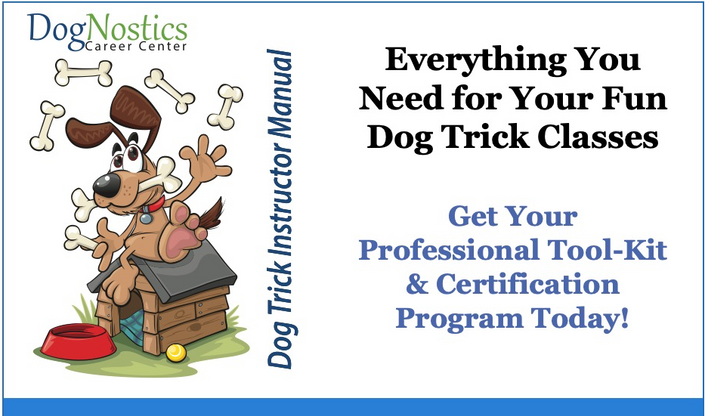 Dog Trick Instructor Professional Toolkit & Certification Program
Everything You Need to Start Your Dog Trick Classes!
Would You Like to Increase Your Business Service Offerings?
DogNostics Provides the Solution!
Dogs and people love tricks and games. Offering fun trick classes or incorporating fun tricks and games into your pet dog manners classes or pet care services will broaden your service offerings, help build client loyalty, increase your business revenue, and support the needs of your community!
Dogs and their humans learn new skills in a fun and exciting way!
Teaching dogs tricks helps provide mental and physical enrichment; build confidence; improve general 'manners' skills, and increase the bond between the pet dog guardian and their dog!
Your DogNostics Dog Trick Instructor Certification Program contains all the practical skills that you will teach, the key knowledge concepts that you will share, and the games that you will play!
We provide you with all the tools you need to start offering fun trick classes. It's like a business in a box. Lesson plans and a fully detailed curriculum, which can be used as is or adapted to suit your training situation; marketing tools; class graduation certificates, and much more. Everything you need to get going!
The Dog Trick Professional Tool-Kit is an Invaluable Resource for ALL Trainers & Pet Care Providers - Increase Your Business Income While Providing a Service that Both Humans and Dogs will LOVE!

CEU - PPAB 7.5, IAABC 7.5, CPDT 7.5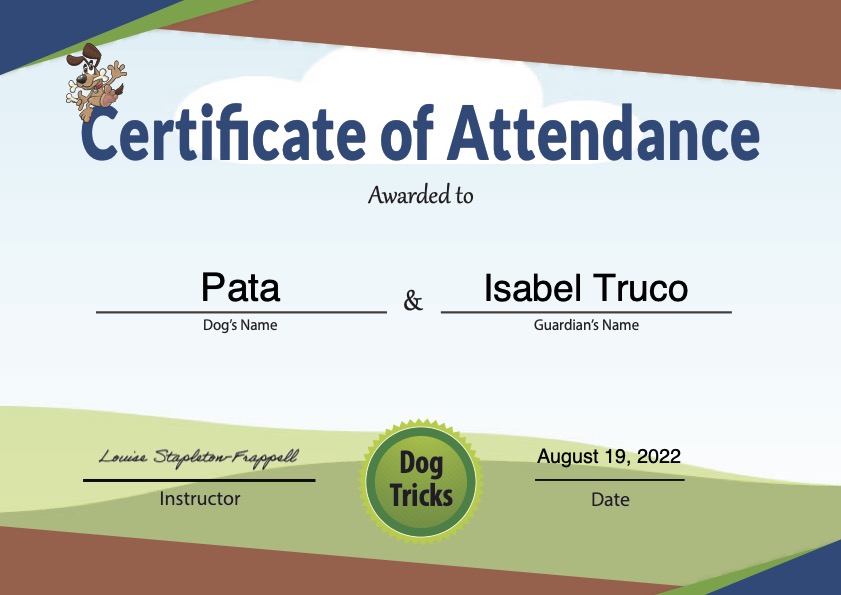 WHY BECOME A DOGNOSTICS' CERTIFIED TRICK INSTRUCTOR?
Earn the right to use the following title after your name: DN-DTI
The DogNostics Dog Trick Instructor credential is for professionals who believe there is no place for shock, choke, prong, fear, or intimidation in canine training and behavior practices.
Gaining your DogNostics Dog Trick Instructor Certificate will allow you to stand out from the crowd. Your knowledge has been tested, and you have demonstrated competent mechanical skills, supported by people coaching skills.
On certification, you will receive your DogNostics Dog Trick Instructor Certificate and DN-DTI badge to display on your website!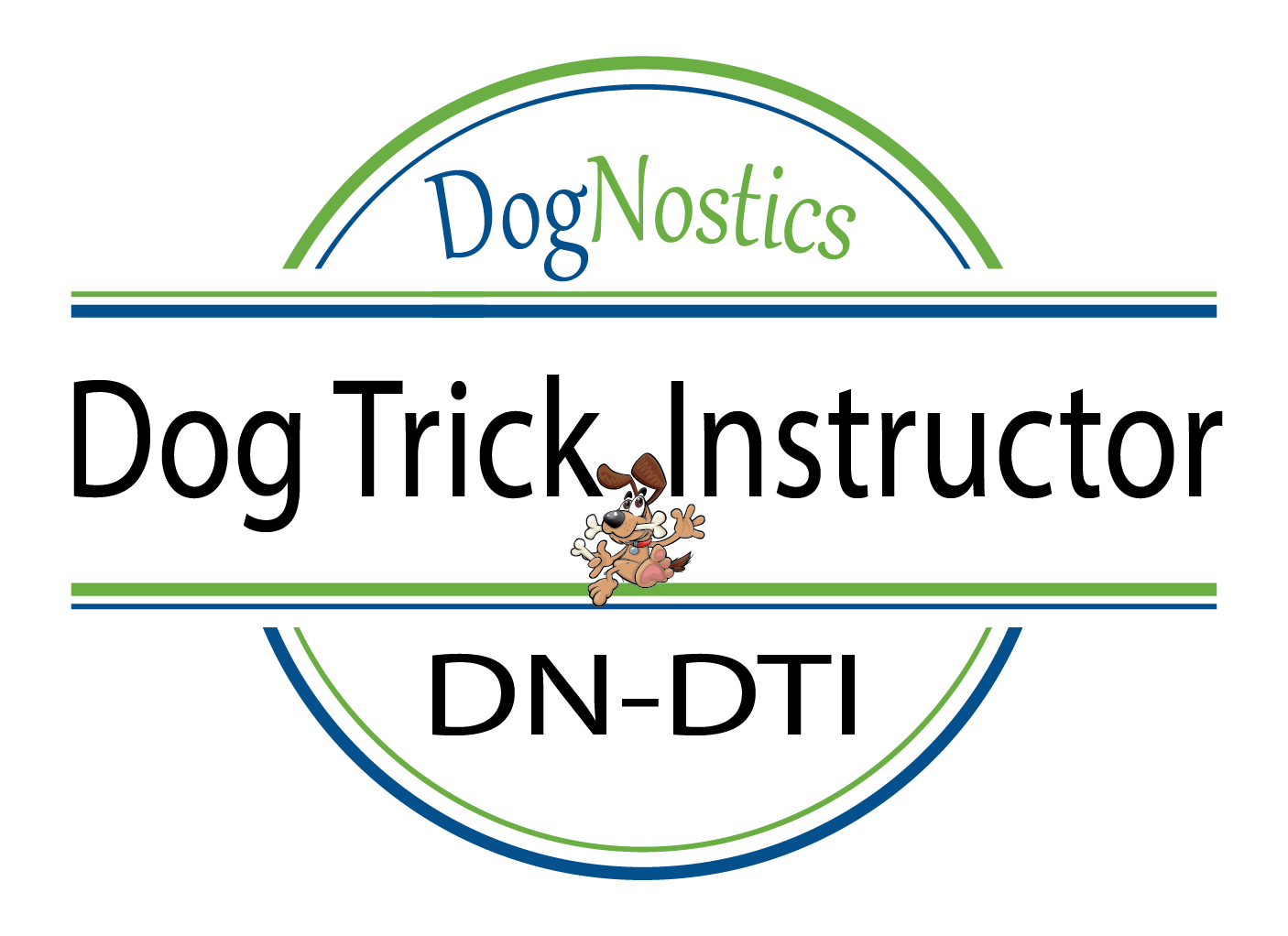 Your Program Content Includes:
Your Program Introduction

An Introduction to the Program Instructor

Program Overview

The Benefits of Running a Trick Class
Module One - Planning for Success
Listing, Marketing, and Selling Your Classes

The Essentials - What You Will Need
Module Two - Your 6-Class Curriculum
- Including the knowledge concepts to share, the tricks to teach, and games to include!
The Class Format

On-Task Skill Coaching

Class 1-6 - A Breakdown of Each Class Curriculum

How to Adapt the Curriculum for Intermediate & Advanced Classes

The Key Knowledge Concepts:

Canine communication & recognizing signs of stress

The 3-Second Rule for meet and greets

The use of food in training

Behavior markers

The Train-Test-Train Method

How to lure a behavior

How to use a bridging stimulus

Appropriately reinforcing correct responses

How to use the Train-Test-Train method

How and when to introduce a new cue

How to capture a behavior

The 3 Ds and proofing behaviors

What is positive reinforcement?

Management strategies

Understand negative punishment

The Premack Principle - Grandma's Rule!
Module Three - The Fun Tricks
We guide you through how to train the suggested tricks that are included in the 6-class curriculum via step-by-step e-learning videos. The skills include,
Puppy Push-Ups - Down & Pop!

Spin - 360° Anticlockwise Turn

Peekaboo - Sit or Stand Between the Guardian's Legs

DogNostics Recall - Come When Called

Stop - It's an Emergency!

Shake Hands - Offer a Paw

Watch Me - Share a Loving Gaze

Say "Cheese"! - It's Photo Time!

Paws Up - Let's Collaborate Together!

Go Around - Go Out & Around an Object

Leave it - Four Fun Training Games!

Take a Bow - You've Earned it!
As you can see, these aren't just tricks, many of them are skills that have a practical application in everyday life!
Module Four - Your Class Games

The Kiss-Kiss Game & How to Teach a Positive Interrupter

The Wobbles

Food & Toy Recall Alley

The Magic Mat Shaping Game

Grandma's Recall

You're Rocking It - A Fun Loose Leash Walking & Leave it Contest

Rally Mini Course
YOUR FILES TO DOWNLOAD

Your Fun Trick Class Instructor Manual

Full 6-Class Curriculum!

Trainer's 6-Class Quick Reference Plan


6 Client 'Homework' Handouts

Editable Client Graduation Certification
We have also included some wonderful marketing resources for you!
2 Social Media Graphics
1 x Editable Class Flyer. You can insert the date, time, & location of your class, and where to register e.g., your website, email address, or phone number.
The Opportunity to Qualify as a DogNostics Dog Trick Instructor
On passing an Open-Book Online Knowledge Test & Skill Assessment, you will receive
DogNostics Dog Trick Instructor Licensed Presenter Agreement

Your DogNostics Dog Trick Instructor Certificate

The right to the post-nominal title Dog Trick Instructor, DN-DTI

DogNostics Dog Trick Instructor Logo/Badge to publish on your website
LISTEN TO A FULL PROGRAM OVERVIEW BELOW
Course Curriculum
Welcome to Your Course
Available in days
days after you enroll
Module One - Preparation is Key!
Available in days
days after you enroll
Module Two - Your 6-Class Curriculum
Available in days
days after you enroll
Your Instructor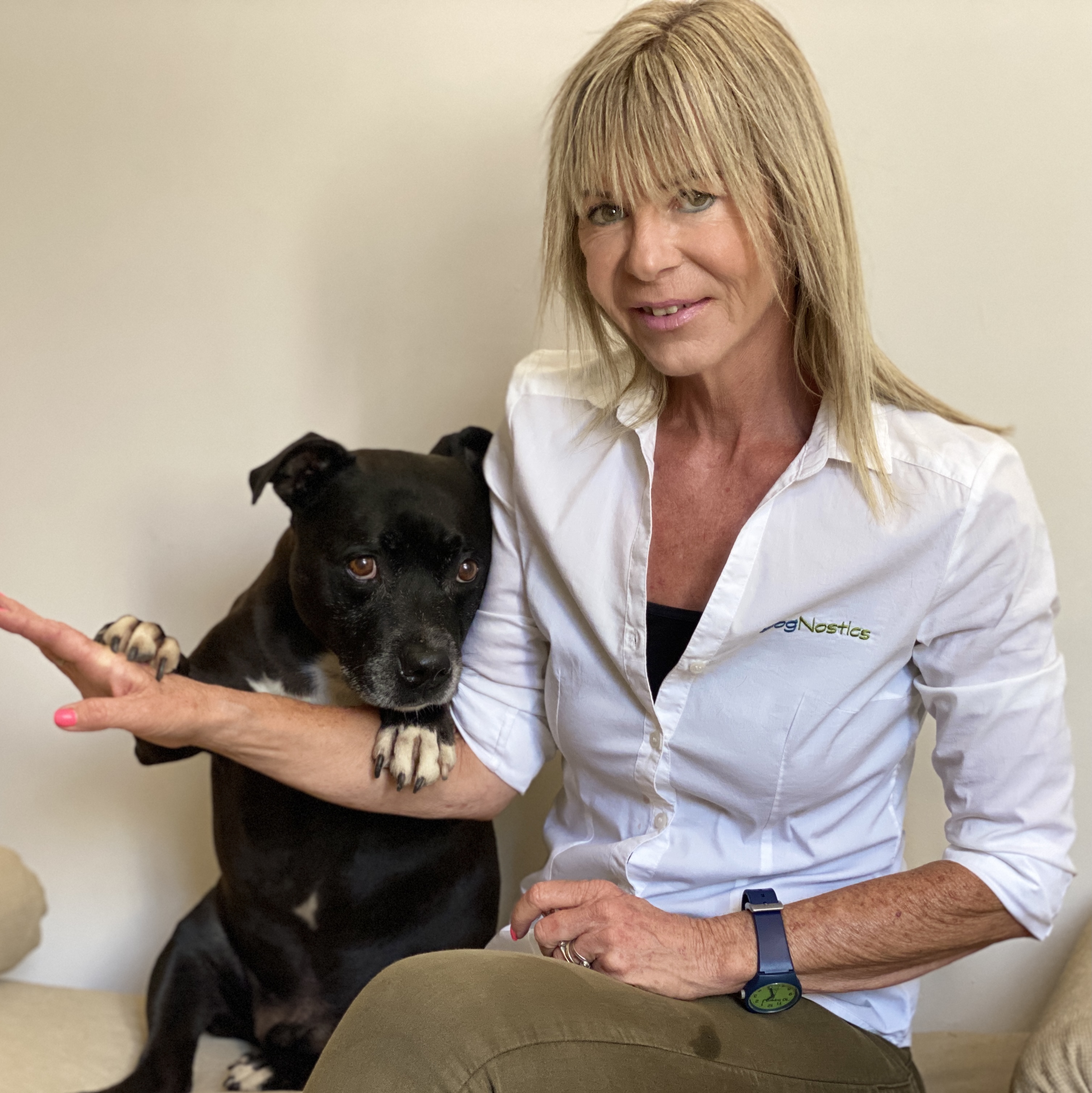 Louise Stapleton-Frappell - B.A. Hons. PCBC-A. PCT-A. CAP3. CTDI. CWRI. DN-FSG2. DN-CPCT2. FFCP.
Professional Canine Behavior Consultant and Trainer – Accredited by the Pet Professional Accreditation Board
Co-Partner and Faculty Member of DogNostics Career Center and Board Member of The Pet Professional Guild.
Louise's experience, her background as a teacher and her impressive pet industry credentials means she is uniquely qualified to share her skills and knowledge with both the public and pet industry professionals. The creator of the DogNostics' Dog Trainer Certification Program, Louise has presented at conferences internationally and has gained a reputation for expertly teaching and training humans and canines at her own establishment, The DogSmith of Estepona, in Southern Spain. Louise has published numerous articles on dog training and dog behavior and is also the published co-author of the following titles, A Lexicon of Practical Terms for Pet Trainers and Behavior Consultants and Pet Training and Behavior Consulting: A Model for Raising the Bar to Protect Professionals, Pets and Their People.
Frequently Asked Questions
When does the program start and finish?
As soon as you enroll, you will immediately gain continued access to the program content!
How long do I have to take the certification?
Applicants have six months from the time of purchase to pass the online test and submit their video assessments. Submissions after the 6-month deadline will be subject to an additional fee of $50.00