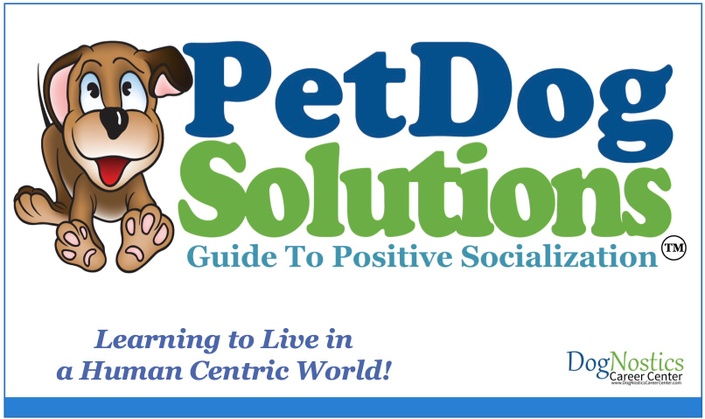 Pet Dog Solutions - Your Guide To Positive Socialization
An Essential Program for Puppies & Older Dogs Too!
GET STARTED WITH YOUR DOG'S SOCIALIZATION!
Although it is important to start socializing your dog as young as possible, it's never too late to begin!
In this Pet Dog Solutions Program, you will learn all about positive puppy socialization, and ongoing socialization for older dogs - the key to happily living in a 'Human-Centric' world!

Did you know that one of the most important things you can do for your dog is to properly socialize him? Common reasons for owner relinquishment to shelters are behavior problems which can often be prevented by proper socialization and training.
When we talk about socializing pets, it means helping them learn to be comfortable as a pet within human society - a society that includes many different types of people, environments, buildings, sights, noises, smells, animals, and other dogs.

The information provided in this easy-to-follow program will not only have a positive impact on the lives of pet dog owners and their new canine family member but will also be an invaluable resource for pet care providers and trainers, as well as for shelters and breeders, who will all be involved in ensuring a positive socialization experience for the puppies and dogs they interact with on a daily basis!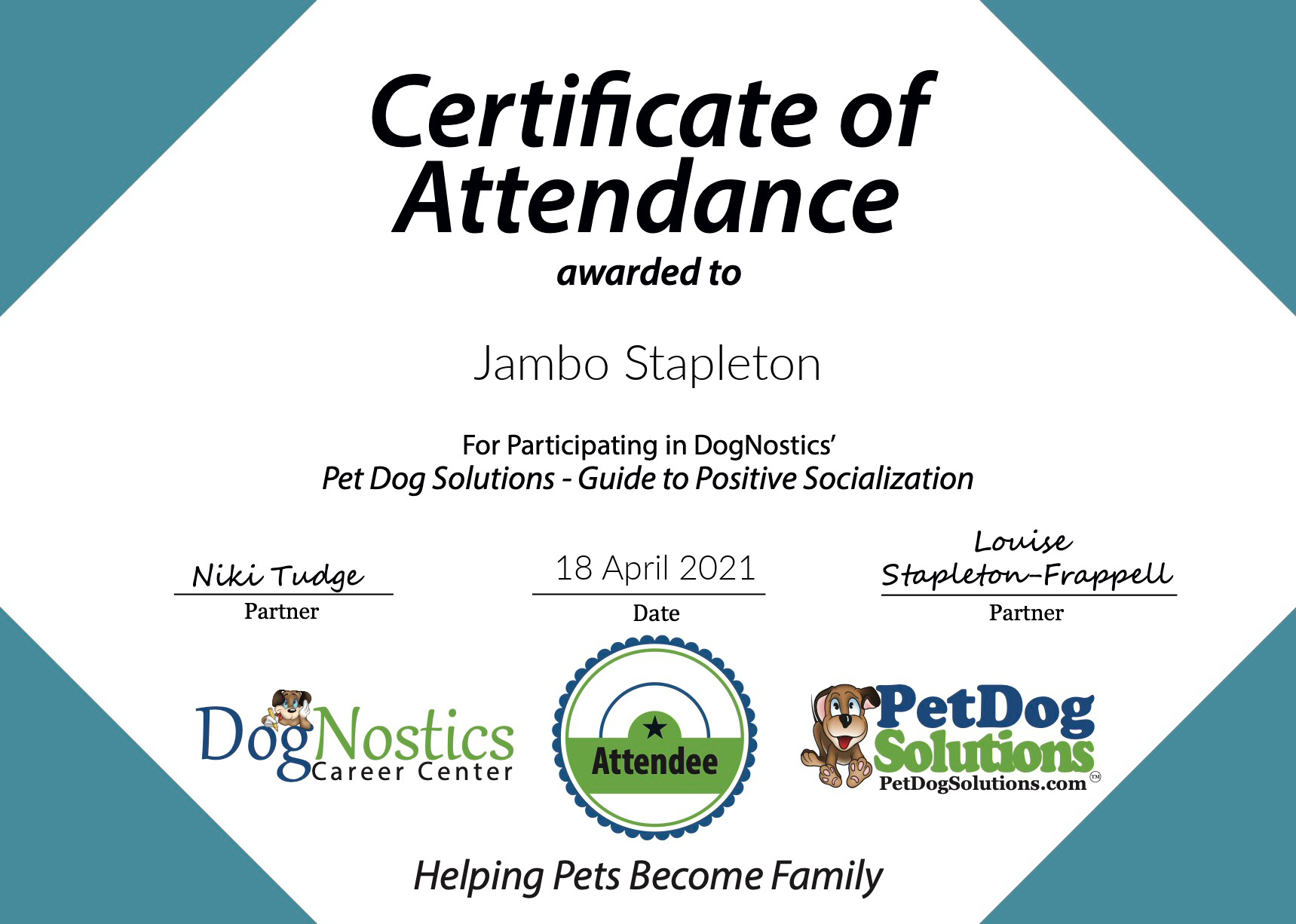 View the full program description below.

The program content includes:
Knowledge and Skills Divided between several lessons including:
An Overview of Socialization - What it is & the rules for helping ensure it is a positive experience!

Dogs & Their Language - Learn to 'speak dog'!

Dogs & People - Promote positive associations and learn about generalization.

Situations, Surfaces, & Objects - From wobble boards, agility tunnels, & paddling pools to muzzles & Elizabethan collars; from different situations and socialization outings to home to promote more focus on you

Interactive Activities - Feeding toys & fun box searches!

Other Dogs & Play - The Importance of play, positive associations, and experiencing the world together.

Other Species - Promote a positive response to other animals.

Dogs & Their Bodies - The importance of collaborative care.

Dogs & Their Senses - Pre-empting noise phobias and how to condition a happy response.
Positive Handling and Care: 7 Supplementary Collaborative Care Videos
Engender Positive Responses

Establish a Dialogue

Emotional Responses

Happy Compliance

Hands Mean Treats

Name it

Ouchy - a Positive Response to Wound Care
Your Socialization Toolbox:
8 Essential Handouts
Dogs Sensitive Period's for Development & Socialization

Puppy Socialization & Vaccinations Go Together

Puppy Socialization by AVSAB

How to Socialize Your Puppy

Understand Signs of Fear, Anxiety, and Stress

Canine Communication Pictures

Consent Tests – The Three Second Rule

3-Second Rule for Introducing Dogs
6 Considerate Handling Demonstration Videos – Teach Your Pet to Love Being Touched!
The Approach

Where to Touch

Systematic Touch

Chin Rest

Verbal Communication & Praise

The Environment
Recommended Resources

Recommended Homework Activities

Your Program Attendance Certificate

Written and contributed to by qualified canine training and behavior specialists.

View the full curriculum below.

Course Curriculum
Getting Started
Available in days
days after you enroll
Socialization - An Overview
Available in days
days after you enroll
Dogs and Their Language
Available in days
days after you enroll
Frequently Asked Questions
Can i access the program immediately?
Yes as soon as you purchase the program you can download all the files
How long do I have access to the program?
How does lifetime access sound?
Access now from the comfort of your own home!