Buy now, be training tomorrow!
The Comprehensive Walk This Way Skills, Knowledge & Proofing Games Program has been awarded CEUs: PPAB 4.5
How often do you think 
"I would love to implement a new service into my business covering the following skills (fill in the gap)" and then the reality of the work required sets in!
Tasks such as the development of the curriculum, the timeline, the practical exercises, the handouts, the marketing, the certificates, and the videos. 
Well, here at DogNostics we have done all the work for you.
The "Walk This Way" Instructor Program is a complete professional trainer's certificate program covering all the knowledge, skills, and proofing games you need to implement this service into your business. It can be used for private training, group training, board and train clients, or even as a workshop. 
Teaching a client to train their dog to walk nicely is one of the skills that is so often not fully mastered in a group class curriculum when trained alongside the other important pet dog skills such as come, stay, off, take, sit, down, etc. 
Walking nicely is a life skill that when missing can significantly and negatively impact the human-canine relationship resulting in fewer walks, less exercise, and a decrease in social exposure for the dog. For this reason, DogNostics developed the "Walk This Way" program to support you, supporting and educating clients and pet dogs in your community.

What is Included:
Your 45-page Instructor Manual which includes:
Your group class plan, complete with a full introduction, 6-class schedule, knowledge sections, and practical exercises
A bonus curriculum for a two-day workshop schedule that can be adjusted to meet your needs
Workshop verbiage for your attendees on safety & structure
10 practical exercises with full instructions
8 proofing games with full instructions 
10 knowledge segments to help you improve your clients' understanding of why dogs pull and how we can prevent it
A section on how to market the program within your community
Recommended tools and equipment
Program advice on group size, layout, and pricing
Graduation ceremony and certificate presentation
8 x How to e-Learning videos
Your Presentation Tools:
A 70-minute MP4 recording of the Walk This Way Instructor Skills and Knowledge PowerPoint presentation, broken down into easy-to-follow, bite-sized lessons for you to watch at your convenience.
A copy of each lesson's PowerPoint presentation as a PDF file.
Also included in the program are:
2 Editable PDF Client Attendance Certificate
A 4-page client knowledge handout
The Following DogNostics Handouts:
Teaching Your Dog to 'Let's Go'
Teaching Your Dog to Stand Politely On-Leash
Teaching an Alert Sound
DogNostics Walk This Way Client Knowledge Handout
Your Program Marketing:
4 Social media graphics as a PDF and JPEG
The Opportunity to Qualify as a Walk This Way Instructor!
Become the go-to expert in your area!
The Walk This Way Instructor Certification Program was developed and designed by Louise Stapleton-Frappell and Niki Tudge

Early Adopter Testimonials
I love this program! 
- Marie Popa Nolan– The Love of Dogs!
I've skimmed through most of the docs and printed a few things. I think this was a wise investment. I'm going to use it to form a private training program first that is just for walking nicely. I think my clients will like the idea of getting their problems solved while learning other skills. I'm loving the possibilities here!
- Roni Campbell – Walking With a Friend
I have done several courses with these amazing guys, every one amazing, content is always on point, delivery superb, and best of all the dog (learner) is always put first ... love it!
I have just completed the 'Walk this Way' instructors course, super course and really easy to teach to students, would highly recommend it.
- Lynn Stacey - Dog A.I.D. (Assistance In Disability)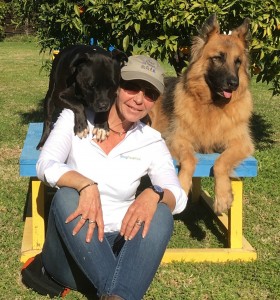 Louise Stapleton-Frappell - B.A. Hons, PCT- A, PCBC-A, CAP3, CTDI, DN-FSG, DN-CPCT2, CWRI is a partner and faculty member of DogNostics Career Center and board member of The Pet Professional Guild. A professional canine trainer and behavior consultant – accredited via the Pet Professional Accreditation Board, Louise is the regional coordinator of Doggone Safe in Spain, the membership manager of The Pet Professional Guild British Isles and the owner and head trainer of The DogSmith of Estepona.
Louise Stapleton-Frappell's experience, her background as a teacher and her impressive pet industry credentials means she is uniquely qualified to share her skills and knowledge with both the public and pet industry professionals. Louise gained her CAP3 with distinction and holds verified certification in Animal Behaviour and Welfare (Edinburgh University) and Dog Emotion and Cognition (Duke University). Louise's professional credentials also include: Certified Trick Dog Instructor, Certified Whistle Recall Instructor, Level Two Certified Pet Care Technician, and Certified Fun Scent Games Instructor. Louise is proud to be a Pet Dog Ambassador Instructor and Assessor, a programme that acknowledges the hard work and commitment that guardians and their dogs undertake to make their shared lives enjoyable.
At the age of just 16 months, Louise's dog Jambo became the first Staffordshire Bull Terrier to become a Trick Dog Champion. Jambo has since been aired on Talent Hounds TV in Canada and was featured as a Victoria Stilwell Positively Story.
Louise is the creator and instructor of the DogNostics Dog Trainer Certificate Course; Dog Trick Instructor Program; Fostering Collaborative Care Program; Walk This Way Instructor Program, co-author of The Top Ten Dog Training Knowledge Concepts and the instructor and assessor of the DogNostics Fun Scent Games Instructor certification courses - Level 1 and Level 2
Louise has published numerous articles on dog training and dog behavior and is also the published co-author of the following titles, A Lexicon of Practical Terms for Pet Trainers and Behavior Consultants and Pet Training and Behavior Consulting: A Model for Raising the Bar to Protect Professionals, Pets and Their People.