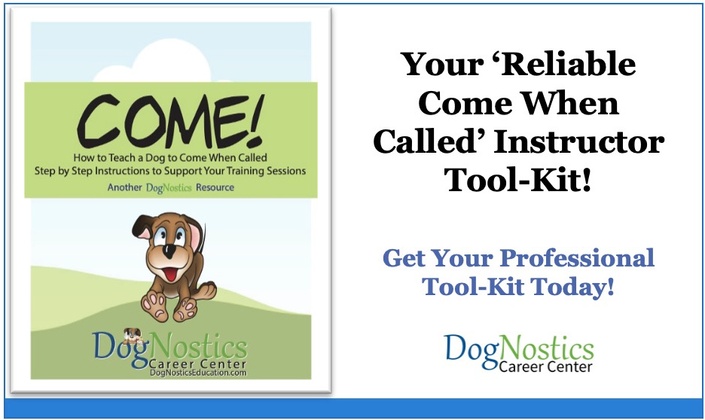 Train a 'Reliable Come When Called' - Your Professional Tool-Kit
Includes a Full 6-Class Curriculum and a 36-Page Client E-WorkBook!
INCREASE YOUR INCOME WHILE PROVIDING A MUCH-NEEDED SERVICE WITH THIS DOGNOSTICS' PET DOG SOLUTIONS RESOURCE FOR PET PROFESSIONALS!

As pet professionals, we all know how important it is that a dog happily and reliably comes when called, and if you ask pet dog guardians, you will find it is also top of their list!
Coming when called is such an important skill and is lots of fun to train! At DogNostics' we wish to provide you with the tools that will not only make a difference to your life as a pet professional but will also positively impact the pets you work with and their guardians. Real changes for a real-world!
In this indispensable instructor tool-kit, we provide a DogNostics' Pet Dog Solution that combines the art, craft, and science, of training a dog to happily and reliably come when called!

We are sure that you will find your DogNostics' 'Reliable Come When Called' Instructor Tool-Kit one of the best small investments you ever make!
You, your clients, and their dogs will undoubtedly love the program as much as we do!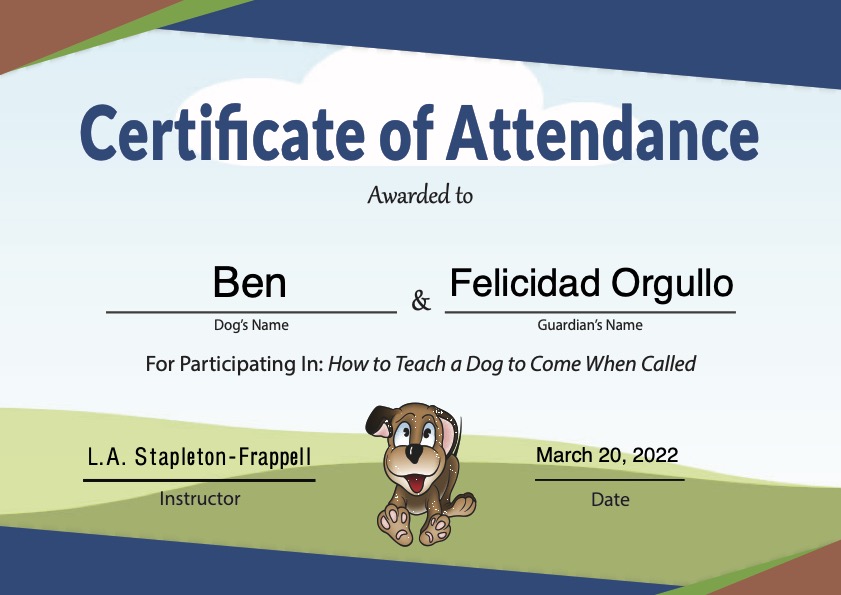 Your Professional Took-Kit Includes:

COME!" How to Teach a Dog to Come When Called DogNostics' 36-Page Client E-WorkBook with Step-by-Step Instructions for Each Training Game!
Full Six-Class Curriculum!
Trainer's 6-Class Quick Reference Plan
Five Individual Class Handouts for your clients to practice their skills!
Class Graduation Certification (1 x Editable Pdf Client Certificate)
Come When Called - Ten Tips for Success! Another amazing handout for you to share with your clients!
We have also included some wonderful marketing resources for you!
2 Social Media Graphics
1 x Editable Class Flyer - You can insert the date, time, & location of your class, and where to register e.g. your website, email address, or phone number!
Program Benefits
This program won't just benefit pet dog guardians as their pets learn to happily and reliably come when called, it will also benefit your business if you are a pet professional.
Use the program for Group or Private Training Classes!

Incorporate the games into your regular Pet Dog Manners classes!

Offer a Specialty Recall Class –The resources are perfect for a six-week prepaid package!

An essential resource for your canine Board & Train clients!

Include in your Canine Enrichment program!


Simply incorporate into your pet care business!
How you deliver the service will depend on you and your business model, but your DogNostics' "Come!" How to Teach a Dog to Come When Called Professional Tool-Kit will help generate additional business income and lead to very satisfied clients, both human and canine!

View the graphic below to see what is included in your 36-Page E-WorkBook!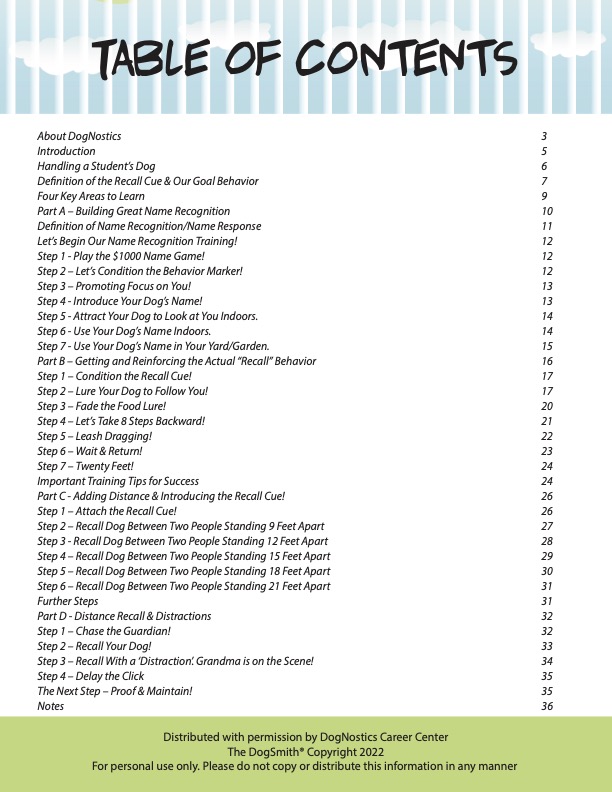 Course Curriculum
Welcome to DogNostics
Available in days
days after you enroll
Six-Class Curriculum, Quick Reference Guide, & Homework Handouts
Available in days
days after you enroll
Social Media Graphics & Editable Class Flyer
Available in days
days after you enroll
Your Instructor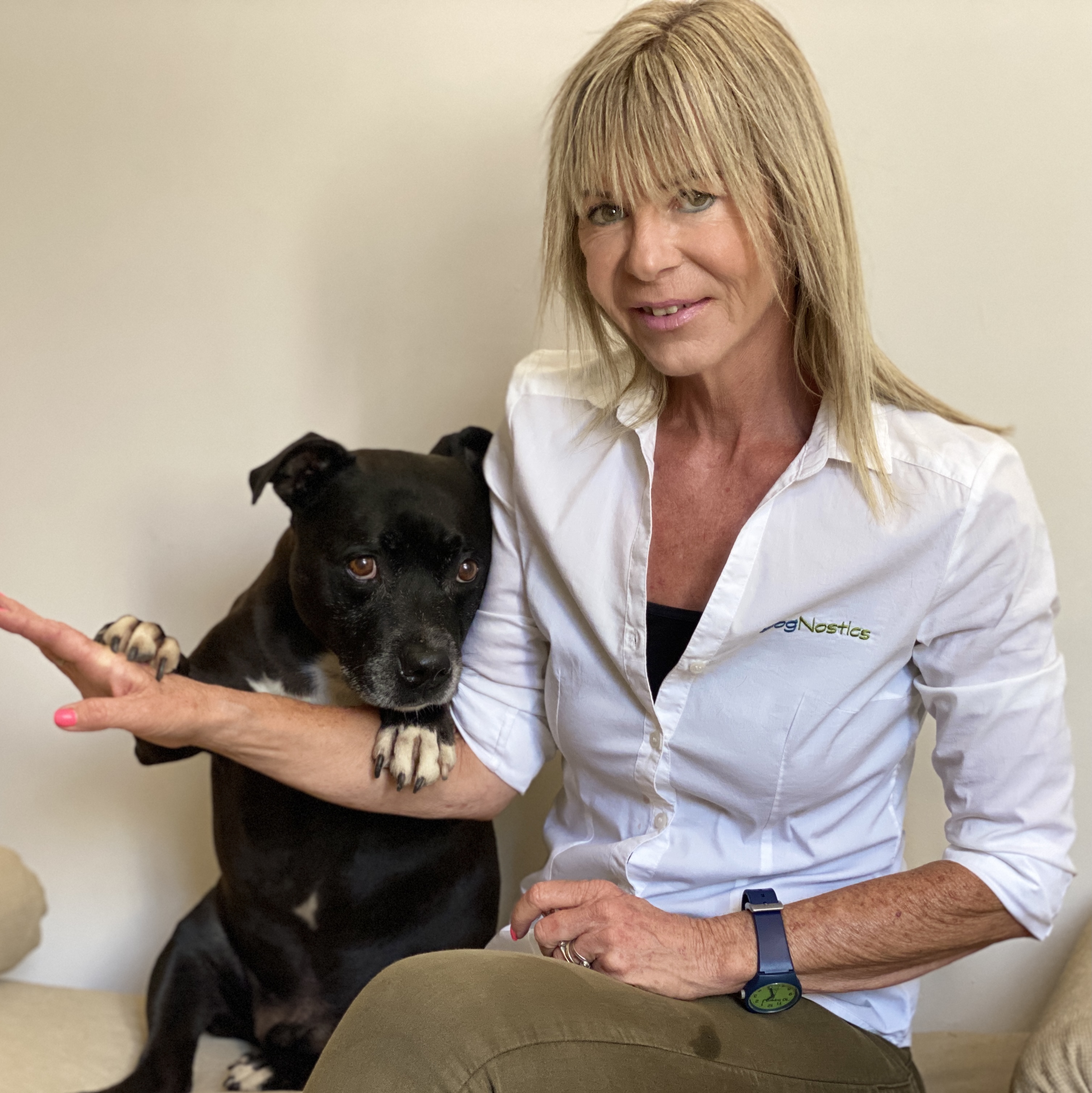 Louise Stapleton-Frappell - B.A. Hons. PCBC-A. PCT-A. CAP3. CTDI. CWRI. DN-FSG2. DN-CPCT2. FFCP.
Professional Canine Behavior Consultant and Trainer – Accredited by the Pet Professional Accreditation Board
Co-Partner and Faculty Member of DogNostics Career Center and Board Member of The Pet Professional Guild.
Louise's experience, her background as a teacher and her impressive pet industry credentials means she is uniquely qualified to share her skills and knowledge with both the public and pet industry professionals. The creator of the DogNostics' Dog Trainer Certification Program, Louise has presented at conferences internationally and has gained a reputation for expertly teaching and training humans and canines at her own establishment, The DogSmith of Estepona, in Southern Spain. Louise has published numerous articles on dog training and dog behavior and is also the published co-author of the following titles, A Lexicon of Practical Terms for Pet Trainers and Behavior Consultants and Pet Training and Behavior Consulting: A Model for Raising the Bar to Protect Professionals, Pets and Their People.