Your Program Overview & Business Benefits

Welcome to DogNostics and to this essential pet professional training resource!
We are sure that you will find your DogNostics How to Train a Reliable Come When Called tool-kit indispensable!

In this invaluable skills-based program, we will provide a DogNostics' Pet Dog Solution that combines the art, craft, and science, of training a happy, enthusiastic, and reliable recall!
Your Program Content Includes:
"COME!" How to Teach a Dog to Come When Called DogNostics' 36-Page Client E-Book with Step-by-Step Instructions for Each Training Game!
Full Six-Class Curriculum!
Trainer's 6-Class Quick Reference Plan
Five Individual Class Handouts for Your Clients to Practice Their Skills!
Two Social Media Graphics
Flyer to Advertise Your Class (1 x Editable Pdf)
Class Graduation Certification (1 x Editable Pdf Client Certificate)
Come When Called - Ten Tips for Success (1 x Pdf Handout for Your Clients)
Business Benefits
Broaden your service offerings
Increase your revenue
Happy clients!
Check out all the information included in your E-book!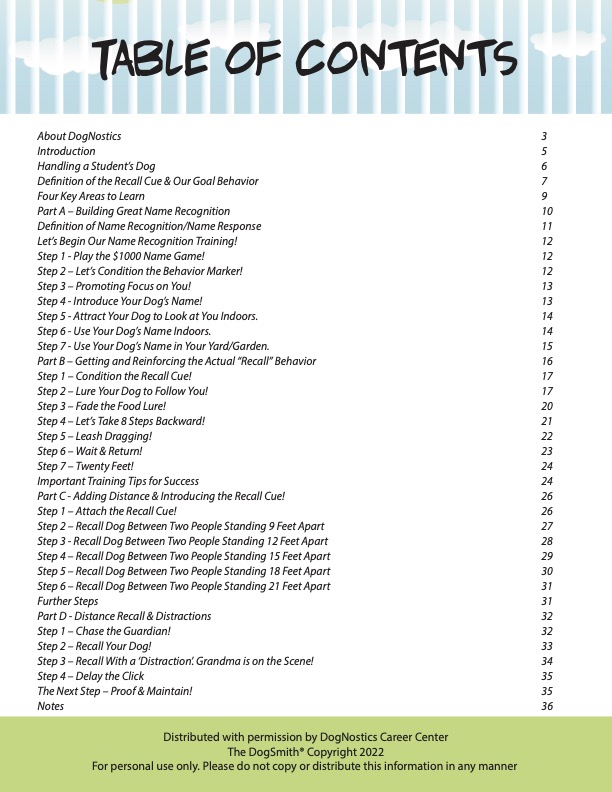 Complete and Continue