Your Program Overview & Business Benefits

Welcome to DogNostics and to this essential pet professional training resource!
We are sure that you will find your DogNostics 1O-Steps to Walking Nicely on a Loose Leash Professional Toolkit indispensable!

In this invaluable skills-based program, we provide a DogNostics' Pet Dog Solution that combines the art, craft, and science, of training a dog to walk nicely on a loose leash.
You will...
Understand the many reasons that dogs pull when on a leash.
Learn how to play the Marker Game.
Learn how to train Stand on Leash.
Learn how to train the Front position
Learn how to train the Close position.
Master the ten steps to walking nicely on a loose leash via video demonstrations and written instructions.
Learn games that can be used to proof and generalize a dog's loose leash walking skills!
Access a full 6-class curriculum, and a 56-page client e-workbook!
Incorporate your newfound knowledge, and the material presented, into your business providing an essential service and increasing your business revenue!
What pet dog guardians should achieve if you systematically work through this program:
Their dog will learn how to walk nicely on a loose leash without pulling them.
They will learn how to respond should their dog pull or lunge forwards.
They will learn how to walk their dog without tightening the leash. Yes, humans pull too!
They will have the tools and the knowledge to continue to practice their skills and generalize them to different environments.
They will improve the relationship that they share with their dog.
They will communicate more clearly with their dog.
Their dog's focus on them will increase.
Their focus on their dog will also increase!
They will both enjoy spending time together.
They will look forward to their walks together!
Your Program Content Includes:
Your 10 Key Knowledge Pieces

KNOWLEDGE 1 – Why Do Dogs Pull?
KNOWLEDGE 2 – Behavior & Consequence.
KNOWLEDGE 3 – The Mechanics of Treat Delivery.
KNOWLEDGE 4 – Train-Test-Train.
KNOWLEDGE 5 – What You Should Pay Attention to!
KNOWLEDGE 6 – Empower Your Dog!
KNOWLEDGE 7 – Self-Reinforcing Behaviors.
KNOWLEDGE 8 – Alternative Reinforcers.
KNOWLEDGE 9 – Distractions: The Environment Throws a Curve Ball!
KNOWLEDGE 10 – My Dog is Pulling. What Should I Do?
4 Prerequisite Training Games (Step-by-step written instructions and 4 x Pdfs to download and share with your clients)
THE MARKER GAME - How to condition the verbal marker, "Yes"!
STAND ON LEASH - Take the tension out of the leash!
FRONT - Dog opposite and facing the guardian.
CLOSE - Dog to the left side of the guardian.
Your 10-Step Training Plan Videos (Ten individual short video files to use however you need in support of your training and business growth)
STEP 1 – Follow Me For One Step!
STEP 2 – Follow Me For Five Steps!
STEP 3 – Step Back & Then Turn Forward!
STEP 4 – Step Back & Walk Forward Five Steps!
STEP 5 – Ten Individual Steps Forward!
STEP 6 – Walk Together For Ten Steps!
STEP 7 – Walk Together For Twenty Steps!
STEP 8 – Let's Change Direction: "This Way!"
STEP 9 – How to Make a U-Turn!
STEP 10 – Let's Stop Together!
Two Fun Proofing Games
The Wobbles
The Chatterbox
Full Six-Class Curriculum!

Trainer's 6-Class Quick Reference Plan
56-Page Client E-Workbook (to download and share with your clients!)

Class Graduation Certification (1 x Editable Pdf Client Certificate)


We have also included some wonderful marketing resources for you!
2 Social Media Graphics
1 x Editable Class Flyer - You can insert the date, time, & location of your class, and where to register e.g. your website, email address, or phone number.
Your 56-Page Client E-Workbook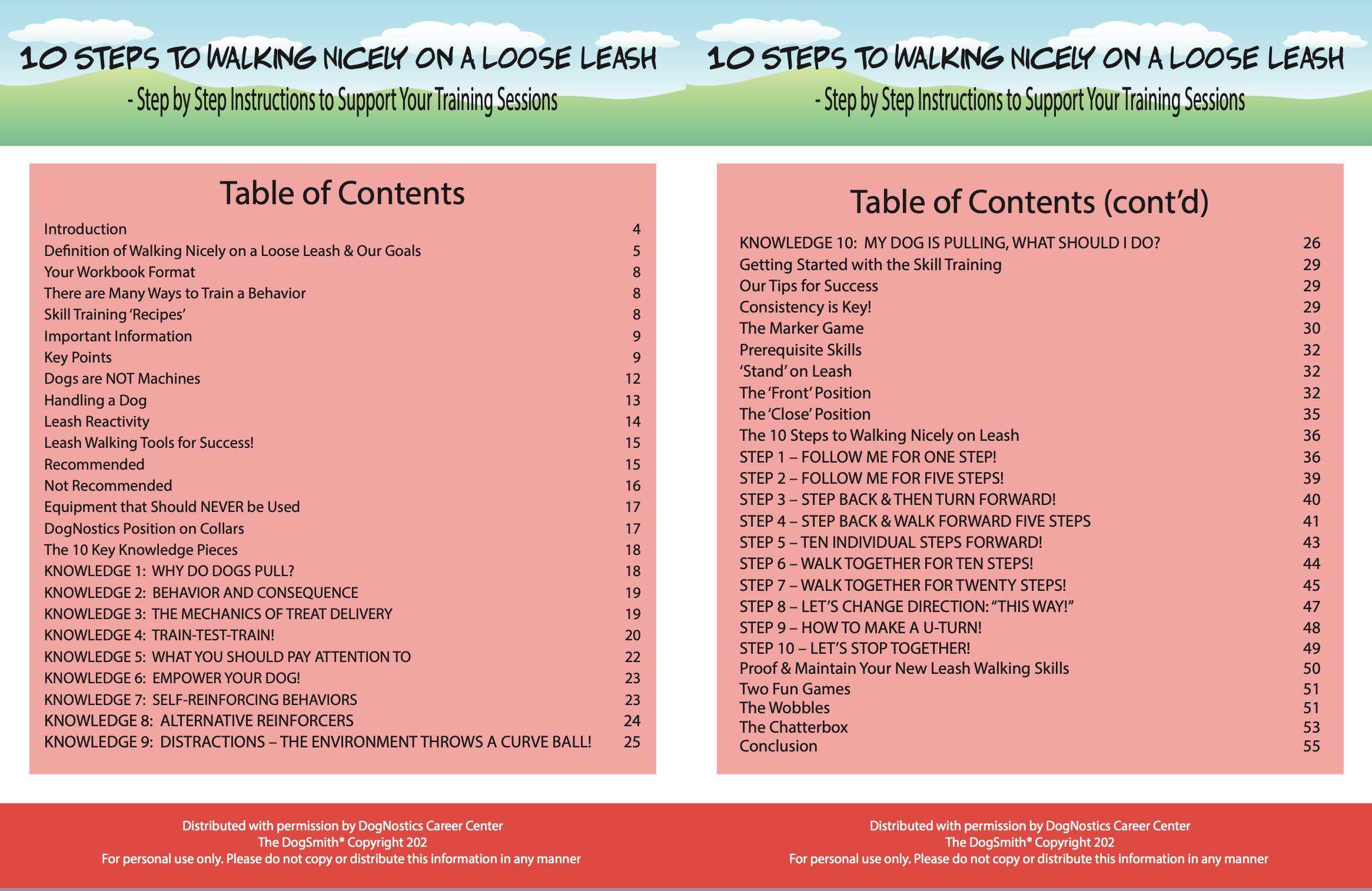 Complete and Continue