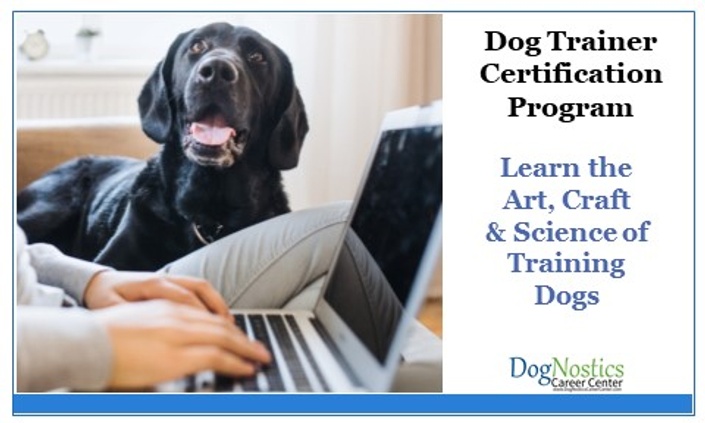 Dog Trainer Certificate Program
Become a Competent, Ethical Dog Training Professional - Start today and earn your DN- DTC!
Enroll Now Only $65 a Month!
The DogNostics Dog Trainer Certificate Program

Continued Education Units. PPAB - 45, CCPDT - 30, IAABC - 37.5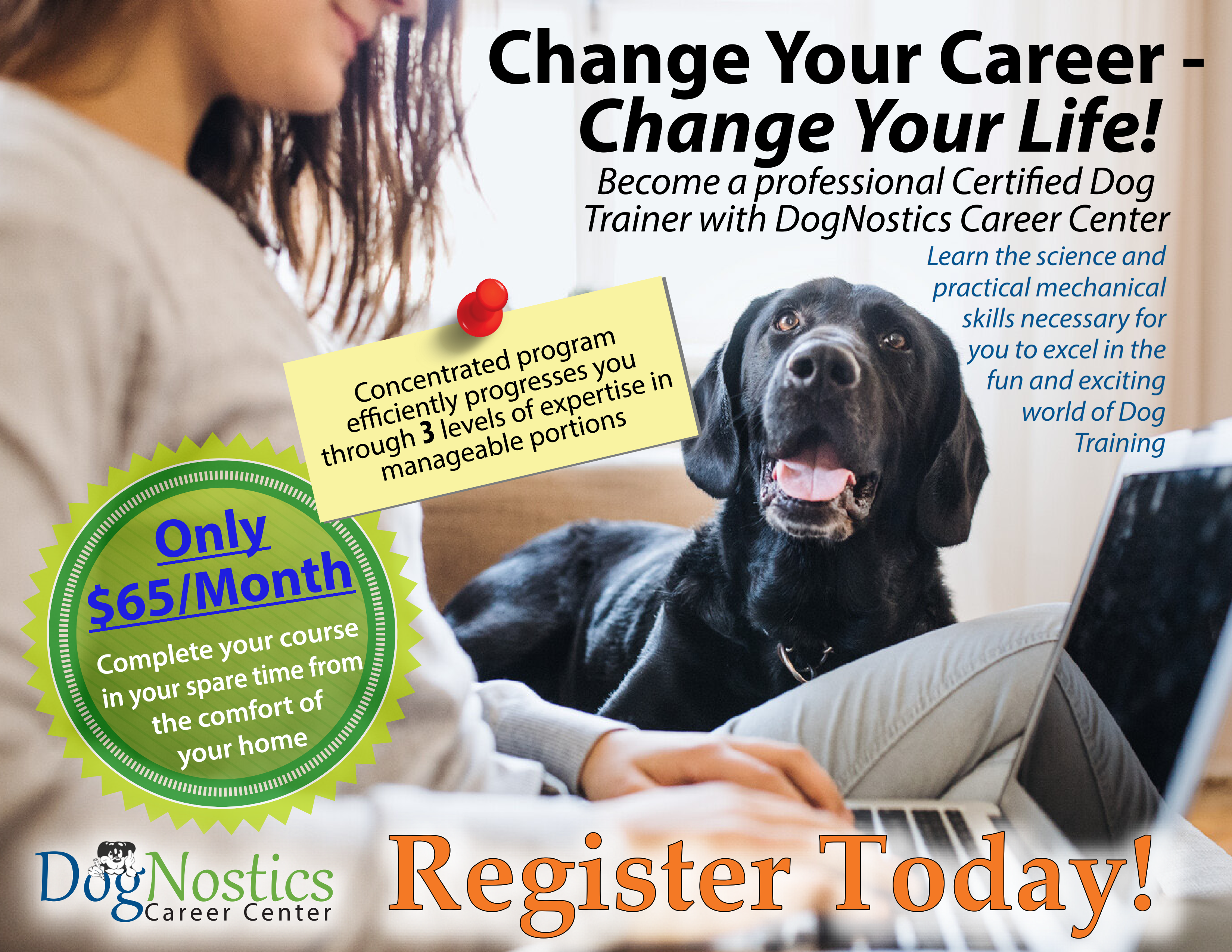 The DogNostics Dog Trainer Certificate Program is an online distance educational program delivered in bite sized lessons so you can study and learn at your own pace. This is a comprehensive dog training program that is suitable for those who enjoy training their own dog, seasoned trainers with their own clients, and other pet industry professionals.
The program provides a safe learning environment in which we focus on both the theory of dog training and the development of the mechanical skills needed to be a competent and ethical professional. The program is divided into three levels, each to be completed in six months. We firmly believe that all training should be fun, mechanically skillful and supported by knowledge. We also believe in setting the learner up for success. This applies both to our human learners and their canine buddies! The DogNostics three-tiered Dog Trainer Certificate Program will help you gain the skills and knowledge needed to earn your PCT-A credential.
Each applicant has 18 months to complete the part-time program that offers a comprehensive education in all aspects of dog training. Study at home in your own time.
Program Delivery Method

The program theory and skills are covered in individual modules in each of the three Dog Training Courses - Apprentice, Journeyman and Master.
Each course consists of five modules that include the main lessons for that module, e-learning videos and an assortment of fun homework assignments that allow you to practice your skills and test the knowledge you have gained.

One module of the course drips down each month to ensure that adequate time is spent on each module, practising the skills and assimilating the knowledge.

Each module builds on the knowledge and skills gained in the previous modules and each course builds on the knowledge and skills from the previous course.

Each of the three Dog Training Courses - Apprentice, Journeyman and Master has a supplementary module!

Module Six of each course includes supportive documentation for that level, additional reading material, supplementary videos and suggested additional reading.
Additional Resources for You!

PDF of all your course modules

Access to the DogNostics Student Common Room - A Closed Facebook Group where DogNostics students can exchange ideas and ask questions

Join a network of professionals from around the world - offering support, developing common interests and forming lifelong friendships

Receive mentoring support through the DogNostics faculty members
What's Included?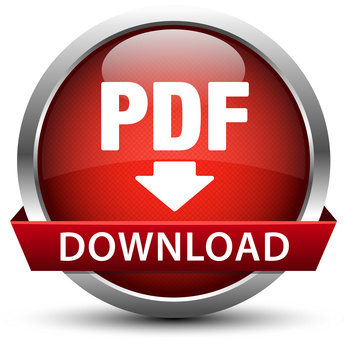 Please take the time to review the content included across the Dog Training Modules so you can understand the depth and breadth of this unrivaled Dog Trainer Certificate program.
The Technology You Will Need

You will need the following to enable you to get started with the program.
High speed internet access

A FREE PDF reader like Adobe

A video camera.

A FREE Dropbox account or A FREE YouTube account
Upon Successful Completion, You Will Receive:
Successful students will gain a course attendance certificate for each level. On successful completion of all three levels, applicants can take their final online test to earn their professional Dog Trainer Certificate and the right to display the credential, DN-DTC, after their name.
DogNostics Dog Training Course Certificate DN-DTC

A Certification Badge to display on your website

A listing on the DogNostics Instructor Registry
Please note: Monthly Automatic renewal (recurring payments) are provided as a courtesy to you.
The full program price is $1170.00.
You are free to opt out of the program at any time but, on doing so, will receive an invoice for the full outstanding balance pending for your course.

Once enrolled in the program, you will gain immediate access to the first module. You will receive subsequent modules of your Dog Trainer Certification Course every 30 days. This gives you time to complete your assignments for the current module and study the material before progressing to the next module. Once this time has elapsed, you'll receive an email notification from the school and you'll be able to access the lessons in the next module.

Australian Students, please email student services before enrolling as your payment will be adjusted to take the Aus $ into account.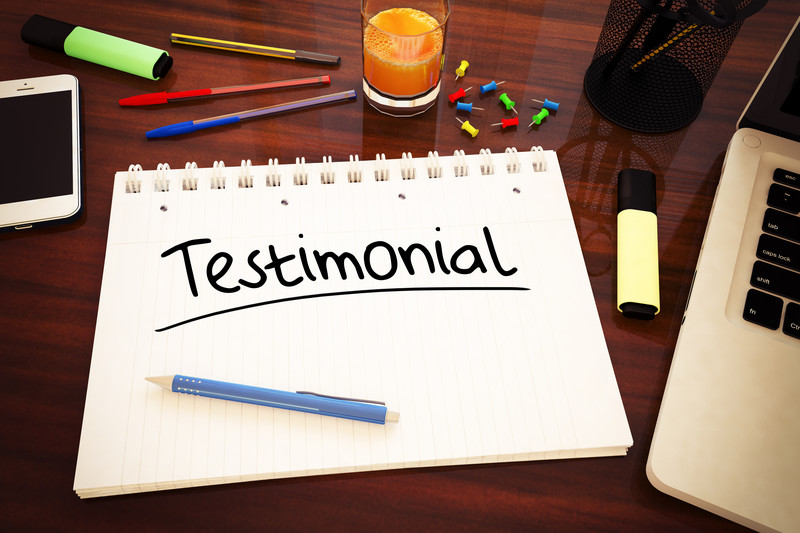 "I took the Apprentice training first an signed for Collaborative Care, as well as taking webinars in between... their methods are kind and respectful to the animals as well as the people. Real confidence building... I am over the moon with enthusiasm and although this is an online course for me, I feel they have my back at every turn... So happy that I found them first!" - Cheryl King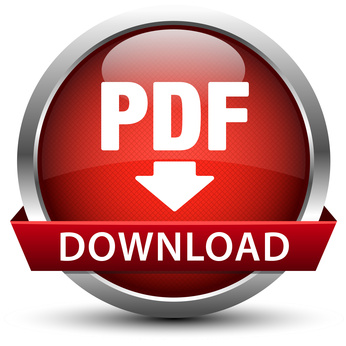 Your Instructor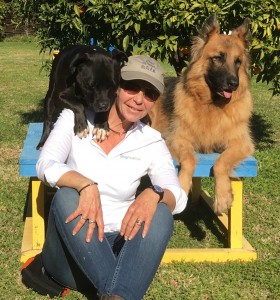 Louise Stapleton-Frappell - B.A. Hons, PCT- A, PCBC-A, CAP3, CTDI, DN-FSG, DN-CPCT2, CWRI is a partner and faculty member of DogNostics Career Center and board member of The Pet Professional Guild. A professional canine trainer and behavior consultant – accredited via the Pet Professional Accreditation Board, Louise is the regional coordinator of Doggone Safe in Spain, the membership manager of The Pet Professional Guild British Isles and the owner and head trainer of The DogSmith of Estepona.
Louise Stapleton-Frappell's experience, her background as a teacher and her impressive pet industry credentials means she is uniquely qualified to share her skills and knowledge with both the public and pet industry professionals. Louise gained her CAP3 with distinction and holds verified certification in Animal Behaviour and Welfare (Edinburgh University) and Dog Emotion and Cognition (Duke University). Louise's professional credentials also include: Certified Trick Dog Instructor, Certified Whistle Recall Instructor, Level Two Certified Pet Care Technician, and Certified Fun Scent Games Instructor. Louise is proud to be a Pet Dog Ambassador Instructor and Assessor, a programme that acknowledges the hard work and commitment that guardians and their dogs undertake to make their shared lives enjoyable.
At the age of just 16 months, Louise's dog Jambo became the first Staffordshire Bull Terrier to become a Trick Dog Champion. Jambo has since been aired on Talent Hounds TV in Canada and was featured as a Victoria Stilwell Positively Story.
Louise is the creator and instructor of the DogNostics Dog Trainer Certificate Course; Dog Trick Instructor Program; Fostering Collaborative Care Program; Walk This Way Instructor Program, co-author of The Top Ten Dog Training Knowledge Concepts and the instructor and assessor of the DogNostics Fun Scent Games Instructor certification courses - Level 1 and Level 2
Louise has published numerous articles on dog training and dog behavior and is also the published co-author of the following titles, A Lexicon of Practical Terms for Pet Trainers and Behavior Consultants and Pet Training and Behavior Consulting: A Model for Raising the Bar to Protect Professionals, Pets and Their People.
Frequently Asked Questions
When does the course start and finish?
Your course begins as soon as you enroll! Each applicant has 18 months to complete their program.
How long do I have access to the course?
After enrolling, you have unlimited access to this course for eighteen months - across any and all devices you own.
What if I am unhappy with the course?
We would never want you to be unhappy! If you are unsatisfied with your purchase, contact us so we can work with you to ensure this program meets your needs.
How do I become Certified?
To gain a course attendance certificate for each level, you will need to: Complete each of the lessons within the course modules; Succesfully complete all five module quizzes for that level; Submit your skill assessment videos for that level. Your Dog Trainer Certificate Professional Qualification: To earn your DN-DTC, you will need to have gained your Apprentice, Journeyman and Master course attendance certificates (as above). You will then complete a final Dog Trainer Certificate open book/multiple choice exam.
What happens if I fail my final test?
The exam can be taken two times. If you fail it more than twice, we will work with you to determine which information you need help with.